Good evening everyone and Happy Valentine's Day! As many, long-time followers of the blog are aware, we have one style of recipe that we keep going to again and again and again: it's the breaded fish recipe! Although many variations have passed through our pages, we have yet to duplicate a single dish. Tonight, I'm putting my own, unique spin on this time-tested recipe. Although we have not tried cheese, more specifically Parmesan cheese, (the key ingredient) in a fish dish yet, I cannot to wait to try it and see if it's worth the hype.
The Recipe: Baked Parmesan Tilapia
Original Recipe Found from Various Sources
(Serves 2)
What You'll Need:
2 Tilapia Fillets
1 Egg, beaten
8 Teaspoons low-fat Mayonnaise
1/2 Teaspoon Lemon Juice
1/2 Cup Breadcrumbs
1/3 Cup grated fresh Parmesan Cheese
1/2 Teaspoon Oregano
1/4 Teaspoon Paprika
1/4 Teaspoon Garlic Powder
1/8 Teaspoon Pepper
1/4 Teaspoon Thyme
1 1/2 Teaspoon Parsley
To start, preheat an oven to 400 degrees. Prepare a baking sheet with an even layer of nonstick cooking spray. This will help the tilapia keep from sticking to the sheet - no one likes or wants stuck-on fish when cooking! If you used frozen tilapia and thawed them in the refrigerator, be sure to pat off the excess moisture built up on the fish with a paper towel. This might take several sheets, but you'll really want the fish to be dry. This will help the coating and the breading stick better to the fillets. Also, if there's any remaining ice sheets left on the fish, be sure the paper towel soaks up these also.
Fish patted dry and ready to be seasoned.
Next, pour the beaten eggs in a small bowl. Add the mayonnaise and lemon juice and stir until everything is well combined. In another small bowl, add the breadcrumbs, parmesan cheese, oregano, paprika, garlic powder, pepper, thyme, and parsley. Stir all these ingredients together until everything is mixed well.
Arrange the bowls next to each other, along with a clean plate at the end of the line of bowls. Using one hand, dip each fish filet into the mayonnaise mixture and make sure each side is coated evenly. Let the excess mixture drip off each fish. Next, with the other hand, dip the fish in the breadcrumb mixture and coat both sides of the fish completely. Place each fillet on the clean plate until all the fillets are coated and ready to cook.
Place the tilapia fillets on the prepared baking sheet with enough space so that their juices won't mix with each other. Put the uncovered baking sheet in the oven and cook for 20 minutes or until the fish is white and flaky on the inside. Serve with lemon juice and/or tartar sauce (or by themselves) and enjoy!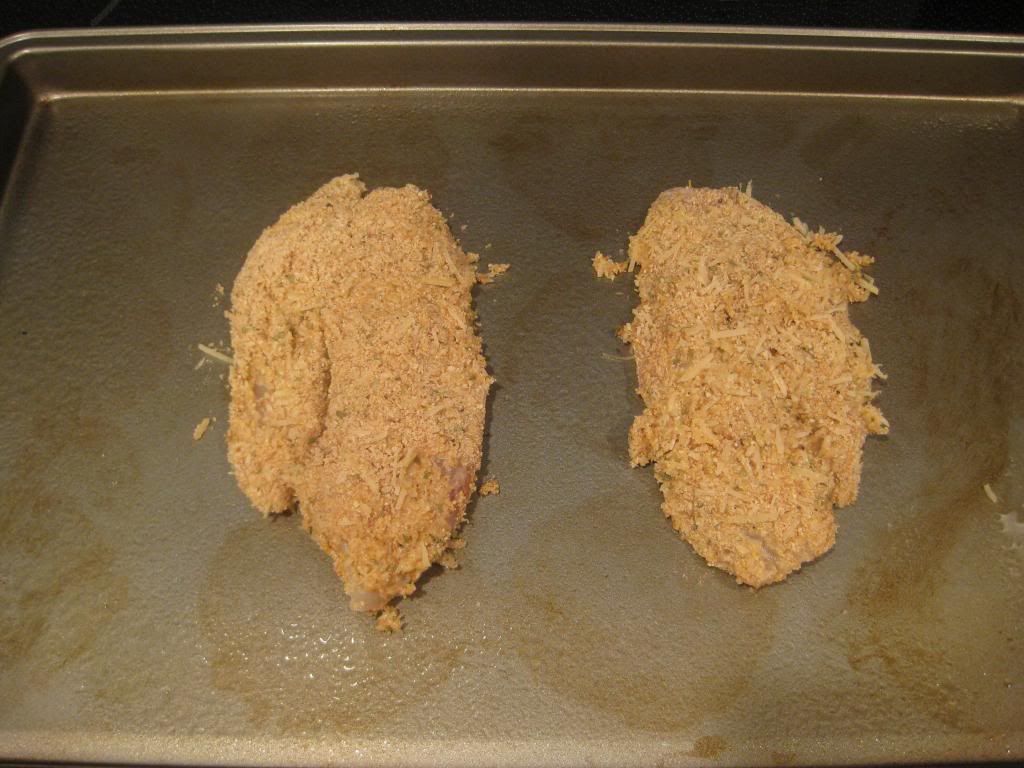 The End Result: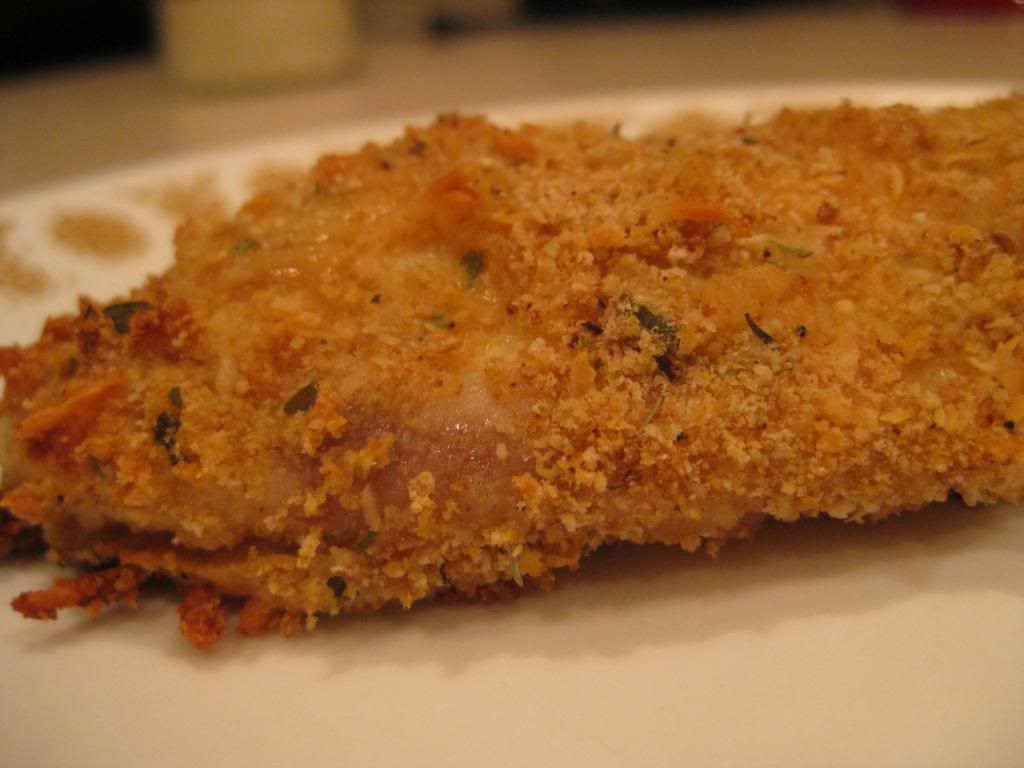 An incredibly moist fish that flakes the moment it's pierced with a fork. Tilapia is a neutral flavored fish that will soak up any flavor its given. This recipe is an excellent example of this. The breading coated the fish completely and encased it in a delicious flavor. No single spice is pronounced in the breading, but all of them work together to give the fish a great, well-rounded flavor. I was sort of surprised that the Parmesan cheese didn't have a strong bite, but it did add a smidge of oomph that was just right to this dish. Like I've mentioned before, the pairing of fish and cheese had never been attempted in the blog, but with this recipe, it's definitely worth coming back to.
Thanks for joining us this week! Be sure to come back next week and check out the culinary adventures we will delve into. Until then,
~Cheers!