Good evening everyone! If you've been living under a rock for the last two years or so, you, or someone you know, is on Pinterest. It's a great website for anyone wanting to share DIY projects, hair or makeup secrets, travel tips, and recipes. I'm on Pinterest more than I care to imagine, but when I find stellar recipes, I simply have to transition them from Pinterest to our blog. Tonight's recipe is no exception and it most definitely excels when there are a lot of not-so great dishes.
The Recipe: Enchilada Pasta Casserole
An adaption from a recipe found on www.pinterest.com
What You'll Need:
1 Pound Ground Beef
1/2 Teaspoon Chili Powder
1/4 Teaspoon Cumin
1/4 Teaspoon Cayenne Pepper
5 Ounces Cream Cheese
1/4 Cup light Sour Cream
1 Can (10 oz.) Enchilada Sauce*
1 Cup shredded Sharp Cheddar Cheese, divided*
1 Cup shredded Monterey Jack Cheese, divided*
1 Cup frozen Corn kernels, thawed
1 Can (4 oz.) diced Green Chiles
12 Ounces Egg Noodles*
*Note: While the changes I made to this recipe aren't that dramatic, they are worth noting if you want to follow the original recipe or my own. There are differing degrees of hotness that enchilada sauce comes in. We played it safe and went with mild. To save some time (and cheese purchases,) you can buy a large bag of shredded cheddar and jack cheeses, just be sure there are at least two cups of cheese in the bag. Instead of egg noodles, we chose a variant called Mafalda, which are like egg noodles, but shrunken down and more wrinkly. More on that substitution later.
To start, preheat an oven to 350 degrees. While the oven is heating up, bring a large pot of water to a boil over medium high heat. Once at a boil, add the desired pasta and cook according to package directions. Also, you can begin to brown the ground beef over medium heat in a very large skillet. When the beef is cooked, drain in a colander and rinse well with water. Add the beef back to the skillet.
When the beef is back in the skillet, add the chili powder, cumin, and cayenne pepper. Stir to combine the spices and beef. Next, add the cream cheese and stir until all the ingredients are combined.
In a large bowl, combine the sour cream, enchilada sauce, half the cheddar cheese, half the monterey jack cheese, corn kernels, and diced green chills. Stir to combine. By this time the cream cheese should be melted in the skillet. Pour the enchilada sauce mixture in the skillet and let simmer for three to five minutes, until slight bubbling occurs.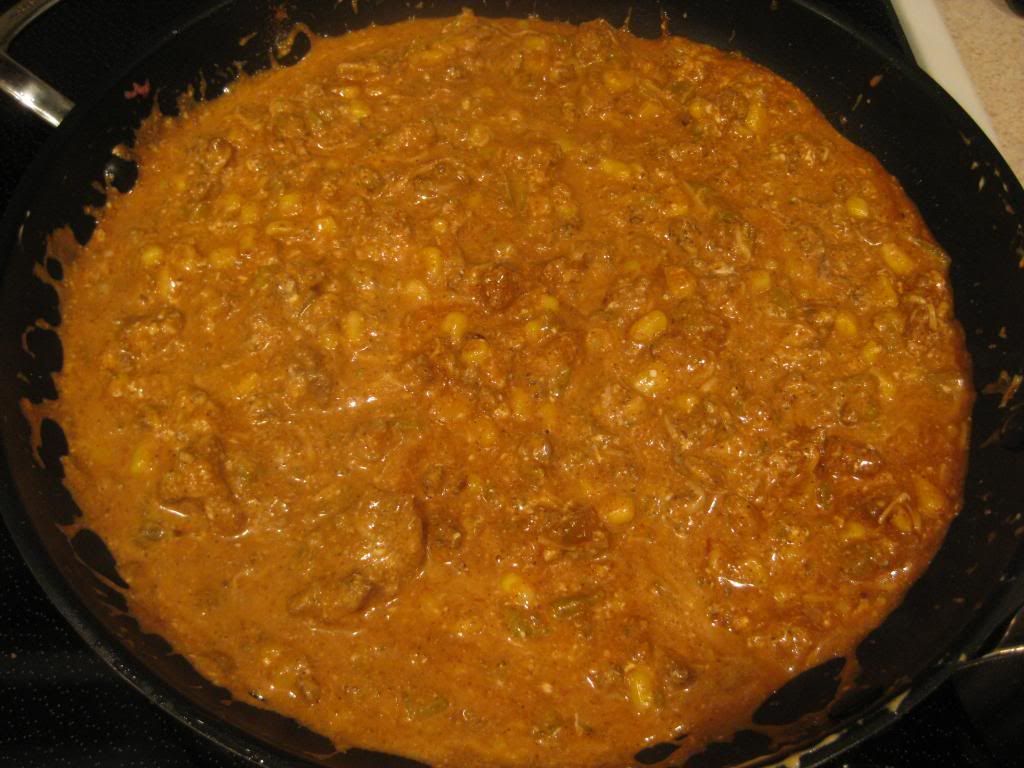 Sure it doesn't look like much, but there's tons of flavor, bubbling in that skillet!
Once the pasta is cooked, drain in a colander and transfer to the skillet. Stir everything slowly and carefully, as the skillet might be at capacity with all the ingredients. Once all the ingredients are coated with the sauce, transfer to a large casserole dish and top with the remaining cheese.
Place the dish in the oven and cook for 15 minutes or until the cheese has melted. Remove the dish from the oven, serve, and enjoy!
The End Result: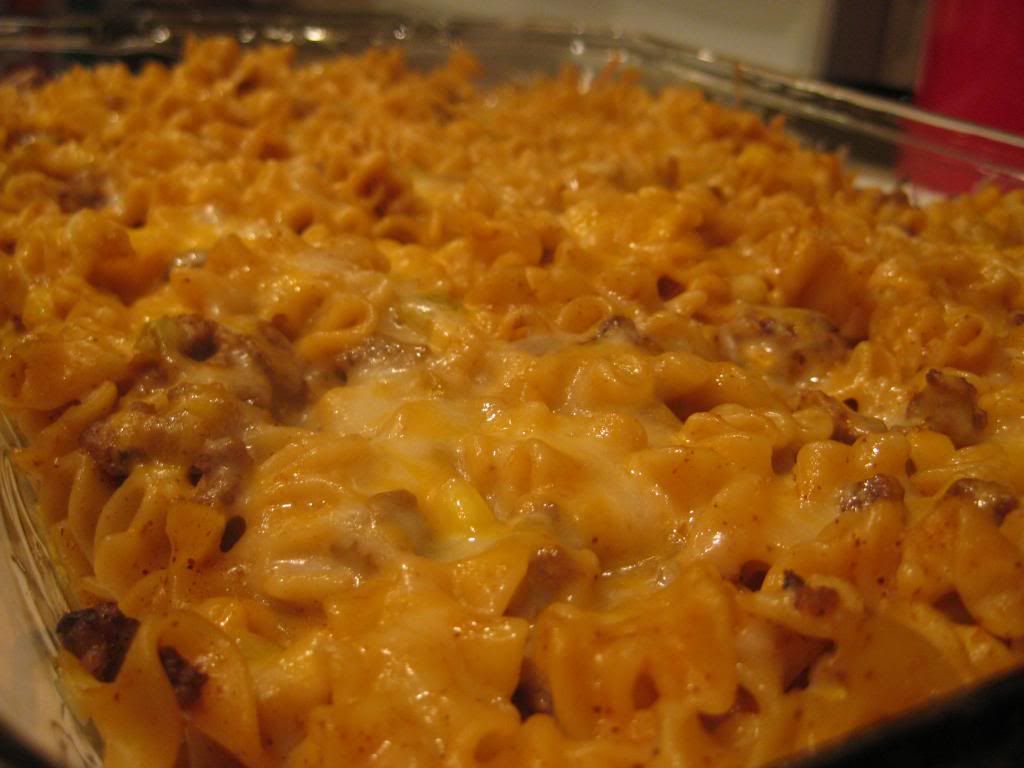 I've made my fair share of recipes from Pinterest that have often failed. This recipe is on the completely other end of the spectrum. All the ingredients were blended together so well and complement each other to a T. There's not one ingredient that stands out above the rest, although the "mild" enchilada sauce left a little residual heat in the back of my throat. The Mafalda was an excellent choice for pasta because the sauce clings to it and makes it even more delicious. I could see this being a great family dish or one of those classic comfort casseroles. If you enjoy Mexican food, in a recipe that won't be too intimidating to make, this recipe is for you!
Thanks for joining us this week; check back next week as we continue to share our culinary adventures. Until then,
~Cheers!