Good evening everyone! Any restaurant that serves a breakfast, typically serves a hash dish. These usually have hash browns and any variety of cooked eggs, with any number of ingredients cooked in. These ingredients include some sort of meat and/or vegetables mixed in and cooked until the hash browns are super crisp. Tonight, I'm trying a hash, that is definitely not standard restaurant fare.
The Recipe: Mexican Chorizo Hash
Original Recipe From: Cooking Light, March 2014
What You'll Need:
2 Ounces raw Mexican Chorizo
1 Cup prechopped Onion
1/4 Cup coarsely chopped bottled roasted Red Bell Peppers
1/2 Teaspoon Salt
1/2 Teaspoon freshly ground Black Pepper
1 (6 Ounce) package of Baby Spinach
2 Teaspoons Olive Oil
2 1/2 Cups refrigerated shredded Hash Brown Potatoes
2 Large Eggs
To start, heat a large, nonstick skillet over medium-high heat. Once heated, add the chorizo to the pan and cook for three minutes, until browned. Next, add the onion, bell peppers, salt, and pepper and cook for an additional three minutes, until the onion just begins to soften.
After this, add the spinach and stir constantly until the spinach wilts. Transfer the chorizo mixture to a clean plate and cover with another plate to keep warm.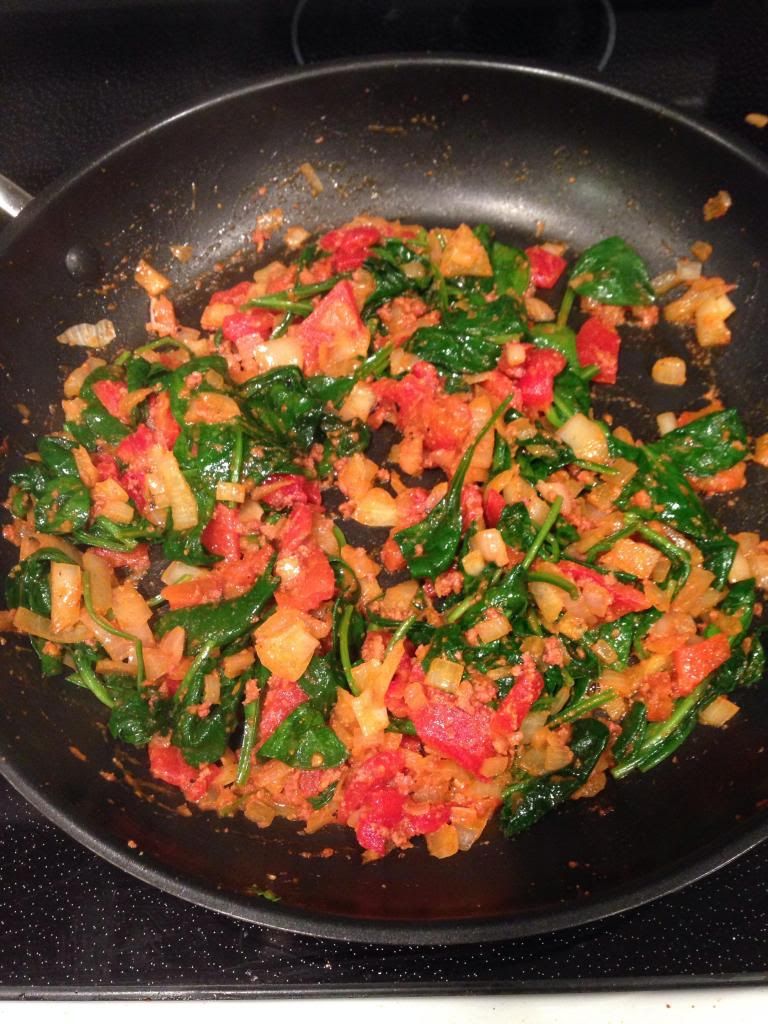 Next, add the oil to the pan and swirl to coat. The skillet is already quite hot so it won't take very long from the oil to heat up. Add the potatoes and cook for eight to ten minutes or until the potatoes begin to become crispy. Don't stir the potatoes as often as the onions, bell peppers, and the spinach did - the potatoes will need to firm up. Once the potatoes have cooked, stir in the sausage mixture until everything is well incorporated. Make two small circles in the potato/chorizo mixture and crack one egg into each space. Cover the skillet and cook the eggs for four minutes or until the yolks are slightly set. Spoon some hash, with a cooked egg, onto a plate, serve, and enjoy!
The End Result:
This is a great version of a classic hash dish. Granted, any number of ingredients served with hash browns and eggs is a good base for a hash, using these ingredients makes it completely unique. Personally, the chorizo gives enough heat to last me into next week, it's a wonderful meat source and adds plenty of flavor to a potentially bland dish. The jarred red bell pepper is definitely something I would not have considered, but it's neutral enough to not shine on its own. Overall, this hash is great to try, when you want something different!
Thanks for joining us tonight. Check back tomorrow as Tyler takes unique twist on the typical tortilla. Until then,
~Cheers!