Good evening everyone! Over the last couple of weeks, we went really heavy into Mexican dishes, and by no fault of our own. Sometimes, we just get in a rut and not really notice it until we've overwhelmed ourselves. Tonight, I'm going to try a first for the blog, even though it's Asian related, it's definitely something different and out of our cooking realm.
The Recipe: Korean-Style Beef and Rice Bowl
Original Recipe Found In: America's Test Kitchen Simple Weeknight Favorites
What You'll Need:
3 Cups Water
1 1/2 Cups short-grain White Rice
3 Tablespoons Soy Sauce
1 Tablespoon packed Brown Sugar
1 Pound Sirloin Steak tips, trimmed and sliced thin
1/4 Cup Vegetable Oil
8 Ounces Shiitake Mushrooms, stemmed and sliced thin*
10 Ounces Baby Spinach*
4 Large Eggs*
To start, fill a large saucepan with the water, rice, and one teaspoon of salt, and heat over medium-high heat. Bring the ingredients to a boil. Once at a boil, cook until the water level drops to below the surface of the rice, about five minutes. After this, reduce the heat to low, cover, and cook the rice until the water has absorbed, about 15 minutes.
Meanwhile, in a large bowl, whisk two tablespoons of soy sauce and the brown sugar together. Add the slices of steak and toss to coat. Let the steak pieces marinate while heating a large, nonstick skillet over medium-high heat. Add two tablespoons of oil until it just begins to smoke. Add the steak pieces and cook each side is well browned, about two minutes per side. Transfer to a clean plate and loosely tent with aluminum foil.
*This next section is part of the original recipe. I omitted it, but feel free to let your culinary explorer out.
Next, add one tablespoon of oil, the mushrooms, and one tablespoon of soy sauce to the empty skillet and cook until the mushrooms are soft, about three minutes. Add the spinach and continue to cook until the spinach has wilted, about two to three minutes. Once cooked, transfer the spinach and mushroom combination to a clean bowl and loosely tent with aluminum foil.
Wipe out the skillet and heat the remaining tablespoon of oil over medium heat. Into two bowls, crack two eggs. Add eggs to the skillet, pouring each bowl on opposite sides of the skillet. Season the eggs with salt and pepper, then cover to cook until the whites are just set, about two to three minutes.
Place a ladle full of rice in four bowls and top with the beef and the mushroom/spinach combination. Top with a cooked egg, serve, and enjoy!
The End Result: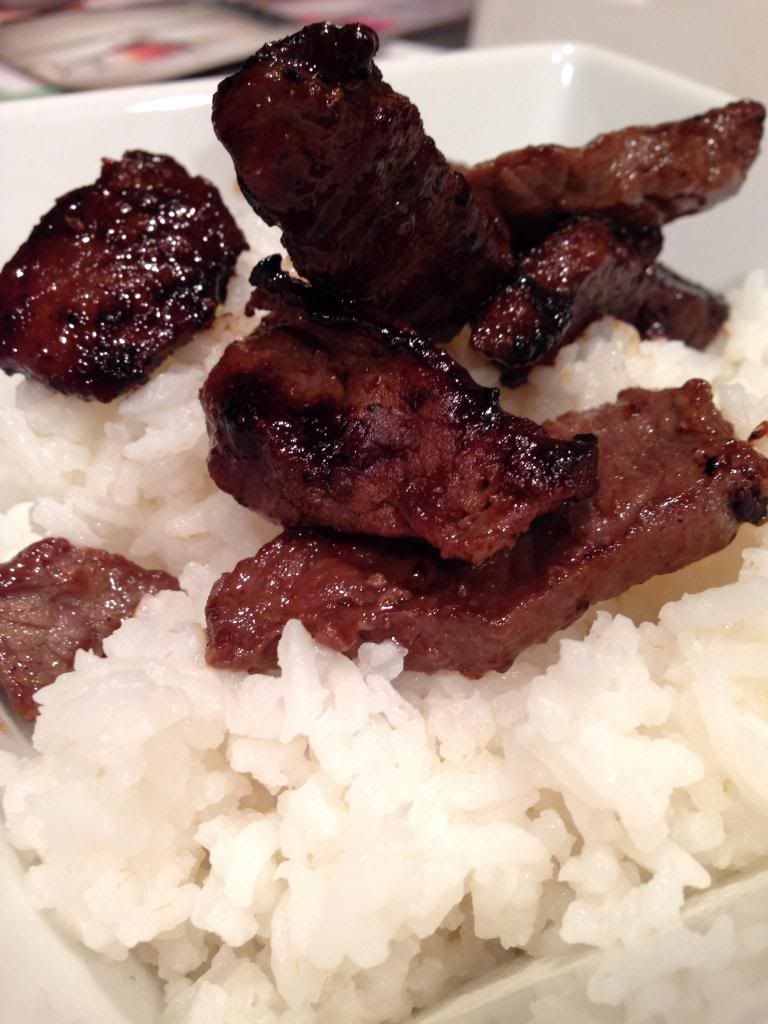 The beef was seasoned perfectly. Who knew the combination of soy sauce and brown sugar would create such a delightful tasting marinate! If it looks like there isn't enough marinate, trust me, it's just enough to coat and soak in the meat. My rice came out a little sticky and that helped to stick to the beef. I was a little bummed, because I should have included the part I omitted. I needed that extra "sauce" just so the beef and rice didn't become too dry. If I wanted a sauce, I could have added a cup of beef broth to the skillet once the beef was done cooking and reduced the liquid a bit. This would have helped the rice be not so dry and add moisture to the beef. But overall, it was a delicious dish, that's not so ordinary!
Thanks for joining us this week. We'll continue to highlight dishes and bring you what's cooking in our kitchen next week. Until then,
~Cheers!