Good evening everyone! As one for innovation, I'm always one up for trying flavors from different cooking styles and reinventing it for a completely unique recipe. Tonight, I'm infusing flavors from the Mexican style cooking to give way to a new style of serving this dish.
The Recipe: Baked Black Beans with Chorizo
Original Recipe Found In: Cooking Light, April 2014
What You'll Need:
1 Tablespoon Olive Oil
1/2 Cup diced Spanish Chorizo
1 1/2 Cups chopped Onion
1 Jalepeno Pepper, diced and seeds removed
1/2 Teaspoon Salt
1/2 Teaspoon ground Cumin
1/4 Teaspoon ground Red Pepper
5 Garlic cloves, minced
3/4 Cup fat-free, lower-sodium Chicken Broth
2 (15-ounce) can unsalted Black Beans, rinsed and drained
1 Cup chopped seeded Tomatoes
2 Ounces shredded Monterey Jack Cheese (about 1/2 Cup)
1/4 Cup thinly sliced Green Onions
To start, preheat an oven to 425 degrees and prepare a 8-inch square glass or ceramic baking dish by spraying cooking spray inside. Next, heat a large, nonstick skillet over medium-high heat. Add the olive oil to the pan and swirl to coat. Once the skillet and oil have heated, add the chorizo and sauté for two minutes. After the chorizo has cooked, remove from the pan to a clean plate and keep covered until later.
Next, add the onion and jalepeno and sauté for four minutes, stirring occasionally. Add the garlic, cumin, ground red pepper, and garlic and continue to sauté for one minute, stirring consistently. Next, stir in the broth and the beans and bring to a boil. Proceed to cook for five minutes. After the mixture has cooked, using a fork or potato masher, mash the mix until desired consistency.
Spoon the bean mixture into the prepared baking dish. Top the beans with the chorizo, tomatoes, and cheese. Place the dish in the oven and bake at 425 degrees for 30 minutes, or until lightly browned. Top with green onions, serve, and enjoy!
The End Results: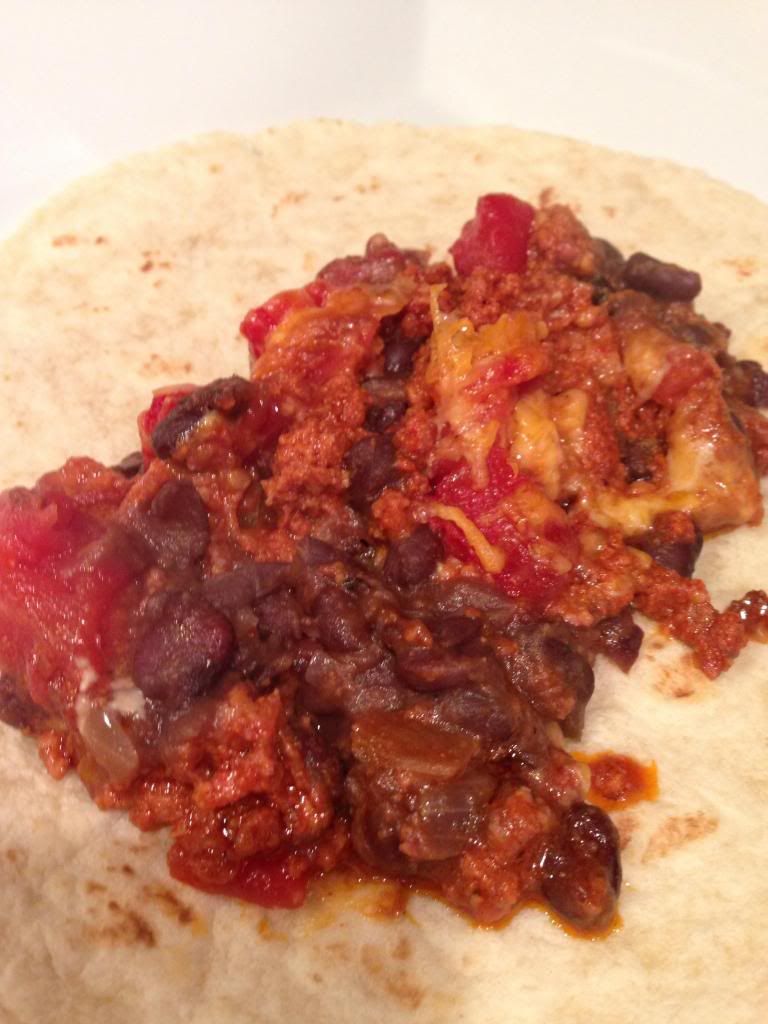 I will warn you: this dish has quite the heat kick to it, due to the jalepenos and the chorizo. While the dish would probably taste the same without the jalepeno, the same can't be said for the chorizo. If you want to try without the chorizo, it will more than likely be a very bland dish. But as for serving this dish? You can spoon 1/3 cup mixture into warmed tortillas, top with more Monterey Jack cheese, and wrap up in a burrito. The true winner was Tyler's variation, which he used corn tortilla chips and used it as a dip. The recipe could definitely be enhanced by a cooling agent, such as sour cream. It might cut the heat, without killing the flavor. Overall, a surprisingly good flavored dish, that could have potential to be so much more.
Thanks for joining us this week. Check back next week as we continue to inspire culinary adventures. Until then,
~Cheers!