Good evening everyone! While ordering pizza to go is often a convenient and simple choice for many families, I much prefer making my own. Once you've started on that journey, there's no way going back to regular pizza. And while ordering and picking up (or delivery,) makes dinner time a snap, there's something to be said about creating and eating your own pizza. Tonight, I'll create a unique, one of a kind pizza that is also super simple.
The Recipe: Prosciutto-Mozza Pizza
Original Recipe Found In: Cooking Light, September 2014 Issue
What You'll Need:
1 Pound refrigerated fresh Pizza Dough
1 Tablespoon Cornmeal
2/3 Cup lower-sodium Marinara Sauce
6 Ounces fresh Mozzarella Cheese, pre sliced or thinly sliced
2 Teaspoons Olive Oil
2 Ounces thinly sliced Prosciutto, torn into 1/2-inch-wide strips
1/4 Cup small fresh Oregano leaves
To start, let the dough stand at room temperature, in a greased bowl or pan, covered with plastic wrap for at least 30 minutes. Next, place a pizza stone or heavy baking sheet in an oven. Allow the oven to preheat to 500 degrees, keeping the pizza stone or baking sheet in the oven to preheat also.
Once the dough has stood at room temperature, lightly dust a clean work area with flour and roll the dough into a 14-inch circle. Pierce the entire surface liberally with a fork. Once the pizza stone has been preheat, carefully remove from the oven. Sprinkle the surface with cornmeal and place the pizza dough on the pizza stone.
Spoon the marinara sauce on the dough and spread evenly with the back of the spoon, leaving a 1/2-inch border. Evenly top with the mozzarella cheese. Place the stone back in the oven and bake at 500 degrees for 10-14 minutes, or until the crust is golden and the cheese has lightly browned.
Remove the pizza from the oven and brush the outer crust with the olive oil. Arrange the prosciutto slices over the pizza and top with oregano. Cut into even slices, serve, and enjoy!
The End Result: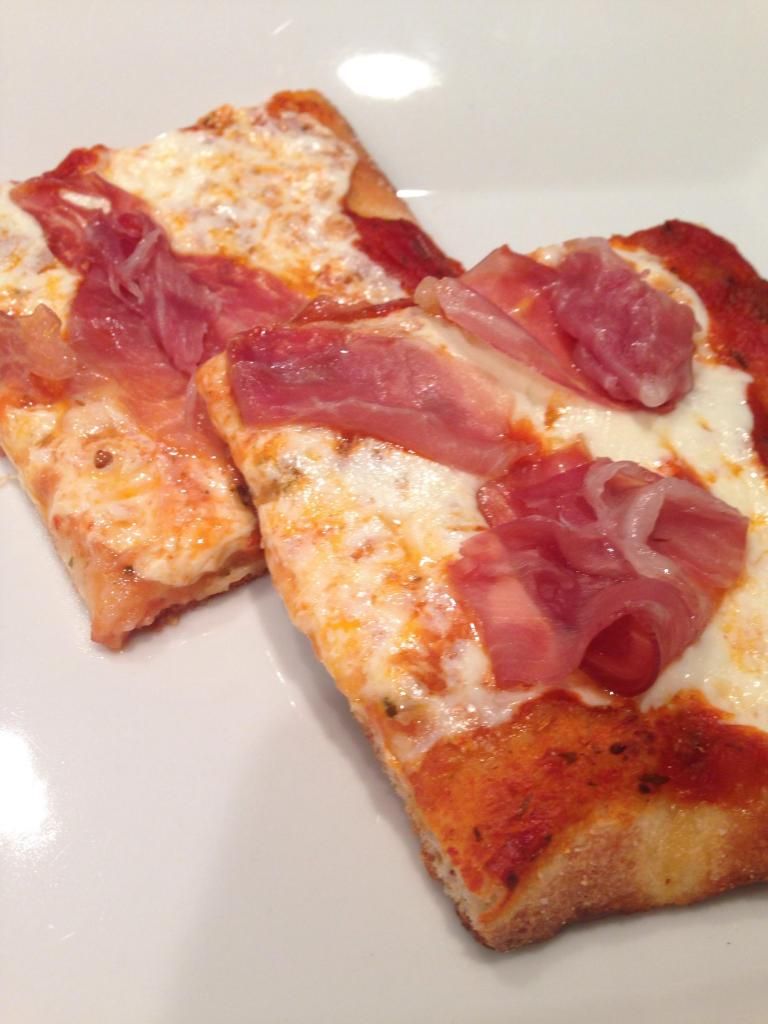 I can't reiterate how much simplicity works in so many recipes. There's (technically) only three ingredients topping this pizza, but there's so much flavor with the fresh mozzarella and the thin slices of prosciutto. While the meat might still have a twinge of cold, don't let that deter you. You'll be surprised and how much flavor can permeate from such a simply pizza. The crust cooks up perfectly, without little to no effort. Again, if it's easy to create it on your own, why not do it? It's the whole concept behind this pizza.
Thanks for joining us tonight. Tomorrow, Tyler crosses an ocean to bring you another Burger of Summer. Until then,
~Cheers!