Good evening everyone! Sorry I haven't been around for a while - I've been adjusting to a new job and I've finally gotten some time to jot down the recipes I've been making. The weather is getting colder and it's time for some warm, fill-you-up, kind of meals. This recipe is no exception: when you combine a hearty chili with pasta, the end result is quite delicious.
The Recipe: Chili Pasta Bake
An Adaptation from a Recipe Found On: www.pinterest.com
What You'll Need:
1/2 Tablespoon Canola or Vegetable Oil
1 Whole Onion, chopped
1 Pound Ground Beef
1/2 Pound small shell Pasta
1 (15 Ounce) Can of Tomato Sauce
1 (14.5 Ounce) Can of Diced Tomatoes with Green Chiles
1 (15 Ounce) Can of Kidney or Black Beans, drained and rinsed
1 1/2 Tablespoon Chili Powder
2 Teaspoons Cumin
3 Shakes of Cayenne Powder
1/4 Cup Water
2 Cups Shredded Cheddar Cheese
To start, preheat the oven to 350 degrees. Next, in a large, nonstick skillet, drizzle the oil over medium-high heat. Add the chopped onions and saute for three minutes, or until they have become softened and semi-transulcent. Add the ground beef and season with salt and pepper. Cook until the beef is no longer pink, about 10 or so minutes.
While the beef is cooking, bring a medium saucepan filled with water to a boil, over high heat. Add the pasta and cook according package directions are al dente. Once cooked, drain in a colander and set the pasta aside.
After the ground beef is cooked, add the tomato sauce, diced tomatoes and green chiles, beans, chili powder, cumin, cayenne powder, and water. Mix all the ingredients until well combined and let the combination simmer for about five minutes. Then add the cooked pasta and stir to combine. Let the new combination simmer for five more minutes.
Carefully, pour the chili pasta mixture into a 9x13 baking dish. Flatten out the mixture with a spatula and cover with cheese. Place the baking dish in the oven and cook for 30 minutes, until the edges are bubbling and the cheese has fully melted. Spoon into serving dishes, top with sour cream and green onions (if desired,) serve, and enjoy!
The End Result: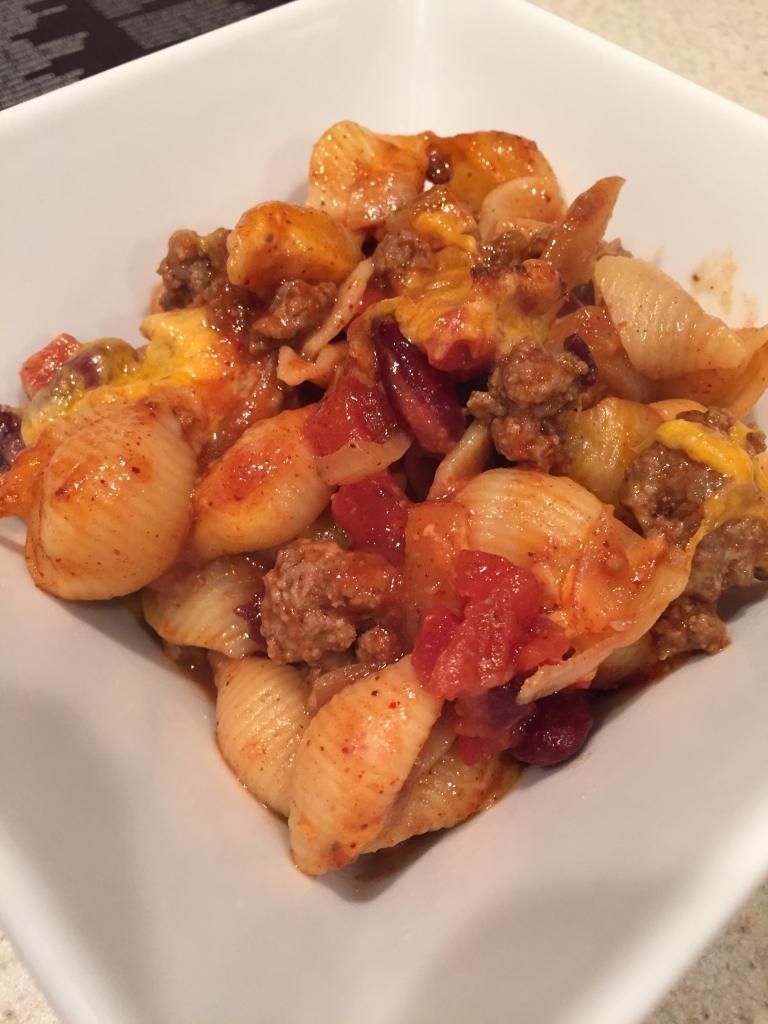 This is one hearty meal! First off, the chili portion, with the beef, beans, and tomatoes - while it didn't simmer in a stewpot all day, the flavor elements are there and that part works. Plus, all those ingredients filling the pasta shells, made for little morsels of chili goodness. While I am a fan of cheese, I'm not sure that a thick layer of cheese on top would have been the best course. Incorporating the cheese into the chili pasta mixture might have been the better option. Plus, the spices made the chili have a little bit of heat, so that helped, in what might have been a bland dish. Overall, if you're looking to feed a crowd with a great, robust meal, this chili is for you!
Thanks for joining us tonight, check back frequently for more fall meals brought to you by myself and Tyler. Until then,
~Cheers!