Good evening everyone! While it was great to be away on vacation for a few weeks, Maggie and I are happy to be returning to a little bit of a routine. Plus, you don't exactly eat as healthy on vacation - so returning to home cooking is a welcome thing for our stomachs too!
Tonight, we're focusing on healthy cooking by going vegetarian. We try to cook up a vegetarian dish every few weeks on the blog for two reasons. First, vegetarian dishes are much healthier for you than dishes that feature meat - even those healthy white fish recipes. While Maggie and I love meat too much to ever go 100% vegetarian, the flavors in vegetarian dishes are usually comparable if not equal to those in a meat dish, so it makes it easy to forgo meat every now and again. Secondly, vegetarian dishes are much cheaper to prepare than meat based dishes. Much of your grocery bill can be allocated to a cut (or cuts) of meat. By removing those elements you can cook up a healthy dish for pennies on the dollar versus their meat based counterpart.
Healthy, great tasting and affordable - why wouldn't we want to go vegetarian every now and again?
Tonight's dish is a spin on our favorite medium, Mexican cooking. We're cooking up a vegetarian taco salad that's packed so full of flavor that you wouldn't even know there's no beef to be found. Let's get cooking!
The Recipe: Vegetarian Taco Salad
Original Recipe Found On: Eatingwell.com
What You'll Need:
(Serves 4)
2 Tablespoons Extra Virgin Olive Oil
1 Large Onion (Chopped)
1 1/2 Cups Fresh Corn Kernels (Frozen works well too - just thaw them first)
4 Large Tomatoes*
1 1/2 Cups Cooked Brown Rice
1 15 Ounce Can Black Beans (Drained & Rinsed)**
1 Tablespoon Chili Powder
1 1/2 Teaspoons Dried Oregano
1/4 Teaspoon Salt
1/2 Cup Fresh Cilantro (Chopped)
1/3 Cup Prepared Salsa (Fresh / whole chunk style - not jarred)
2 Cups Shredded Romaine Lettuce
1 Cup Shredded Pepper Jack Cheese
2 1/2 Cups Crumbled Tortilla Chips
* I've said it before on the blog - but we'll say it again for any new readers - we don't like tomatoes. Okay, that's not entirely true. We do like tomatoes in salsa and occassionally thinly sliced on a burger, but the majority of the time in our recipes tomatoes are not welcome. I'm omitting them from this dish, but will keep the original instructions in place so you can use them if you so choose.
** Be sure to drain the beans before cooking with them. They come canned in what is supposed to be "water" but usually resembles some form of "creature form the black lagoon" sludge. Plus, that sludge is full of sodium that you don't want in your recipe. By rinsing and draining the beans, you can remove up to 25% of the sodium content from the beans.
Begin by heating your olive oil in a large (12 inch) non stick skillet over medium high heat. Once the oil begins to shimmer lightly, add the onions and corn. Cook the onions until they begin to brown slightly. This should take about 5 minutes.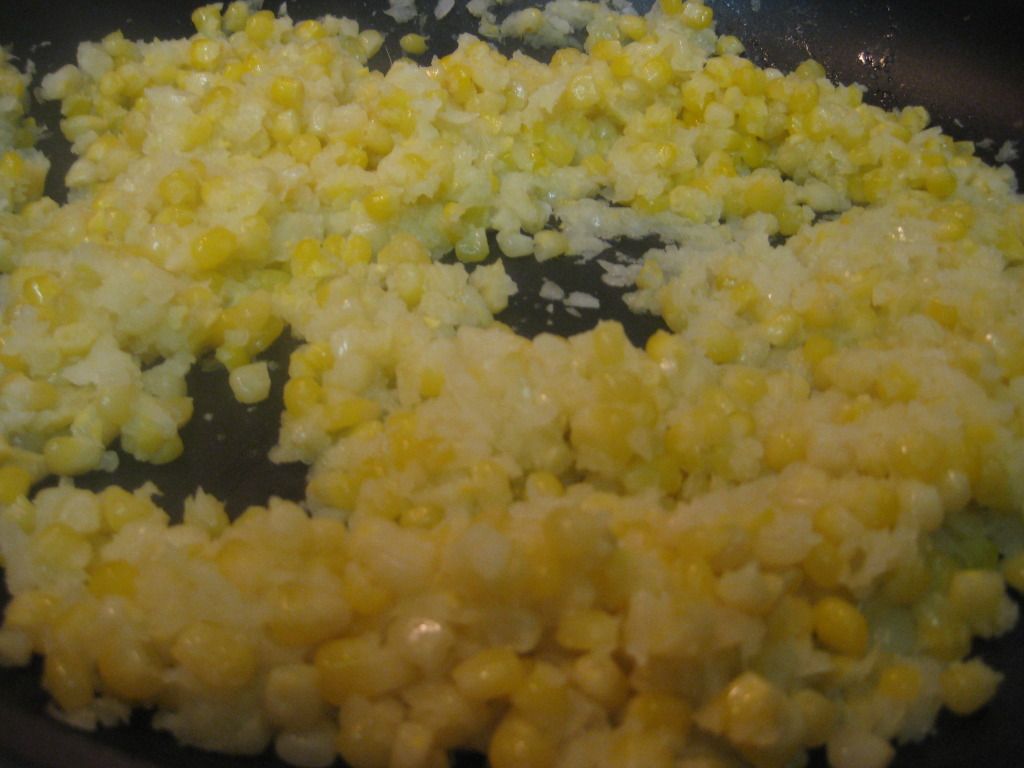 Next, add the chili powder, beans, oregano, rice, 1 chopped tomato (if using) and 1/4 teaspoon salt to the skillet. Mix well and allow the mixture to simmer for about 5 to 10 minutes or until everything has cooked through and the tomato has completely broken down and is incorporated into the dish.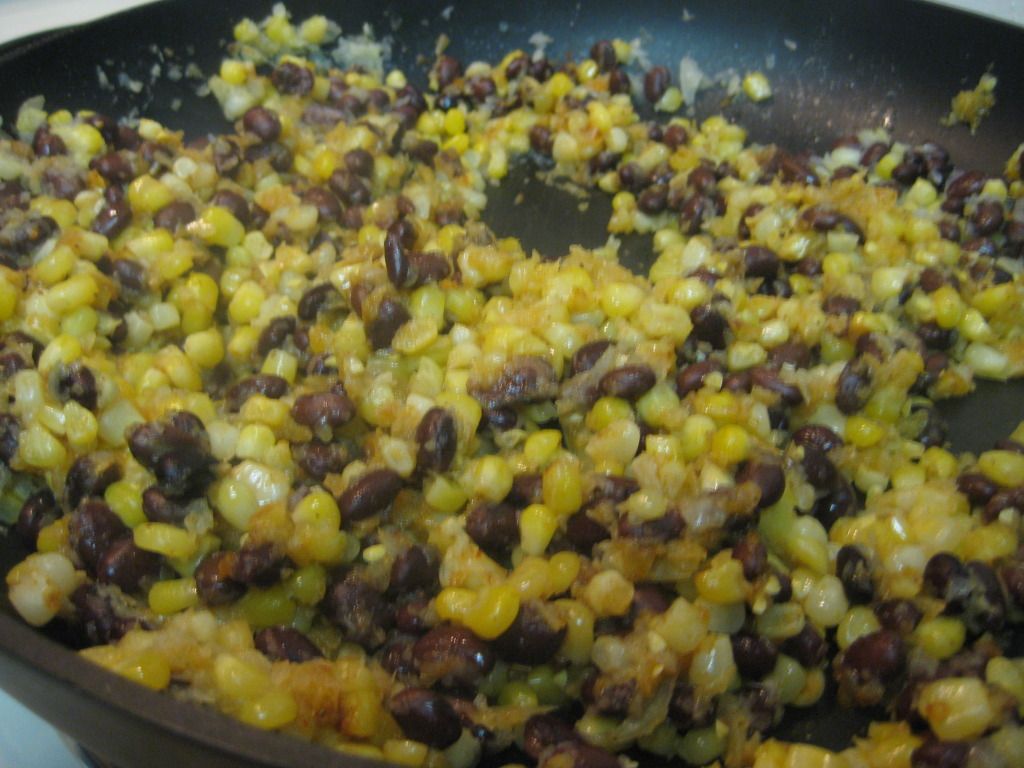 Meanwhile, coarsely chop the remaining three tomatoes and combine them in a medium bowl with the salsa, cilantro and remaining oregano. Mix well and set aside.
In a large serving bowl, toss the chopped lettuce with the bean mixture and the salsa/tomato mixture from the previous step as well as 2/3 of the shredded cheese. Mix well until nicely combined. Sprinkle the tortilla chips over the top of the mixture and add the remaining cheese. Serve with a lime wedge and some additional fresh salsa and enjoy!
The Results: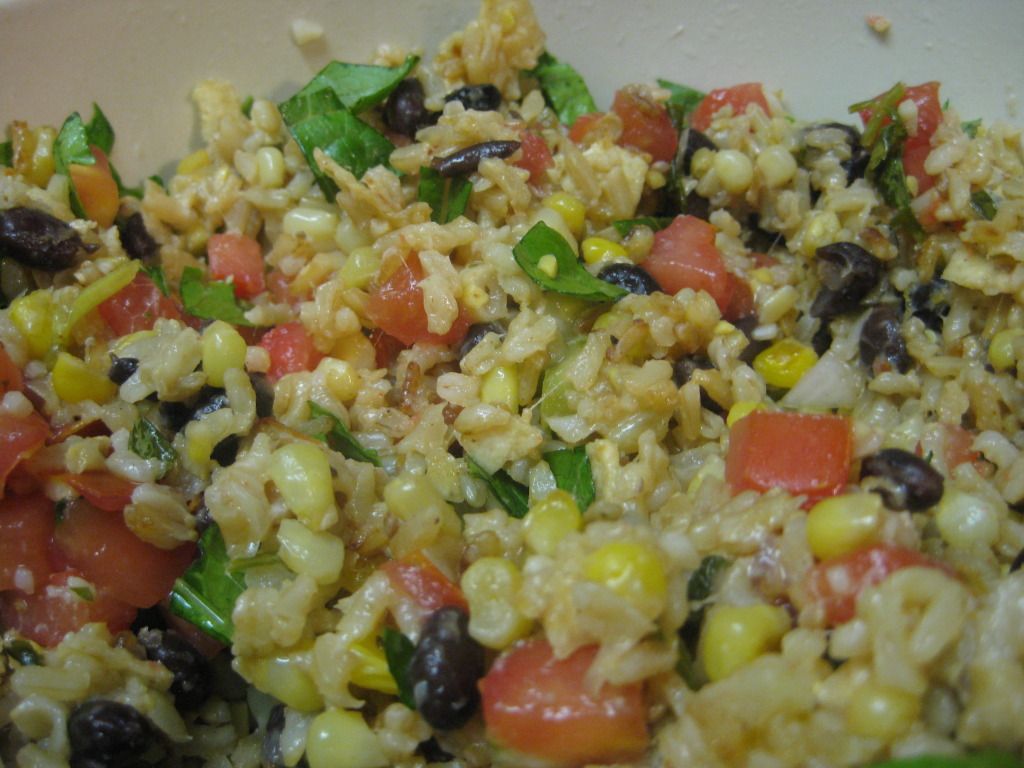 Like I mentioned in the opening, vegetarian dishes usually do such a nice job at creating flavors that you don't even notice that there is no meat in a dish. This recipe certainly follows that trend. The blending of the fresh veggies with the salsa creates a beautiful harmony of Mexican flavors. This dish tastes like any authentic taco salad you've ever tried - but is much, much healthier for you than its meat based counterparts.
That's all we have for you this week. We're back once again next week with some more brand new recipes including what we can easily call the greatest corn muffins you will ever consume in your life.
Until then,
~Cheers