Good evening everyone! When cooking the evening meal (dinner, supper, etc.) it's always nice to "switch it up" every once in a while. For us, that means having breakfast for dinner. Tonight, I'll be creating a not-so common breakfast dish, suitable for any time of the day. That not-so-common dish has actually been featured on the blog numerous times: the frittata. I've probably made about 6, 981 variations of frittatas for the blog (number slightly exaggerated). But since it's such a versatile dish, it's impossible to duplicate the same results.
The Recipe: Onion Frittata
Original Recipe Found In: Bon Appetite
What You'll Need:
8 Large Eggs
1/2 Cup finely shredded Parmesan Cheese
3 large Basil leaves, torn into pieces*
3 large Sage leaves, torn into pieces*
1 Teaspoon minced fresh Rosemary*
1/4 Teaspoon Salt
1/8 Teaspoon Black Pepper
3 Tablespoons Extra Virgin Olive Oil
1 Cup thinly sliced Onion
1/3 Cup Whole-Milk Ricotta
*Note: We tend to opt for dried herbs over fresh, so the rule of thumb is always 1 teaspoon dried equals to 1 tablespoon fresh. Since the basil and sage isn't exactly a tablespoon amount, I would do 1/2 teaspoon of dried basil and sage. Also, using 1/4 teaspoon of dried rosemary would equal to 1 teaspoon of fresh rosemary.
To start, preheat an oven to 400 degrees. In a medium, nonstick, ovenproof skillet, heat the olive oil. In a medium mixing bowl, whisk together the eggs, parmesan cheese, basil, sage, rosemary, salt, and pepper. Set this mixture aside.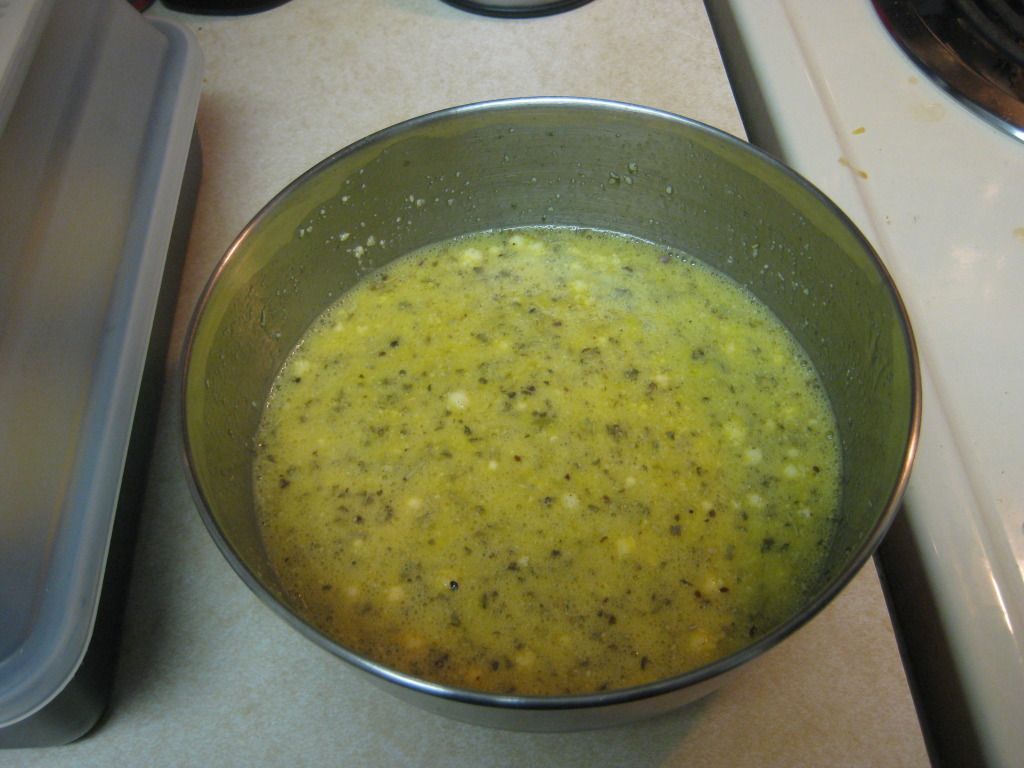 Eggs, parmesan cheese, and herbs, in perfect harmony.
At this point, the oil should be to the point of heated to almost smoking. Add the onion and saute until soft, about six minutes. Make sure to stir about every minute, to be sure the onions won't stick to the pan.
Reduce the pan heat to low. Once the pan is cooled considerably, add the egg mixture to the skillet. This will reduce the risk of the eggs cooking instantly on impact and not burning them. Spoon dollops of the ricotta evenly into the egg mixture in the skillet.
Next, cook the frittata until it begins to set, about two minutes. Place the skillet in the oven and bake until the frittata is just set, about seven to nine minutes. You'll want to make sure that the frittata isn't completely runny, yet when shaking the skillet, it will be firm. Prepare a platter and, once removed out of the oven, slide the frittata on to the platter. Cut into wedges, serve, and enjoy!
The End Result: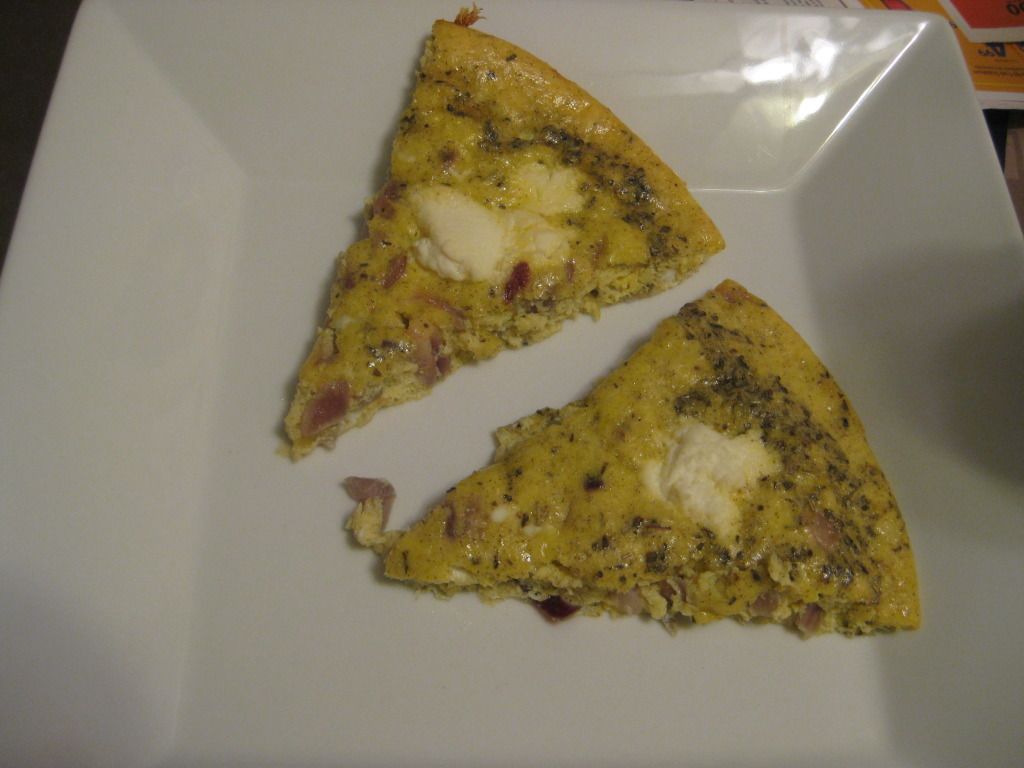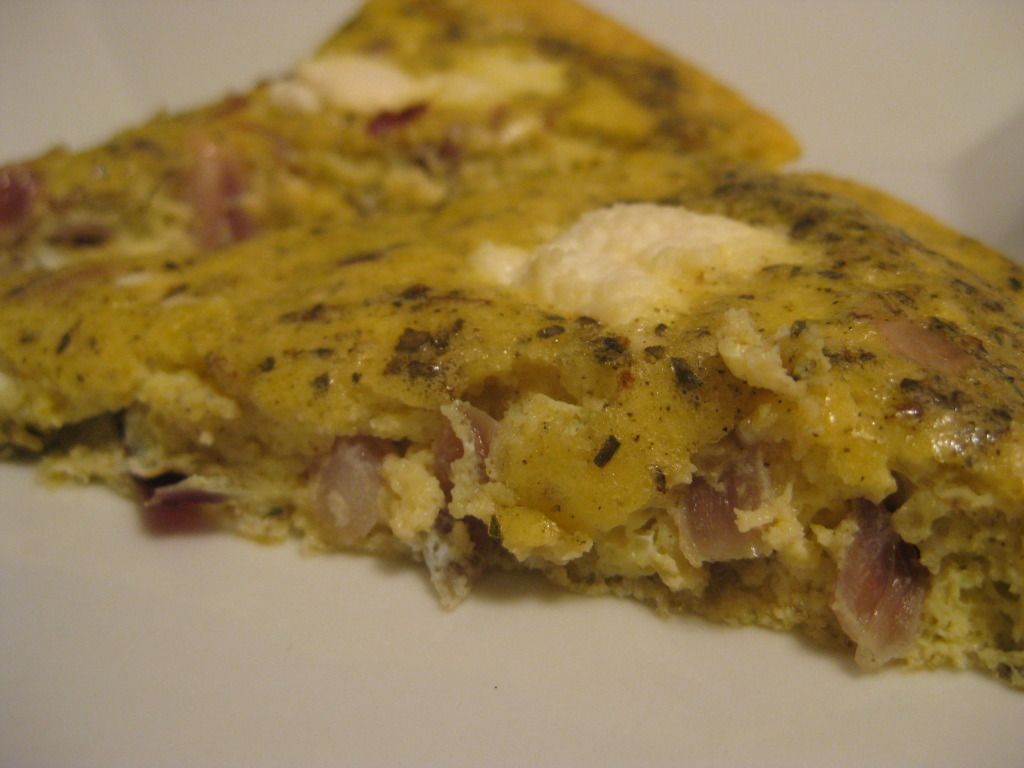 Even though the onion get the name sake for this recipe, it should be renamed Onion and Herb Frittata. The herbs play just an equal role in the dish as the onions do. The onions also aren't overwhelming, which makes the frittatas delectable. This recipe also won't be too time consuming. It's not an overly complicated dish and it's something you can create almost instantly. There are so many additions to this recipe you can add to make this dish uniquely yours. Whether adding more, or different, types of cheese (cheddar or even pepper jack,) any type of meat (canadian bacon or mushrooms comes to mind,) and more vegetables (green peppers, green onions, asparagus, and more,) would really give this dish a flavor boost and make for one incredible frittata. Overall, an easy, lightweight meal with incredible diverse results.
Join us Wednesday as Tyler whips up a delicious variant on one of our favorite recipes. Until then,
~Cheers!