Good evening everyone! More often than not, most recipes that use a grill, add extras (like a heavy sauce or other ingredients) that pack on the calories and make this summer time method of cooking not too calorically appealing. Tonight, I'm going to show you a recipe that will show you that having a great tasting grill recipe that adds all those extras, without all those extra calories.
The Recipe: Bacon-Wrapped Tilapia with New Potatoes
Original Recipe Found In: HyVee Seasons Magazine, Spring Issue
What You'll Need:
8 small New Potatoes, halved
8 Sprigs fresh Thyme
4 (6 ounces each) Tilapia Fillets
8 Slices sweet smoked Bacon
2 Teaspoons Canola Oil
1 Teaspoon Onion Salt
1/2 Teaspoon Paprika
1/4 Teaspoon Black Pepper
To start, bring a grill up to temperature to medium-high heat. Also, spray a grilling basket with nonstick cooking spray and set aside. Next, over medium high heat, bring a pot of water of a boil. Add the potatoes and boil for five to seven minutes, until they are cooked almost all the way through. Drain the pot of potatoes through a colander and once the potatoes are cool enough to handle, pat them dry.
Next, prepare the fish: wrap each fish with two slices of bacon, with two sprigs of thyme wrapped between the fish and the bacon. Set these aside on a clean plate. In a medium mixing bowl, combine the oil, onion salt, paprika, and black pepper until it is well combined. Add the cooked potatoes and toss to coat.
In the grilling basket, arrange the fish and the potatoes and begin to cook. Add the basket to the grill and cook for eight to ten minutes or until the bacon has browned. Depending on what type of grilling basket you have, either flip the basket over or flip the fish and potatoes over and continue to cook for an additional eight to ten minutes, until the bacon is crisp and the potatoes are completely cooked through. Transfer onto plates, serve, and enjoy!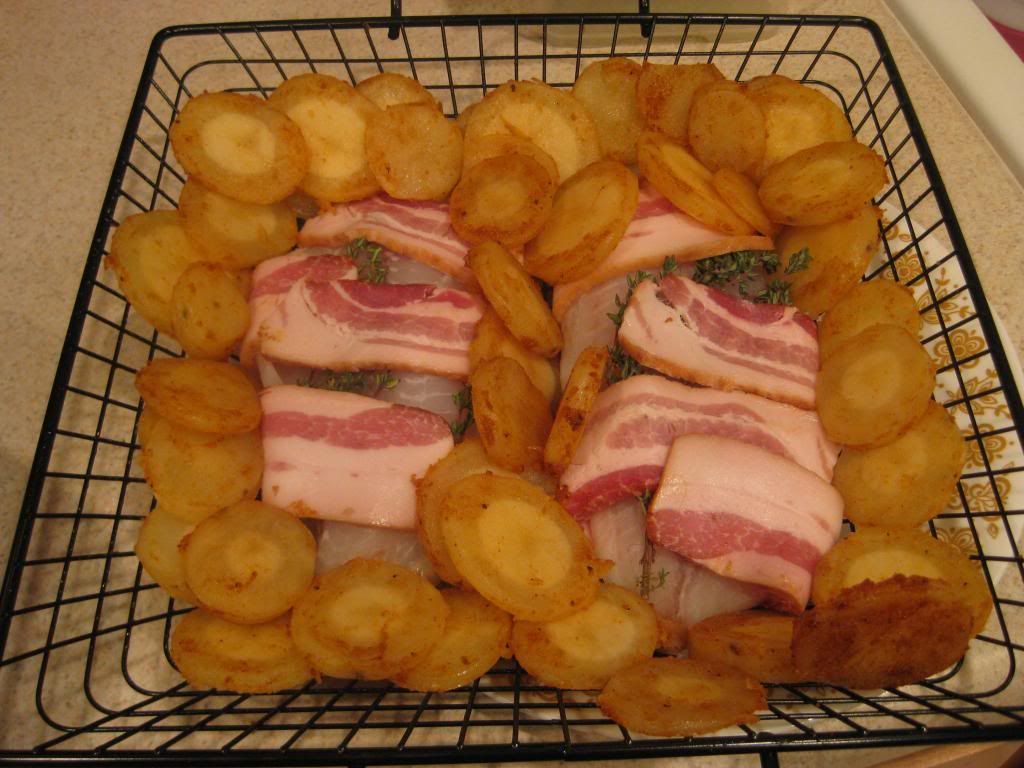 The End Result: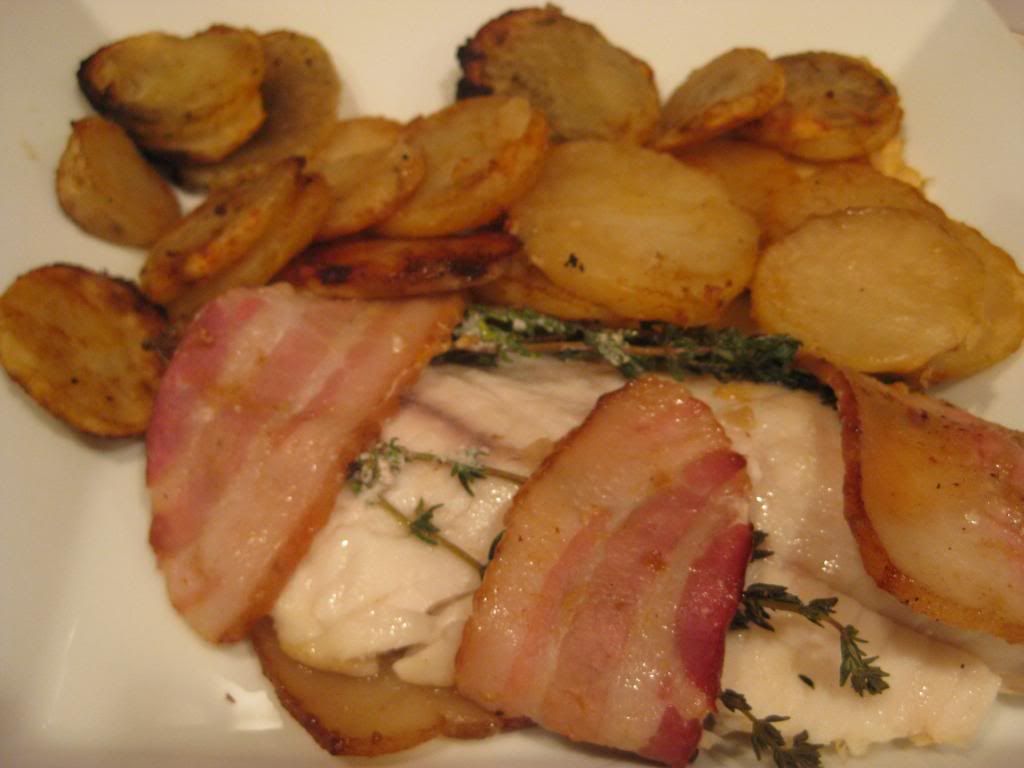 Tilapia is known for infusing any flavor it is cooked with, whether it's from seasonings or other foods. Tonight is no exception: the tilapia completely surrounds itself with a hearty, smokey flavor from the bacon. But cooked from the grill makes the fish ever so tender and melts in your mouth with how flakey it tastes. I, personally, love grilled potatoes - it doesn't matter how you grill them or with what seasonings, it just tastes good. These potatoes are truly exceptional. The slight additives of flavor from the onion salt, paprika, and black pepper is all you need to create fresh, flavorful grilled potatoes. The best part about this dish? A serving is only 280 calories - grilling light never tasted so good!
A couple of quick hints if you want to substitute any of the ingredients. If you plan to use russet potatoes, instead of new potatoes, it's helpful to slice them up before boiling. This will help cook the potatoes throughly before they hit the grill. Also, if you want to use a thicker cut bacon, instead of a thinner version, the cook time will need to be adjusted. It will take about 15 minutes per side. The bacon will crisp up better, plus the flavor in the fish will be that much greater.
Thanks for joining us tonight. Join us tomorrow as Tyler finally gets his hands on a recipe that he's been itching to try. Until then,
~Cheers!