Good evening everyone!
Before I turn the keyboard over to Maggie for her dish tonight, I'd like to share why we were absent over the past week.
We received word on Thursday, April 4th, that my grandmother was having some pain issues and was taken to the hospital. By Friday, "pain issues" had been diagnosed as cancer of the kidneys (among other areas) and by Friday evening, my grandmother was moved to a Hospice facility. We spent Friday and Saturday with her and almost every member of our entire family (20+ member strong.) Grandma was fooling the nurses; who would look at the chart, look at her sitting in the chair in good spirits, sharing stories and cracking jokes, and they would wonder...is this the right chart? We had two great days filled with stories, laughter, and lots of love.
By Sunday, the illnesses she was battling began to show themselves. By Tuesday morning, she was gone.
My grandmother was an amazing woman of compassion, faith, and conviction. She never has a cross word for anyone, and didn't have an enemy in the world. I was fortunate enough to know her for 25 years of my life. For that I will always be thankful. She taught me many things, courage, following what you love, and never giving up.
That spark to follow what you love - to pursue your passion - is evident in the pages of this blog. We love to cook, we love to write. Out of those passions, this large portion of our lives was born. For that reason, I dedicate this blog (not just tonight's post - but the entire concept of this blog) to my grandmother's memory.
I realize a large portion of our audience has never met my grandma and really could care less about how great of a lady she was. I don't care. This blog is my voice, and tonight, a portion of that voice is going out in tribute to a wonderful lady.
Love you always and forever Grandma.
- Tyler
I mirror what Tyler said - she was a great woman to know and someone to reflect your life upon. Such a wonderful tribute to a wonderful lady, thank you Tyler. Since Tyler has eagerly awaited the grilling season to arrive, I thought he would be the first one to blog about it, but it looks I am the first one to delve into the grill realm. Not only am I grilling for the first time, I am also using two other ingredients that I have never used before: it's a bunch of firsts for the blog tonight! If you want something completely unique, this the recipe for you:
The Recipe: Coriander-Spiced Lamb Kebabs with Simple Lemon Yogurt Sauce and Pita Bread
Original Recipe Found In: Relish Magazine, May 2013
What You'll Need:
For the Lamb Kebabs:
1 1/2 Tablespoon Olive Oil
1/2 Teaspoon Red Wine Vinegar
1 Large Garlic clove, minced
1 Teaspoon ground Cumin
1 Teaspoon ground Coriander
1/4 Teaspoon Cayenne
1/4 Teaspoon Salt
1 1/2 Pounds Lamb shoulder chops, trimmed, boned, cut into 1 inch pieces
For the Simple Lemon Yogurt Sauce:
1 Cup plain Greek Yogurt
1 Tablespoon chopped fresh flat-leaf Parsley
1 Garlic clove, crushed
1 Tablespoon Lemon Juice
1/2 Teaspoon finely grated Lemon Rind
1/4 Teaspoon Salt
1/4 Teaspoon Black Pepper
In a medium mixing bowl, whisk together the olive oil, red wine vinegar, garlic, cumin, coriander, cayenne, and salt, until everything is well mixed. Add the lamb pieces and toss evenly to coat. Let the pieces marinate up to two hours.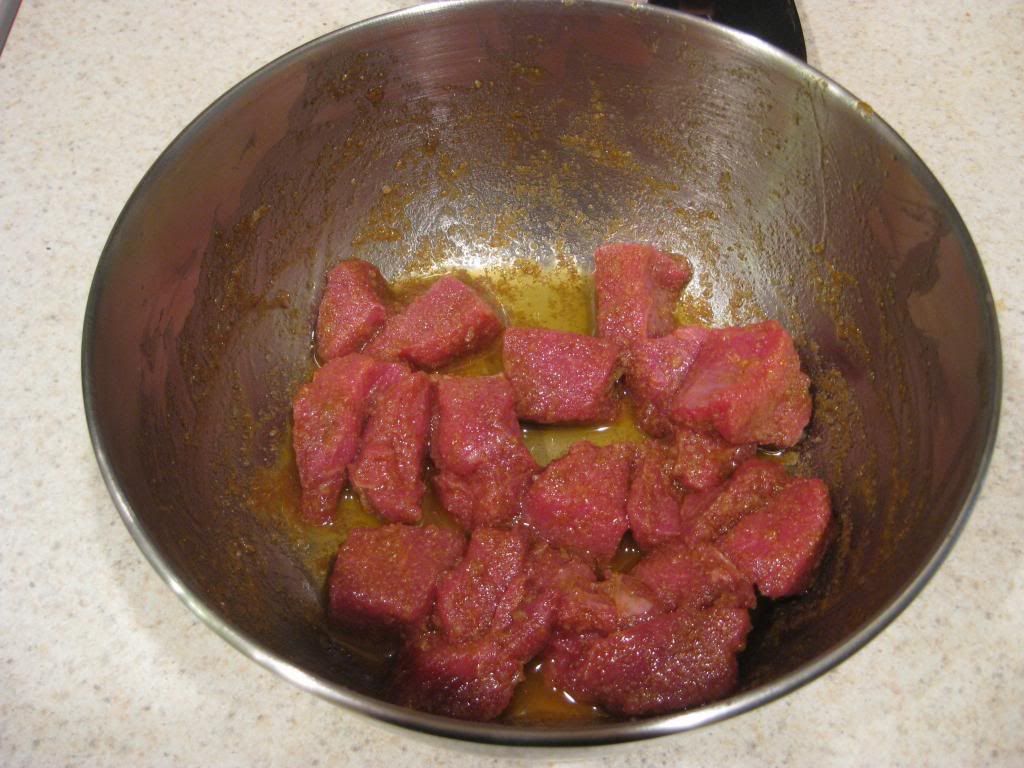 It might not look it, but the lamb is being prepared for one powerful, flavor punch
While the lamb marinates, you can prepare the yogurt sauce: in another small mixing bowl, add the Greek yogurt, parsley, garlic, lemon juice, grated lemon rind, salt, and pepper. Whisk all these ingredients until throughly blended. You can keep this bowl out or place the bowl in the refrigerator until you're ready to serve, depending on how long you marinate the lamb.
Also while the lamb marinates, prepare the grill to begin the cooking process. Depending on the size of your grill, the time will depend on how long to preheat it for. Once it maintains a steady 400 degree temperature, it is ready to cook. After the grill is ready to use, pierce the pieces of lamb with metal skewers, keeping a small gap between the pieces of meat. Place the skewers on a kebab holding plate and grill them for 12 minutes, rotating every three minutes to maintain a charred brown color and is no longer pink in the middle.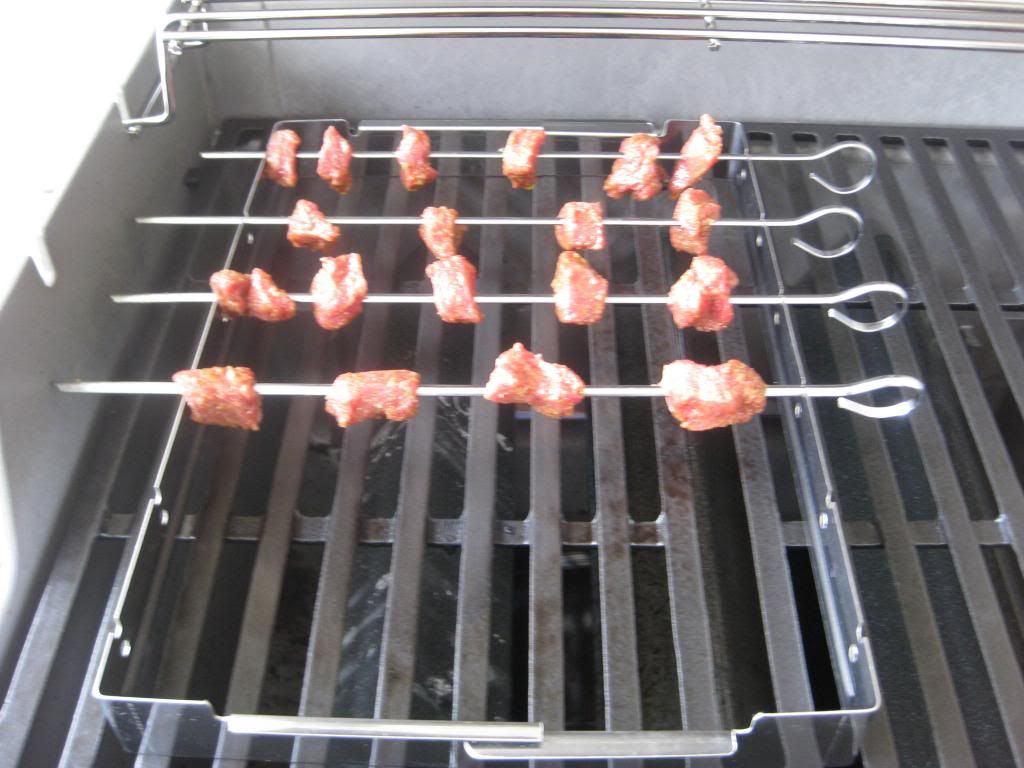 Lamb, ready to be grilled!
On a plate, slice open a pita bread pocket, to reveal two halves. Spread the yogurt sauce in the pocket and layer the lamb inside. Serve and enjoy!
The End Result: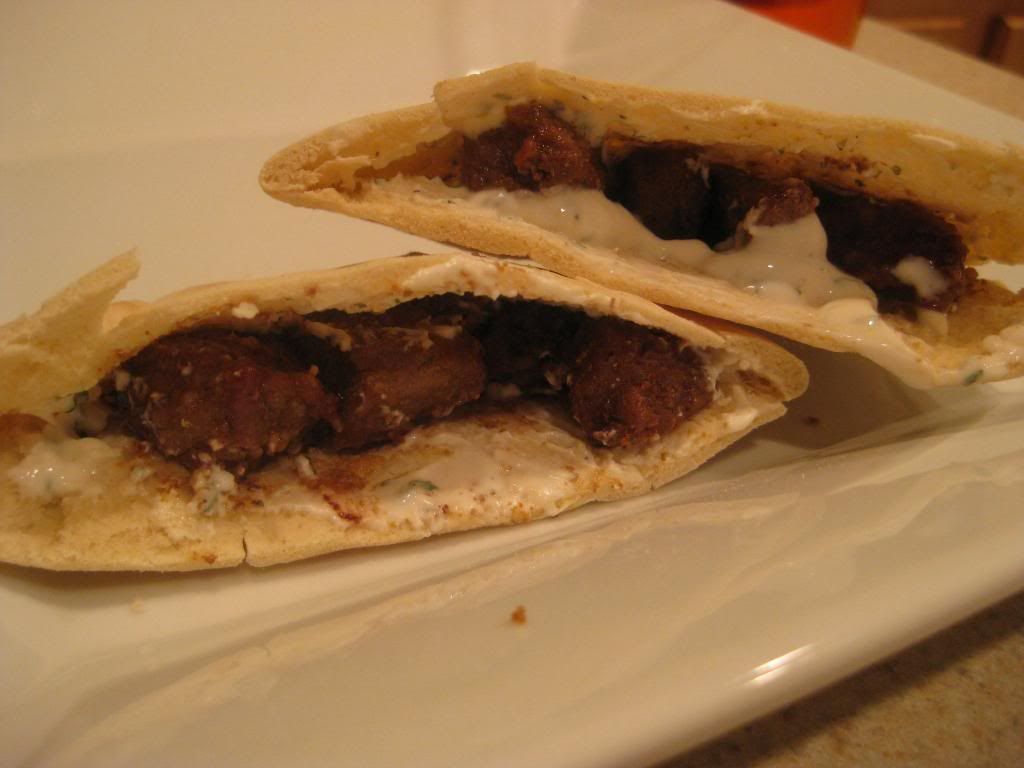 The only lamb I've ever had has been in gyros, but this dish could be a very close second to one of my favorite dishes. The lamb was cooked perfectly and was very moist. The selection of spices gave it a good amount of heat, but not completely overwhelming. The yogurt sauce helps cool down the heat and adds another flavor dimension to this dish. If you like lemon flavor, the sauce is definitely for you. The pita pockets are perfect little capsules to hold the dish together and is a great even base for the spicy lamb and tangy sauce. Overall, a great grilled dish, if you're feeling adventurous with your pallet.
Tyler takes to the grill tomorrow night and tries his hand at an intensely flavored chicken. Until then,
~Cheers!