Good evening everyone! I get many ideas for our blog from the website, Pinterest. While some of these recipes aren't that reliable (trust me, I've had my fair share,) there a few gems worth noting. And while these gems are great on their own, I've often questioned if they could be better. Tonight, I take two versions of the same recipe and make it completely my own, with results that are beyond compare.
The Recipe: Steak Chili
An adaption from several recipes featured on www.pinterest.com
What You'll Need:
1 Pound Stew Meat
1 Red Onion, diced
4 Cloves Garlic, minced
1 Jalepeno, diced
1 Cup dry Red Wine
1 (14.5 ounce) can diced Tomatoes
1 (14.5 ounce) can crushed Tomatoes
1 Tablespoon Chili Powder
1 Tablespoon Ancho Chili Powder
2 (15 ounce) cans Kidney Beans
Sour Cream
Shredded Cheddar Jack Cheese
Oyster Crackers
To start, season the stew meat with salt and pepper, tossing to coat. Next, heat a large Dutch oven over medium-high heat. Once heated, add the meat and cook until browned, about two to three minutes. The meat will start to release a liquid; this will be vital for cooking purposes. Once the meat is cooked and the juice has started to bubble, add the onion, garlic, and jalepenos. Cook until the ingredients become fragrant, about three minutes.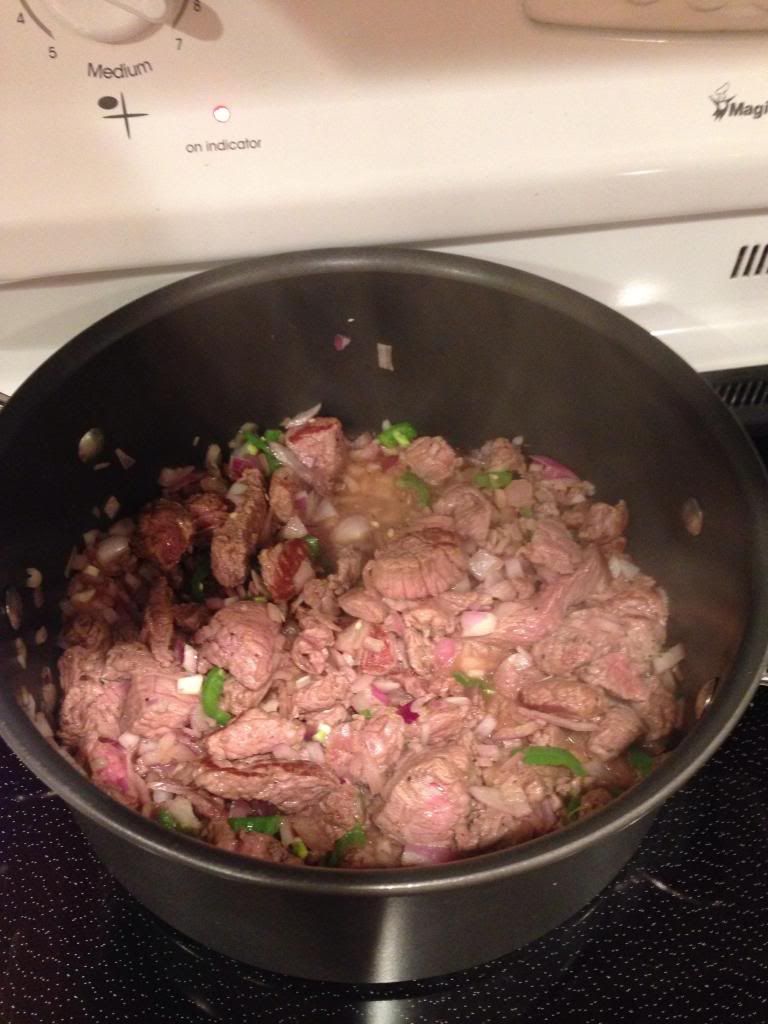 Stir in the diced and crushed tomatoes, along with the kidney beans and red wine. If all the ingredients are not covered by any liquid (from the diced tomatoes or the wine,) add 1/2 cup of water. Only add more if it is needed. Also add the chili and ancho chili powders and stir to combine.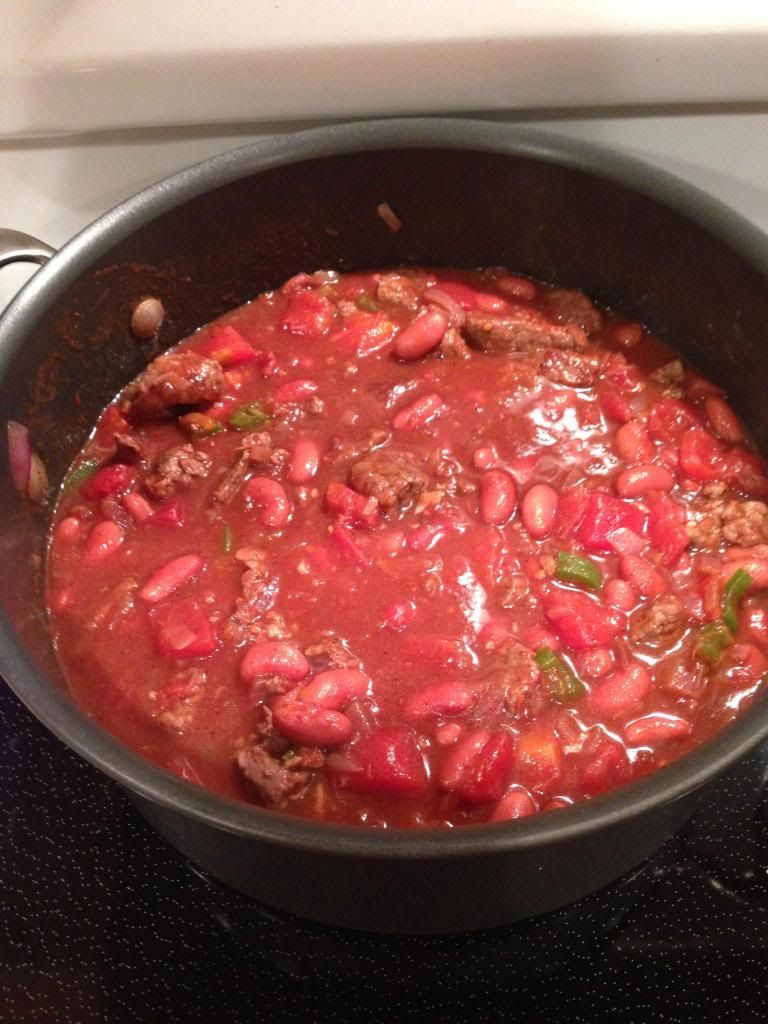 Pre-simmer
Reduce the heat to low and cover with a lid. Let the chili cook for two hours - not a minute less. If the fragrance of the chili becomes too overwhelming, check to see if it needs a stir. This will happen about three to four times, but you will not need to babysit it.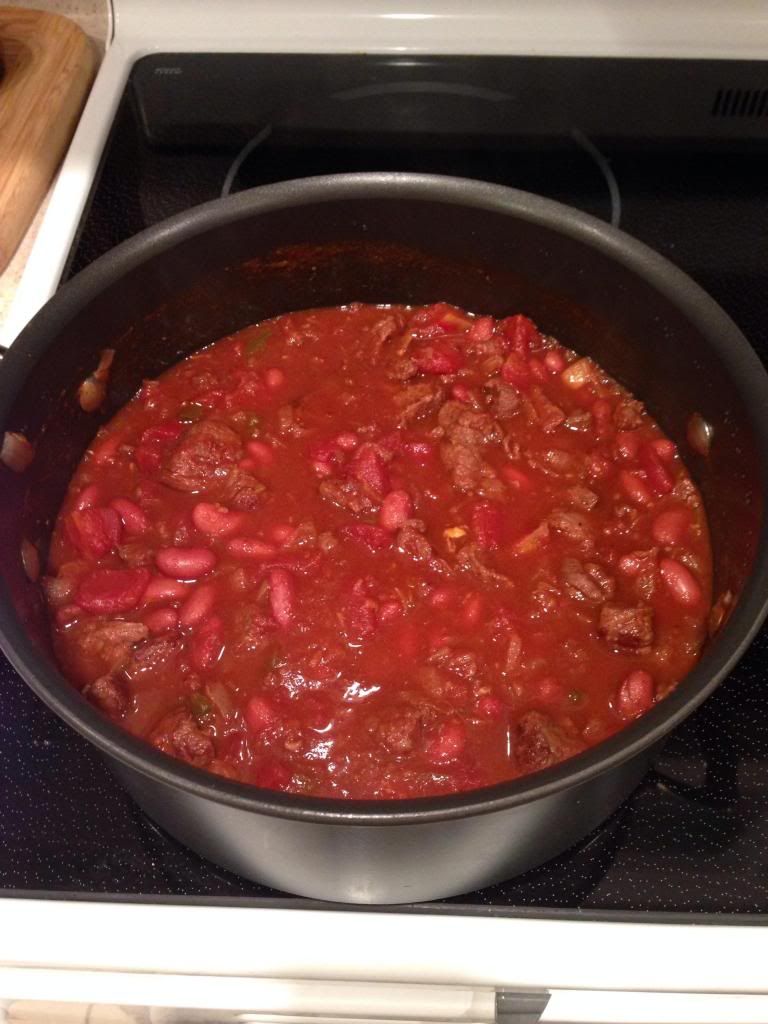 After two hours of the chili simmering it its own juices
Spoon into individual soup bowls. Add sour cream, shredded cheese, or oyster crackers to taste. Serve and enjoy!
The End Result:
This is, by far, the best chili I've had or ever created. The slow, simmer process really gave the flavors more depth and made the meat the "melt in your mouth" consistency. If you are looking for the beans in the final dish, they won't be as noticeable, if you were to throw the ingredients together and cooking it on the spot. One of the versions of the recipe called for one to two cups of water, while the other had one cup of red wine. I was astonished that the blogger chose water over wine. I understand if you don't like cooking with alcohol, but substitute it with beef stock or broth. It would have yielded a great taste, without a boozy feel to it.
Also, both versions had two tablespoons of chili powder and no ancho chili powder. While we ran out of chili powder by the first tablespoon, it was pure accidental to add the ancho. It gave the chili a nice kick that helped the flavor of the dish. If you can't stand too much heat, adding the oyster crackers or sour cream will help mellow it out, without taking away that flavor. Overall, a great soup recipe to add to try on your own!
That's all we have for you this evening. Check back tomorrow as Tyler whips up a great slider recipe. Until then,
~Cheers!