Good evening everyone! As a product of the public school system, there are a number of dishes that remind me of what we were fed as children. Albeit the majority of them being not so healthy for our young minds (trust me, that's a completely different subject that has deserved many posts from us.) One of the many dishes we were given was Tuna Casserole and it wasn't, at all, appealing. Tonight, I'll take a new spin on the traditional tuna casserole and make it memorable.
The Recipe: Tuna and Corn Pasta Bake
Original Recipe Found In: Quick Cook Pasta
What You'll Need:
3 Tablespoons unsalted Butter
5 Tablespoons all-purpose Flour
2 1/2 Cups Milk
14 Ounces Rotini pasta
1 (12 ounce) can Tuna in water, drained
7 Ounces frozen Corn kernels
3/4 Cups grated Sharp Cheddar cheese
1/4 Cup Panko bread crumbs
To start, heat a medium saucepan over medium heat. Melt the butter and stir in the flour until a smooth paste forms and cook until golden, two minutes. Gradually whisk in the milk and bring to a boil, stirring frequently. Once the sauce starts to bubble slightly, reduce the heat to a simmer and cook for ten minutes or until thickened and stirring occasionally. Season the sauce with salt and pepper.
While the sauce is cooking, bring an oven to 400 degrees. Also, bring a large saucepan of water to a boil and cook the pasta according to package directions. Once cooked, drain the pasta in a colander and return the pasta to the pan. To the pan, add the sauce, tuna, corn, and cheese and stir until everything is well combined. If it becomes difficult to combine, don't use the saucepan to mix all the ingredients. You can mix the ingredients in the dish you'll cook the pasta in.
Next, spoon the pasta mixture into a large oven safe cooking dish and sprinkle with the panko and any remaining cheese. Place the dish in the oven and cook for 15 minutes or until the top is lightly browned and is bubbling. Spoon into serving bowls, serve, and enjoy!
The End Result: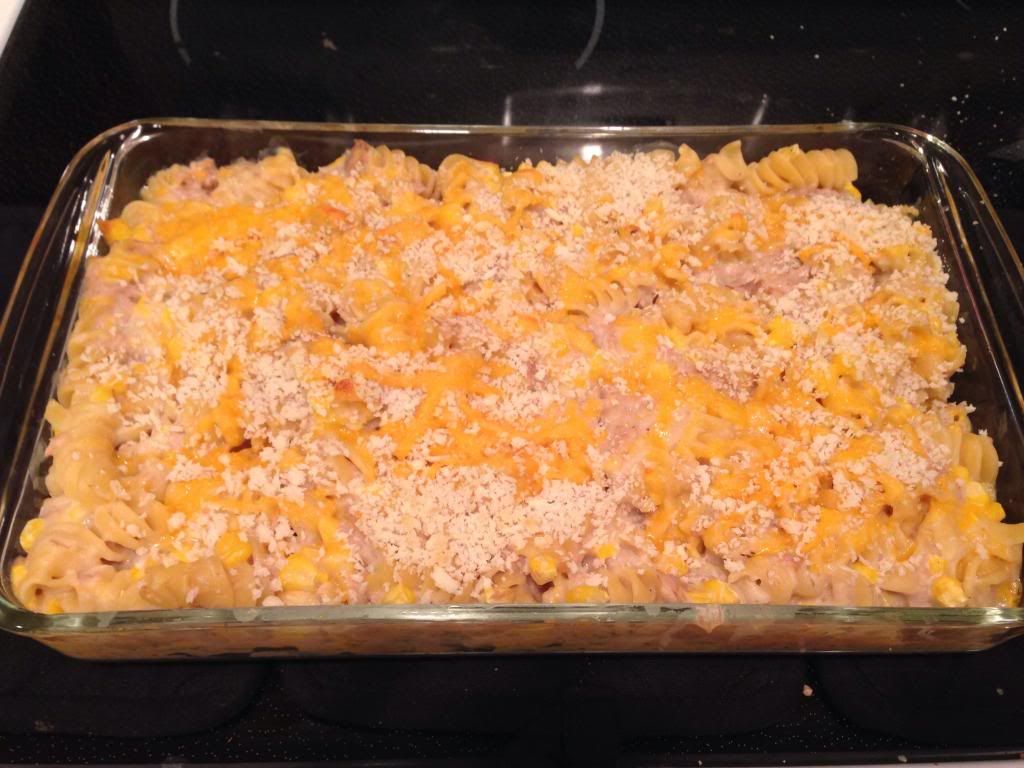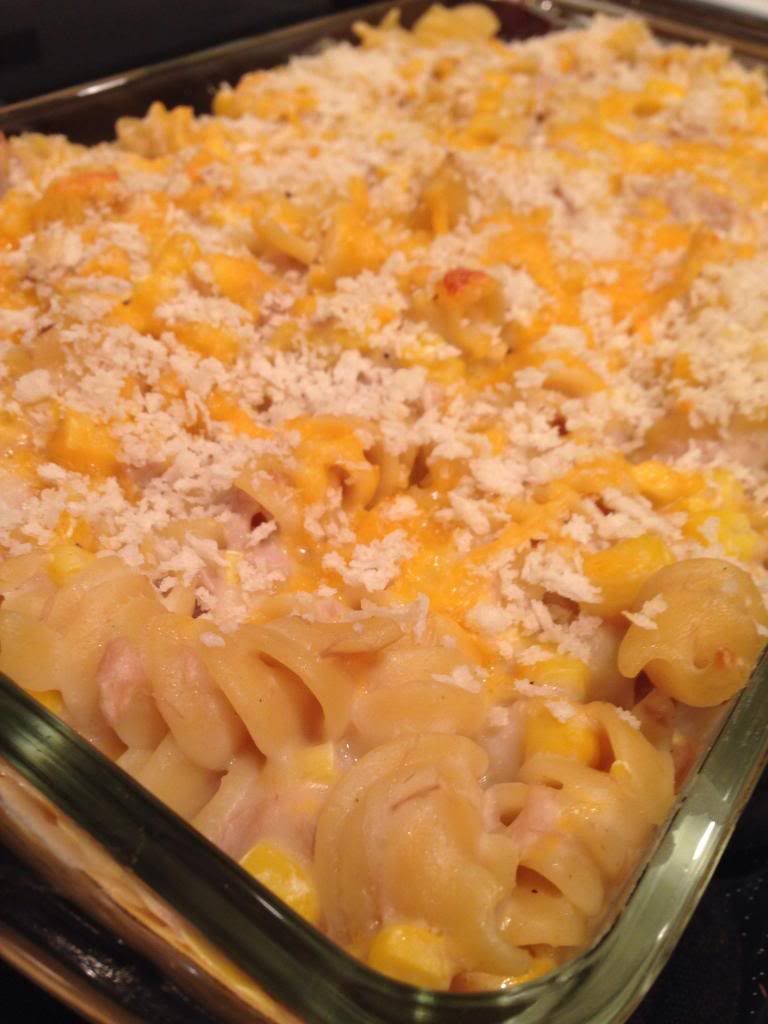 This tuna casserole is nothing like the dish we were served as kids. The sauce coats the pasta, tuna, and corn and makes the entire dish super creamy. It was almost like a velvety feel on the palate. The corn added a few hints of sweet when biting into them and added a nice surprise when eating the dish. I'm not afraid to admit that I like canned tuna, but using it in this recipe was actually quite nice. If we used any other kind of tuna, the recipe may not have turned out the way it did. Overall, a great departure from the school lunch classic.
That's all we have for you this evening. Check back on Wednesday and Thursday as Tyler brings back to back recipes to share. Until then,
~Cheers!