Good evening everyone! As Tyler foreshadowed yesterday, I'm including some of the ingredients I love in tonight's recipe: bacon and cheese. This recipe stems from one of our favorite restaurants. While it's not in our backyard, Canal Park Brewery in Duluth, MN is a great eatery, with an even better brewery. During our last visit, I ordered a Mac N'Beer Cheese. The standard mac'n'cheese is amped up with a beer cheese sauce (made from a beer their brew in their restaurant) and topped with bacon. While I was unable to find a sufficient substitute for this recipe to try this evening, I did find a mac'n'cheese with bacon and it's definitely worth trying!
The Recipe: Chicken Bacon Mac & Cheese
Original Recipe Found In: Cooking Light, May 2014 Issue
What You'll Need:
6 Ounces uncooked regular Elbow Macaroni
3 Bacon slices, coarsely chopped
12 Ounces skinless, boneless Chicken breasts, cut into 1/2-inch pieces
1 Teaspoon Salt, divided
1 Tablespoon minced fresh Garlic
1/8 Teaspoon ground Tumeric
1 1/4 Cups 1% Low-Fat milk
1 Cup unsalted Chicken Stock
1/4 Cup plus 1 Teaspoon All-Purpose Flour
5 Ounces Sharp Cheddar Cheese, shredded (about 1 1/4 cups)
To start, bring a large stockpot of water to a boil. Add the pasta and cook according to package directions. Once cooked, drain the pasta in a colander and set aside.
While the pasta cooks, preheat a large, nonstick skillet over medium-high heat. Add the bacon and cook until the bacon has browned on both sides, about four minutes, flipping between both sides. Remove the bacon and place on a clean plate, lined with a paper towel. Keep the bacon covered with another plate and set aside.
Keeping the reserved bacon drippings in the skillet, add the chicken and sprinkle in with 1/4 teaspoon of salt. Cook the chicken for four minutes, or until slightly golden. Add in the garlic and continue to cook for two minutes. Sprinkle in the turmeric and cook for 30 seconds, making sure the turmeric is evenly dispersed.
In a medium mixing bowl, add the remaining 3/4 teaspoon of salt, milk, chicken stock, and flour and whisk to combine thoroughly. Add the milk mixture to the skillet and stir as so no clumps form in the pan. Bring the chicken/milk mixture to a boil and cook for two minutes, or until the sauce begins to thicken. Be sure to give the entire mixture a good stir every once in a while to be sure the sauce doesn't stick to the bottom for the skillet.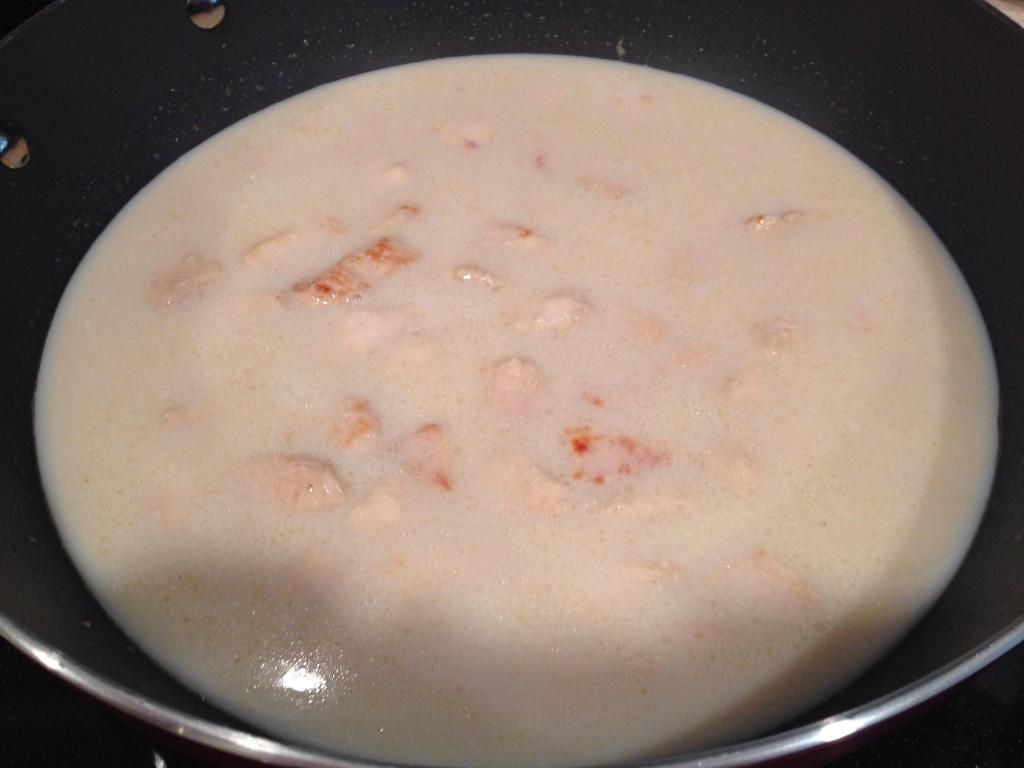 It doesn't look like much, but this is the base of a divine sauce.
Add the pasta back to the skillet and also add two ounces of cheese. Stir the entire combination until the cheese melts and the sauce coats the pasta. Sprinkle the top with the remaining three ounces of cheese and bacon. Cover the skillet with a lid and keep covered until the cheese has melted. Serve in individual bowls, serve, and enjoy!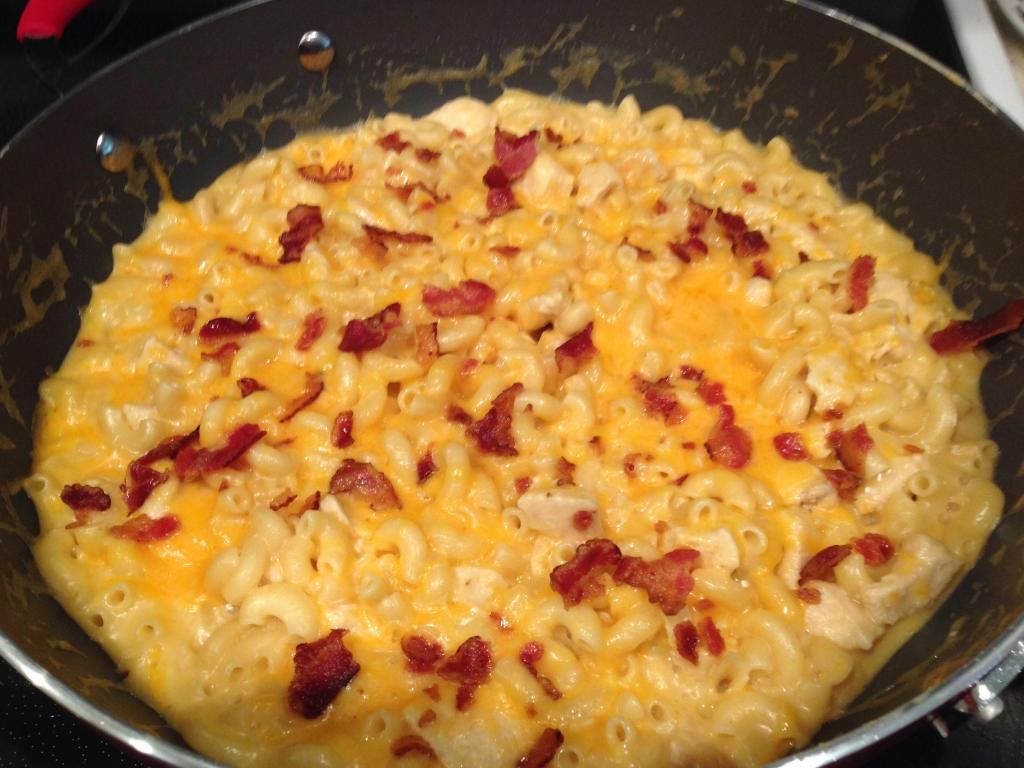 The End Result: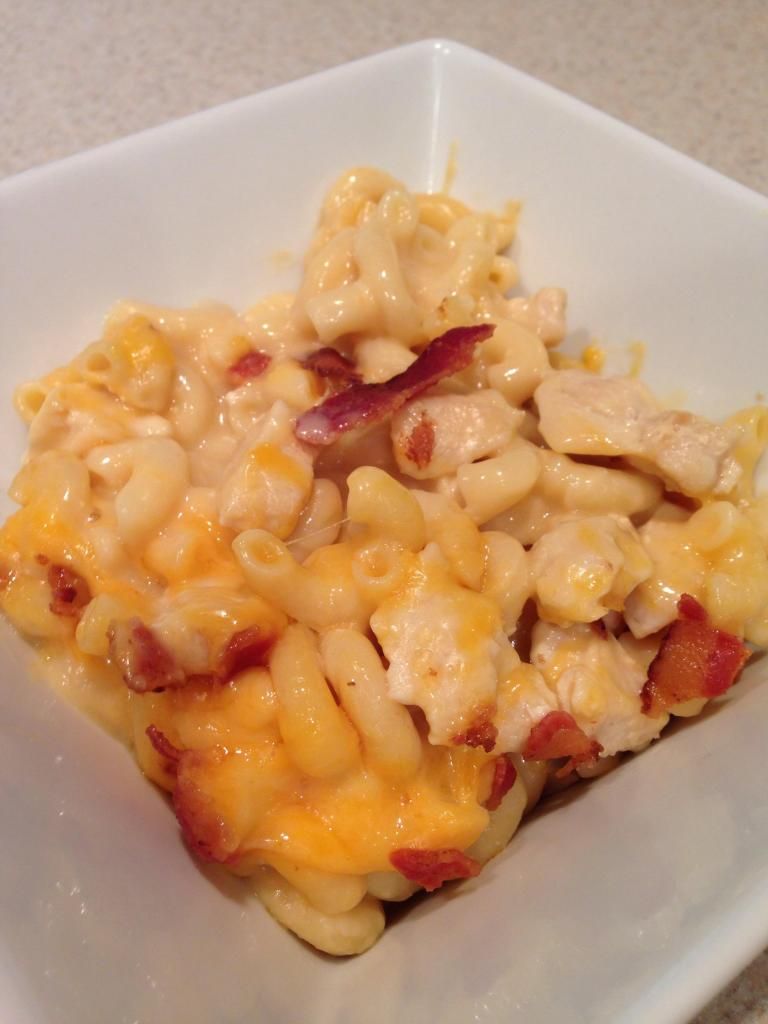 Oh my...this is quite the heavenly dish! While some mac'n'cheese's tend to go a bit overboard with their cheese sauce, this version's sauce isn't too heavy and gives a nice hint of cheese. The pasta becomes one with the sauce and makes it a delight to bite into every noodle. The chicken is also cooked quite nice and is also surrounded by the sauce. They say that everything is better with bacon and this recipe proves that, yet again. It's a great addition to what could be a bland dish. The smoky flavor infuses itself in every bite and makes it so awesome to eat. The added bonus of this dish? Per serving, it's only 343 calories! You can eat like king and don't feel bad about it later! I'm loving this dish and I'm hoping sometime I can create a beer mac'n'cheese from the base of this recipe.
That's all we have for you this week. Check back next week as we showcase some brand new recipes. Until then,
~Cheers!