Good afternoon everyone! We are back and no, we did not fall of the face of the earth. We took a week long vacation during one of the cooler weeks in July and it did not disappoint. But we are back and have some great new recipes for you. Today, I'm returning to one facet of the grill we don't use that often, and quite frankly we should. It's a great way to cook food and should not be missed!
The Recipe: Beef and Bell Pepper Kebabs with Rice Noodles
Orignal Recipe Found In: Cooking Light, August 2014 Issue
What You'll Need:
For the Kebabs:
1/4 Cup Lower-Sodium Soy Sauce
2 Tablespoons Orange Juice
2 Teaspoons Honey
1 Teaspoon minced Garlic
1 Teaspoon minced fresh Ginger
3/4 Teaspoon Five-Spice Powder
1/8 Teaspoon ground Red Pepper
2 (8 Ounce) Sirloin Steaks, cut against the grain into 1/4-inch thick strips
2 Red and/or Yellow Bell Peppers, seeded and cut into 1-inch pieces
For the Noodles:
5 Ounces Rice Noodles
1 Teaspoon minced Garlic
1 Teaspoon minced fresh Ginger
2 Teaspoons dark Sesame Oil
1 1/2 Cups sliced Shiitake Mushrooms
1/2 Cup sliced Onions
1 Tablespoon Lower-Sodium Soy Sauce
1/4 Teaspoon Salt
To start, combine the soy sauce, orange juice, honey, garlic, ginger, five-spice powder, and ground pepper in a medium mixing bowl. Whisk until the ingredients are combined. Add the strips of beef and let marinade for 15 minutes.
While the beef is soaking, you can start the preparations of the noodles. Bring a medium stockpot of water to a boil and add the rice noodles. Cook the noodles according to package directions. While rice noodles are a little more flimsy than pasta noodles, it's best to drain them in a sieve, rather than a colander. Trust me, you'll thank me when you have to clean out a sticky, rice noodle clogged colander.
In a nonstick skillet, bring up to medium-high heat and add the garlic, ginger, and sesame oil and sauté for 30 seconds. Add the mushrooms and onion and continue to sauté for four minutes.
This would be a good time to take out the beef from the marinate and begin to prepare the kebabs. Thread beef and peppers onto eight skewers. It doesn't matter which order they go in, just as long as all the beef and peppers are used. Heat a grill over high heat and once at 500 degrees, kill one of the burners. Place the kebabs on the grill and cook on three minutes on each side. This will ensure the beef is done and the peppers have a nice char on them. Remove from heat and set aside.
After the kebabs are done cooking, the mushrooms and onions should be done sautéing. Add the rice noodles, soy sauce, and salt and stir to combine. On a plate, place a spoonful or two of the rice noodle mixture, with one or two kebabs. Serve and enjoy!
The End Result: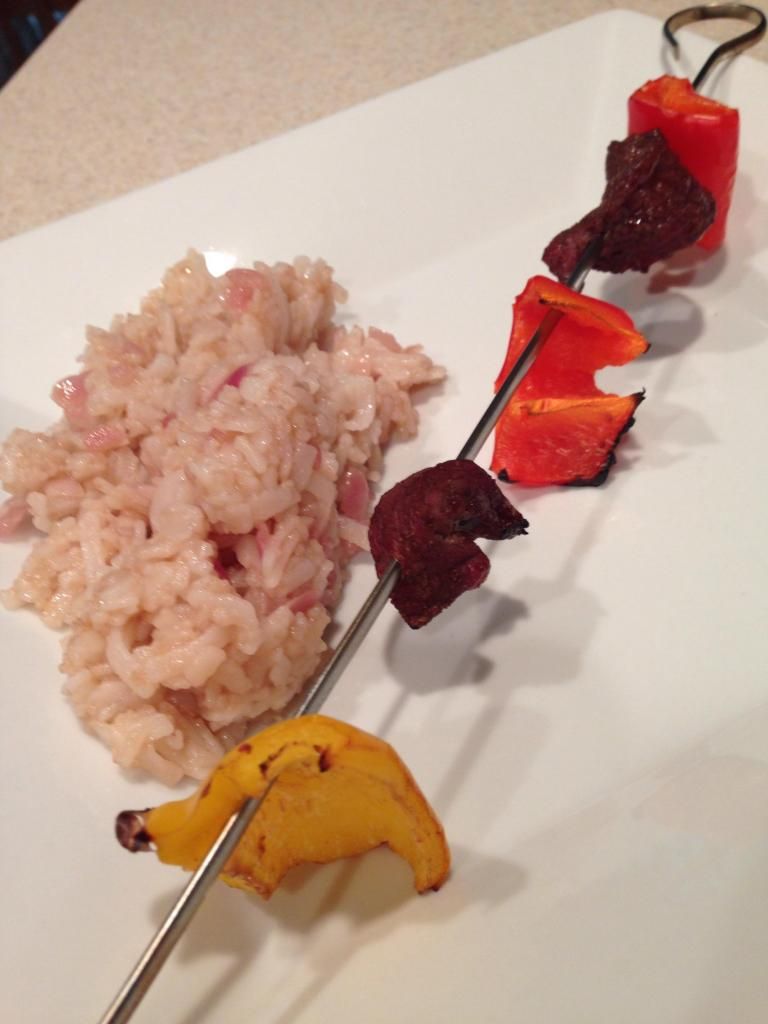 I decided the take the beef and the peppers off the kebab and eat with the noodles and I'm glad I did. The beef was cooked just right and hints of the marinade were prevalent. While it wasn't an overwhelming flavor, it was just enough to make it delicious. The peppers were charred enough to subdue their pepper flavor, yet it made a nice bed to eat with the beef and noodles. While I didn't cook my noodles with mushrooms, they complimented the grilled ingredients. I have yet to master how to make my rice noodles that they don't stick to each other, but that might be another recipe. Overall, a quick and flavorful grill recipe that you should definitely try on your own!
That's all we have for you today. Tyler will continue his Burgers of Summer segment tomorrow with a unique sandwich to burger conversion that is quite tasty. Until then,
~Cheers!