Good evening everyone! On my continuing series of soup/stew recipes, I came across this Asian inspired dish. While it has more of a broth base, the ingredient in the broth make it delightfully more cozy and delicious.
The Recipe: Chicken and Rice Soup with Lemon and Ginger
Original Recipe Found In: Cooking Light, November 2014 Issue
What You'll Need:
1 Tablespoon Olive Oil
1/2 Cup chopped Onion
1 1/2 Tablespoons finely minced fresh Ginger
1 Tablespoon White Miso
1 (8 Ounce package) pre sliced Cremini Mushrooms
4 1/2 Cups unsalted Chicken Stock
1 1/2 Cups shredded skinless rotisserie Chicken Breast
3 Cups chopped Bok Choy
1 (8.5 Ounce) pouch precooked Brown Rice
1 Tablespoon lower-sodium Soy Sauce
1/2 Teaspoon Kosher Salt
1/2 Teaspoon Black Pepper
1 Tablespoon grated Lemon Rind
2 Tablespoons fresh Lemon Juice
To start, heat a large Dutch oven over medium high heat and add the oil. Once the oil has heated and been swirled around the cooking vessel, add the onion, ginger, and miso. Saute for four minutes or until the onion has just begun to soften. Next, add the mushrooms and cook for two minutes, or until they've taken on a bit of color. Add the chicken stock, rotisserie chicken, and bok choy and stir to incorporate. Bring the ingredients to a boil and once bubbling, reduce the heat to medium-low and simmer for eight to ten minutes.
While the soup simmers, prepare the pouched rice according to package directions. After the soup has simmered, add the rice, soy sauce, salt and pepper into the soup and cook for four minutes or until the bok choy has become tender. Remove the Dutch oven from the heat and stir in the lemon rind and juice. Ladle into soup bowls, serve, and enjoy!
The End Result: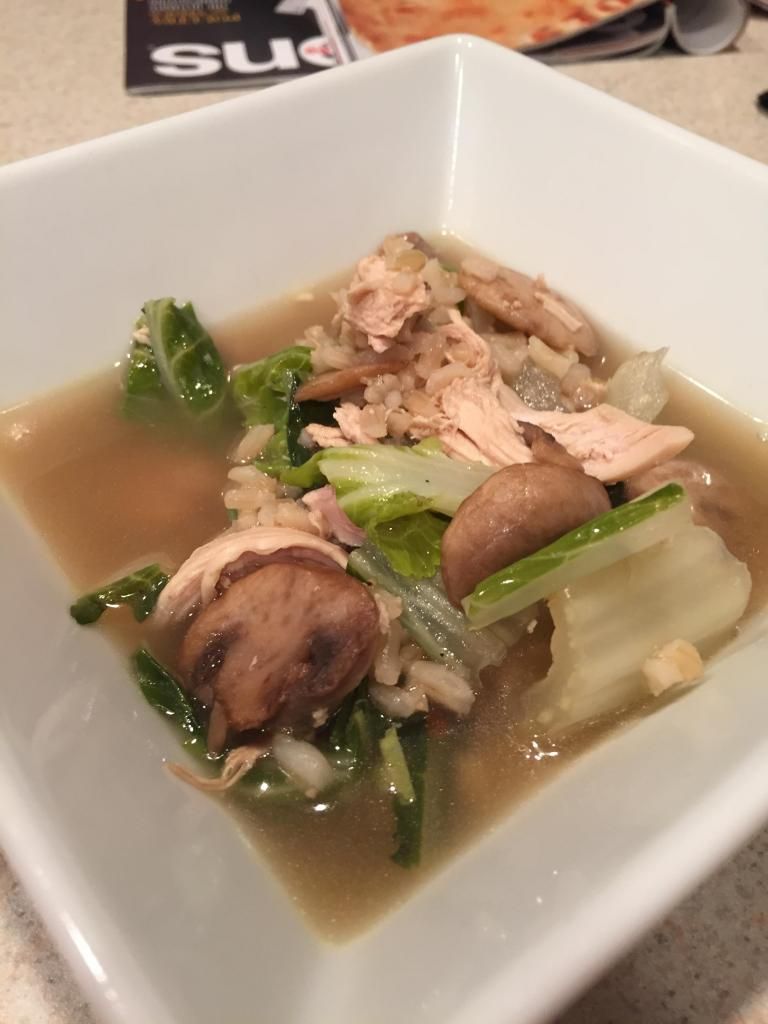 This recipe has a very distinct hint of citrus flavor, from the ginger and lemon. While it's not completely overpowering, it's pronounced enough to note it, but it certainly does not take away from the flavor of the dish. The chicken and the rice make the soup almost a homey feel, which I would have never gotten from putting rice in the soup. The bok choy definitely makes its presence known. It's almost a bitter green, without going into the realm of kale. Adding it to the soup is a welcome addition, but the key is to cooking it until it becomes tender. It might throw off the whole soup otherwise. Overall, a great soup to add if you're looking to switch up your tradition Chicken Noodle Soup recipe.