Good evening everyone! As Tyler mentioned previously, we are transitioning to a new way of posting recipes. We are still focusing on delicious and healthy recipes, and we also want to showcase weeknight dishes that are a snap to make, without too much hassle. Tonight's recipe is a great example of that. While most pasta recipes focus too much on the sauce it's doused in, this dish showcases a brilliant, yet healthy alternative to the norm. And it's speedy recipe to whip up in a flash.
The Recipe: Broccoli and Pecorino Pesto Pasta
Original Recipe Found In: Cooking Light, September 2014 Issue
What You'll Need:
8 Ounces uncooked Whole-Wheat Angel Hair Pasta
1 (12 Ounce) package microwave-in-bag fresh Broccoli Florets
1/4 Cup fresh Basil Leaves
3 Tablespoons Extra-Virgin Olive Oil
1 Tablespoon grated fresh Lemon Rind
3 Tablespoons fresh Lemon Juice
1/4 Teaspoon Kosher Salt
1/4 Teaspoon crushed Red Pepper Flakes
2 Garlic Cloves
1 Ounce Pecorino Romano Cheese, grated (about 1/4 cup)
To start, prepare a medium saucepan, filled with water, over medium-high heat. Bring the water to a boil and add the pasta. Cook according to package directions, omitting any salt or oil. In a sink, place a heatproof bowl over a colander. Drain the pasta in a colander, reserving one cup of cooking liquid.
While the pasta is cooking, cook the broccoli according to package directions. Once cooked, allow five minutes to cool the broccoli. Prepare a food processor and add the broccoli, basil leaves, olive oil, lemon rind, lemon juice, salt, red pepper flakes, garlic cloves, and Pecorino Romano cheese into the processor. Pulse all the ingredients together until the broccoli and basil leaves are finely chopped.
Keeping the processor on, slowly add the reserved one cup of cooking liquid through the chute, until the sauce has reached desired consistency. In a large bowl, add the pasta, along with the broccoli mixture and toss to combine. Place onto a serving dish, serve, and enjoy!
The End Result: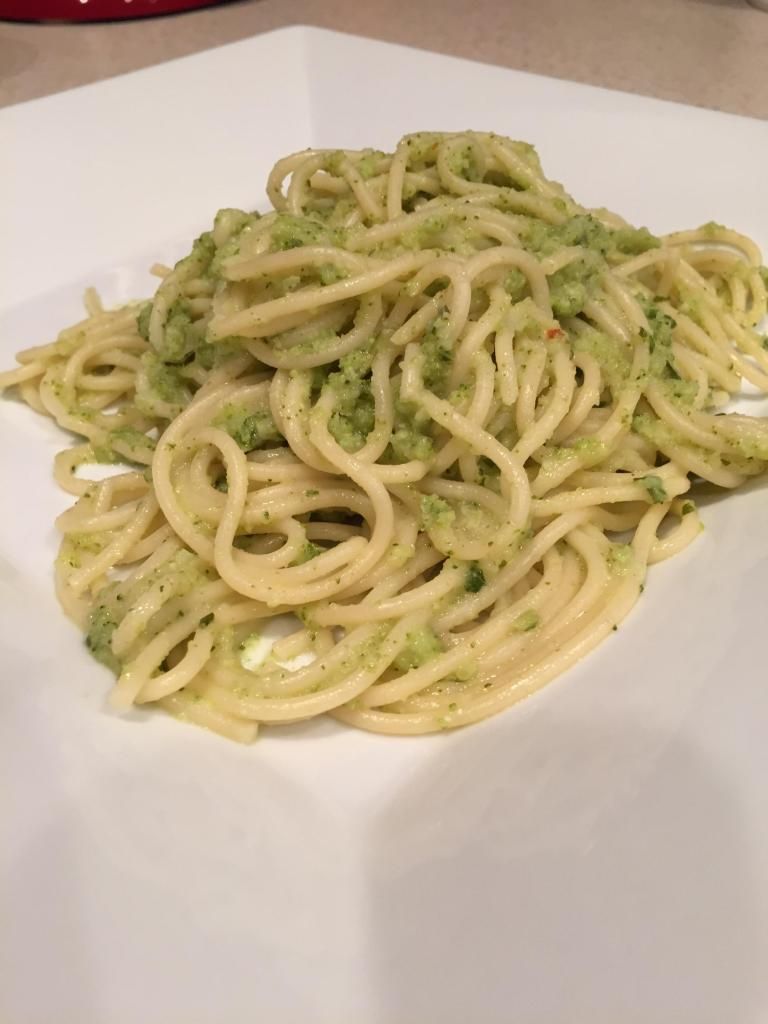 Like it's basic pesto predecessor, it keeps all the same flavors like before. Adding the broccoli not only thickens the sauce, but makes it boosts its nutritional quantity. If you didn't know you were eating broccoli, you'd be incredibly surprised to find it in this dish. I'm all for dressing down overly complicated recipes. If you are big fan of pesto (like myself,) you will not be disappointed with this dish!
That all we have for you this evening. Check back frequently for brand new recipes to share with you and yours! Until then,
~Cheers!