Good evening everyone! The premise behind Chef Zakarian's latest book is that to create a delicious meal is lurking just inside your pantry. He lists 50 readily available ingredients and creates a multitude of recipes from these. One of these ingredients is long-grain brown rice. While most of us serve it as an afterthought, Chef Zakarian uses it to create a filling, yet delicious meal, with some vegetable goodness.
The Recipe: Brown Rice Pilaf
Original Recipe Found In: Geoffrey Zakarian's My Perfect Pantry
What You'll Need:
1/4 Cup Extra-Virgin Olive Oil
1 Cup finely chopped Bell Pepper (green or red will do just fine)
1 Cup finely chopped Carrot
1 Cup finely chopped Onion
2 Garlic cloves, finely chopped
2 Teaspoons chopped fresh Oregano
2 Teaspoons chopped fresh Thyme
1 Cup long-grain Brown Rice
2 1/2 Cups Chicken Stock
2 dried Bay Leaves
1 Cup chopped Scallions (white and green parts)
2 Tablespoons unsalted Butter, cut into pieces
To start, place the oil in a medium-sized Dutch oven and heat over medium heat. When the oil is hot, add the bell pepper, carrot and onion. Cook these vegetables until they begin to soften, about seven to eight minutes. Add the garlic, oregano, and thyme and cook until the fragrances release themselves, about one minute.
Next, add the rice and stir to coat with the ingredients in the Dutch oven, insuring the rice begins to toast in the oil, about two minutes. Add the chicken stock and bay leaves and bring to a boil. Once at a boil, bring the heat to a bare simmer, cover the Dutch oven, and cook until the rice is just tender, and still a little chewy, about 45 minutes. Remove the pot from the heat and let sit, covered, for about ten minutes.
Uncover the pot and fluff the rice with a fork. Add the scallions and the butter, stir to combine to melt the butter. Once the butter is melted, remove the bay leaves and season with salt and pepper. Serve and enjoy!
The End Result: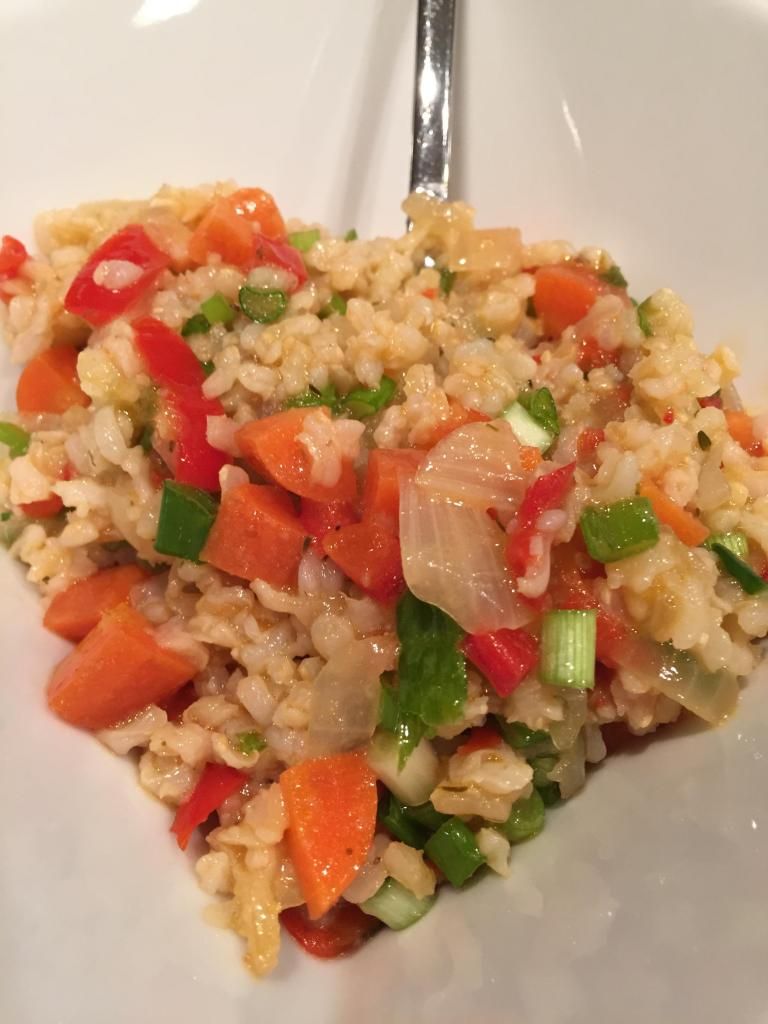 While it's hard to ignore all the beautiful colors in this dish, the rice remains the star. Perfectly seasoned in chicken stock, it almost melts on your tongue with each bite. But all the ingredients have taken on that stock flavor and have harmonized together. While this dish might not be a week-night favorite (since it does take over an hour to cook,) it's something delicious to try using the resources that might be in your pantry!