Need a brunch idea fast, but in not a lot of time? These pancakes will be sure to delight and will make you crave for some more!
The Recipe: Carrot Cake Pancakes
Original Recipe Found In: Cooking Light 350 Calorie Dishes
What You'll Need:
5.6 Ounces All-Purpose Flour (about 1 1/4 cups)
1/4 Cup chopped Walnuts
2 Teaspoons Baking Powder
1 Teaspoon ground Cinnamon
1/4 Teaspoon Salt
1/8 Teaspoon freshly ground Nutmeg
Dash of ground cloves
Dash of ground ginger
1/4 Cup Brown Sugar
3/4 Cup Low-Fat Buttermilk
1 Tablespoon Canola Oil
1 1/2 Teaspoons Vanilla Extract
2 Large Eggs, lightly beaten
2 Cups finely grated Carrot (about 1 pound)
To start, weigh or lightly spoon 5.6 ounces of flour into dry measuring cups and level with a knife. Combine the flour, walnuts, baking powder, cinnamon, salt, nutmeg, cloves, and ginger in a large mixing bowl. Stir these ingredients with a whisk until well combined. In a medium mixing bowl, add the brown sugar, buttermilk, oil, vanilla extract, and eggs. Thoroughly mix until all the ingredients have incorporated themselves. Slowly pour the sugar mixture into the flour mixture and stir until just moist. Fold in the carrot until it has incorporated itself into the batter.
Next, heat a large, nonstick skillet over medium heat. Coat the pan with cooking spray. Once the pan has heated, spoon a 1/4 cup portion of the batter into the skillet, leaving room for three more pancakes. Gently spread the batter, but don't overcrowd the pan. Cook each pancake for two minutes or until the tops have begun to bubble and the edges look colored. Very carefully turn the pancakes over and cook for another minute, or until lightly browned. Repeat this procedure with the remaining batter. Serve with butter and/or syrup or nothing at all and enjoy!
The End Result: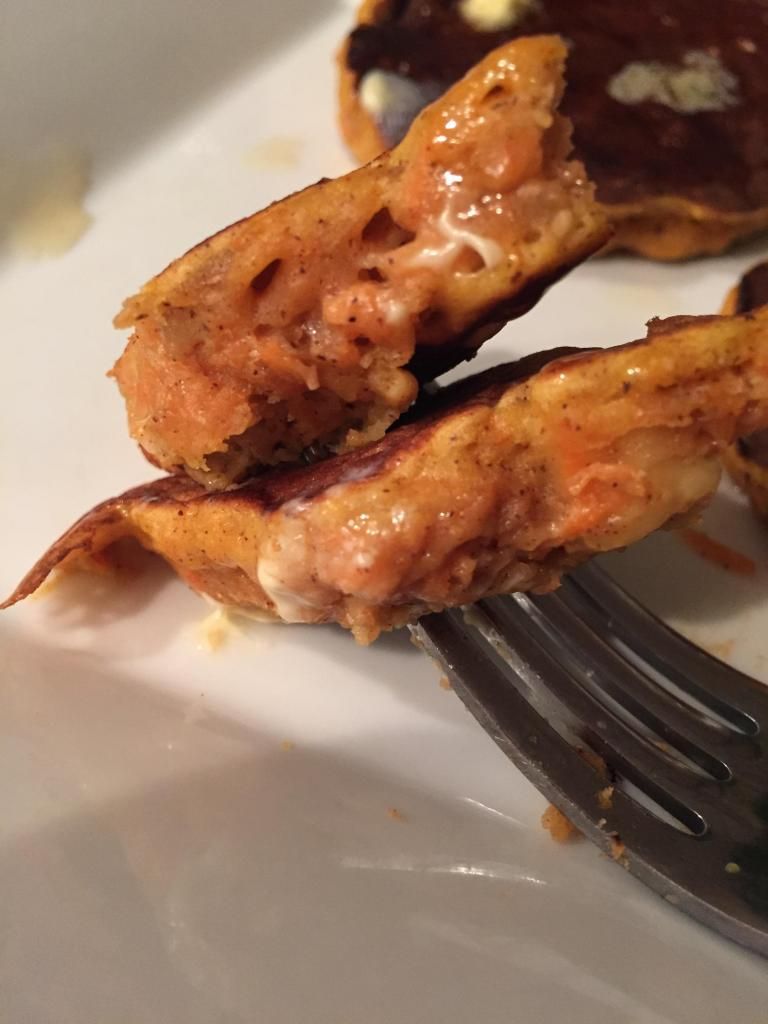 These little pancakes are the most decadent, moist pancakes you will ever meet! The carrots will make it taste like carrot cake, and if you are a fan of it (but not the amount of time it takes to make it,) you will love these pancakes! You will have to be very careful on latter batches of the pancakes, because they will cook very quickly, if you aren't watching. The original recipe called to serve with the honey and butter, but I stuck with good ol' maple syrup and it tasted delicious. You could serve it with a multitude of sweet toppings, or, like Tyler did, ate them by themselves and the delicious factor was still in place. Give these pancakes a try, you will NOT be disappointed!