Good evening everyone! Tonight is a bit of an odd night, it's a Wednesday - but we're not posting a recipe. This is due to the change in my work schedule, which has me working until 6 p.m. 4/5 of the week. In order to balance things out (and keep the blog from going up at 10 p.m.) we've moved around the 'usual' schedule. Tonight, while Maggie and I enjoy leftover chicken dumplings from yesterday (yum!) we'll profile an extremely handy kitchen gadget that few people are aware of - the mandoline.
Now, you may be thinking "How the heck is a tiny guitar going to help me in the kitchen?" What you're thinking of is a mandolin -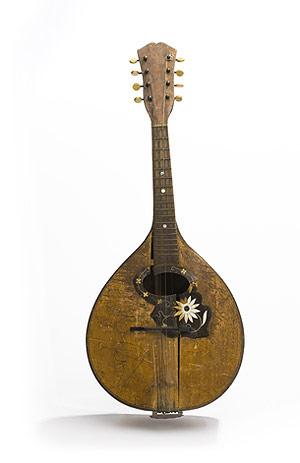 Aside from playing a jaunty cooking tune, this won't help much in the kitchen
When you add an 'e' to the end of the word you get this:
Not as musical - but much more helpful
Both are pronounced the same, but have vastly different uses. For the purpose of tonight's blog - we'll be featuring the kitchen utensil.
What It's All About:
A mandoline is a device that uses two parallel working surfaces to slice and cut fruits and vegetables. One side is adjustable, allowing the thickness of the slice to be controlled. The center section between the two surfaces contains a blade (usually stainless steel, although some plastic based blades do exist) that can be changed out to achieve different cuts.
For anyone that has ever made scalloped potatoes, sliced tomatoes or chopped carrots by hand - I don't have to explain to you why this invention is a life saver. If you're new to the whole 'evenly chopping vegetables via knife' world, allow me to clarify for you. Essentially, a mandoline takes a task that was the most time consuming part of cooking and reduces it down to a few minutes worth of work. In addition, the mandoline will cut the item to the same thickness every time. Something that even the most hardened and professional cooks struggle to do consistently
What It's Good For:
A mandoline will quickly and accurately cut almost any firm fruit or vegetable you put into it. As such, it makes slicing potatoes, tomatoes, carrots, onions, celery, zucchini, cucumbers, peppers and much more a breeze.
What's even better is that the mandoline has a large range. Typically the size of the cut can be adjusted from 1/8 of an inch all the way up to 3/4 of an inch. Now you can slice potatoes super thick for a good potato pot pie, or super thin, for homemade (healthy) potato chips.
In addition, many mandolines come with a large variety of blades which can be easily changed out. This allows the mandoline to make simple cuts as well as fancier crinkle cuts (homemade hamburger pickles anyone?) and even string cuts (carrot strips, sweet potato fries, cucumber 'noodles' for a salad! The possibilities are endless*)
*The possibilities do, theoretically, have an end...there's just a lot of 'em.
What Will It Set Me Back?
Like any kitchen gadget, the mandoline's price ranges from suspiciously cheap (
$8
) to ridiculously expensive (
$609
) However, a solid mandoline should run you in the range of $40 to $75. One of the best mandoline's on the market (according to multiple review outlets) is the
OXO
mandoline. At $35-$40 it's one of the highest rated and most affordable mandolines on the market. (It is also the brand of mandoline that Maggie and I use)
There you have it, a (hopefully) interesting little profile of a kitchen gadget that should be in your everyday kitchen rotation - but is relatively unknown to many 'casual' chefs. Here's hoping you are know at least aware of the handy little tool - even better, here's hoping you are motivated to go out and grab one for yourself. They are a life (and wrist) saver!
That's all we have for you this evening, stop back tomorrow night to see what I've got cooking. (It uses the mandoline... a lot!) Until next time,
~Cheers