Good evening everyone! As many readers of our blog know, I don't step out of my cooking comfort zone that often. I cook ingredients and techniques that are familiar to me. Every once in a while, I step out and try something different, often with varied results. I do have a yearning to try new flavors and cooking methods, but with those varied results, I am often leered away to do so. So tonight, I'm trying a new cooking technique with also fresh ingredients that I would not pair together, and I am definitely excited for these results.
The Recipe: Oven-Roasted Flounder with Bok Choy, Cilantro, and Lime
Original Recipe Found In: Bon Appetite Magazine, December 2012
What You'll Need:
1 Scallion, thinly sliced
1/4 Cup coarsely chopped Cilantro
1/4 Cup fresh Lime Juice
3 Tablespoons reduced-sodium Soy Sauce
2 Tablespoons unseasoned Rice Vinegar
2 Teaspoons finely minced peeled Ginger
3 1/2 Tablespoons Vegetable Oil, divided
1 Pound Baby Bok Choy, cut in half lengthwise*
1/2 Cup Sake or dry White Wine
4 (4 Ounce) fillets Flounder or other delicate white fish
*For those of you who are unfamiliar to bok choy, it can be described as a Chinese cabbage, but it has the consistency of lettuce. It has a little bit of a darker green color than regular lettuce, but the flavor is more powerful. It normally goes in stir fry dishes or soups, but tonight, it will be paired with flounder.
Baby Bok Choy...they're so cute when they're little!
To start, arrange a rack in the upper third of an oven and preheat to 400 degrees. In a small bowl, combine the scallion, cilantro, lime juice, soy sauce, vinegar, and ginger. Whisk in 1 1/2 tablespoons of oil and season with salt and pepper. Set this sauce aside.
Next, heat the remaining two tablespoons of oil in a large skillet over high heat until the oil is shimmering. Add the bok choy, cut side down, and sear until golden brown, about two to four minutes. Turn the bok choy cut side up and remove the pan from the heat. Add the sake (or dry white wine.) Season the flounder with salt and pepper and arrange the fish in a single layer over the bok choy. Roast the fish in the oven until they are just cooked through, about eight to ten minutes.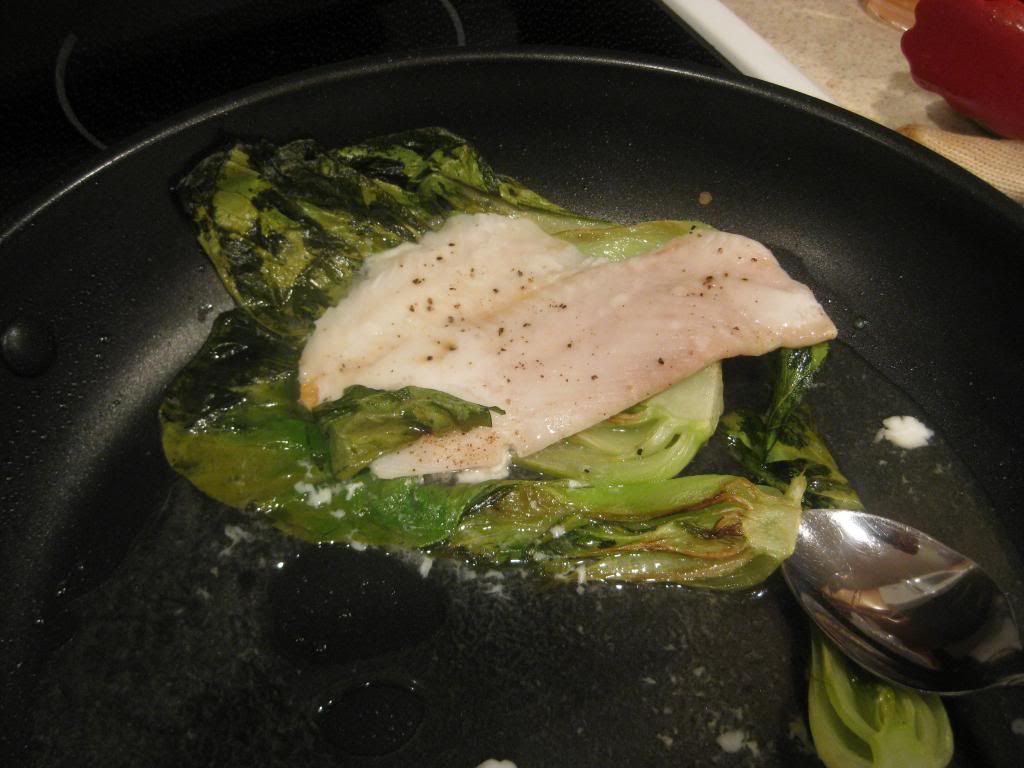 After the fish are cooked, remove the skillet from the oven and spoon the sake sauce from the skillet into the bottom of four shallow bowl, dividing evenly. Add the bok choy to each bowl, also dividing evenly, and top each bowl with a fish fillet. Spoon some of the cilantro-lime sauce over the fish. Serve with a side of steamed brown or white rice and enjoy!
The End Result: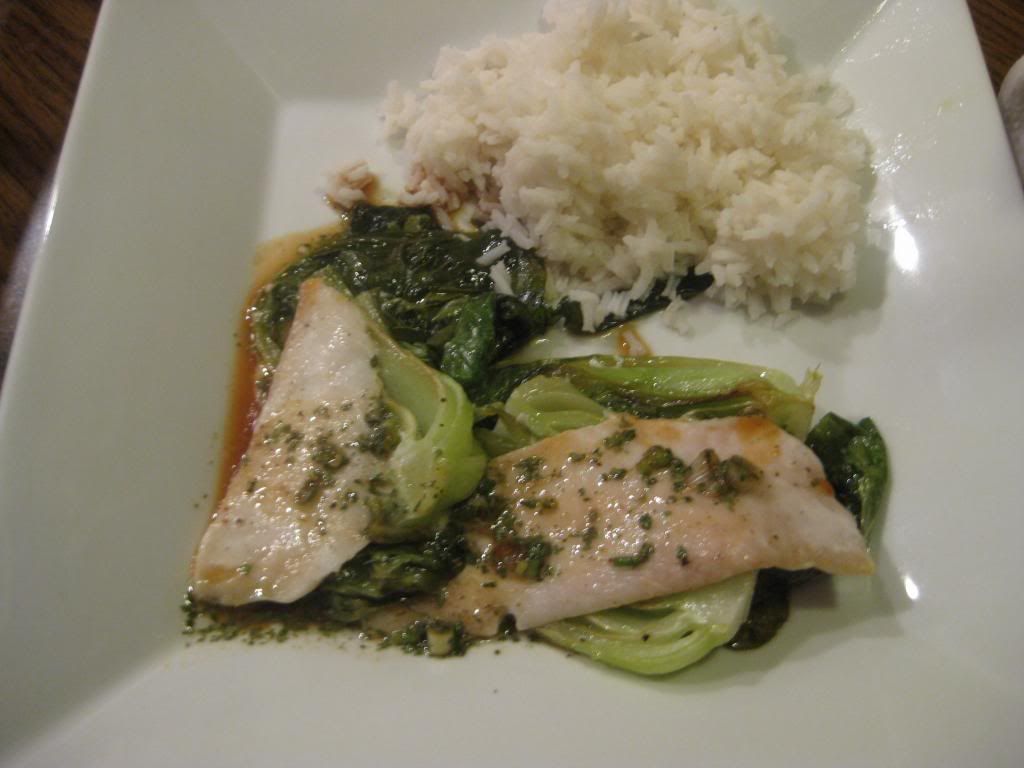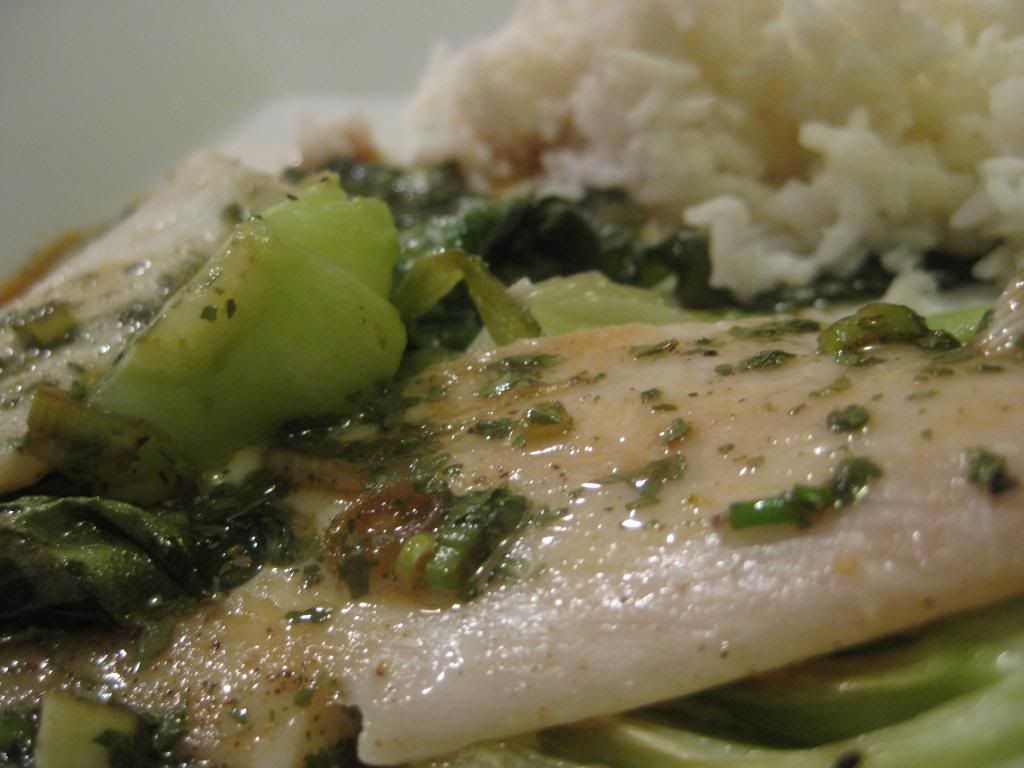 I'm usually not one for Asian cuisine, granted I love a lot of Chinese food, but this dish is a great introduction into the Asian flavor realm. The cilantro-lime sauce mixes in quite a few of these flavors and gives you a super sauce of power, but the fact that it is served over the usually bland flounder fish, makes it delicious. The bok choy that was seared tastes amazing in accompaniment to this dish. Bok choy, I believe, is an unsung hero in the vegetable world, because it's rarely used in American cuisine. But once you step out of the 50 states, it's used quite a bit and is a delicious addition. The fish was cooked perfectly and becomes nice and flakey. Overall, a great dish, bursting with flavor and a wonderful addition to our recipe collection.
Join us on Thursday as Tyler takes a fresh new idea for an American classic. Until then,
~Cheers!