Good evening everyone! It's starting to somewhat feel like winter here in the Des Moines metro. While it snowed for a little while on Sunday, the cold temperatures have made it definitely feel like it's December. And while November brought the soup recipes back to the blog, it's December that will bring the stews and hardier soups we crave during these cold winter months. While we have several attempts at Chicken Pot Pie, tonight, I'll attempt a soup version of this classic dish, with a interesting twist.
The Recipe: Chicken Potpie Soup
Original Recipe Found In: Food Network magazine, December 2012
What You'll Need:
1 disk refrigerated Pie Dough
1/2 Teaspoon plus a pinch of Poultry Seasoning
2 Tablespoons unsalted Butter
1 Pound skinless, boneless Chicken breasts, cut into 1/2 inch pieces
2 Stalks Celery, chopped
1 medium Onion chopped
1/4 Cup all-purpose Flour
3 Cups low-sodium Chicken Broth
1 Cup Half-and-Half
3 medium Yukon gold Potatoes, chopped
1 10 ounce package frozen Mixed Peas and Carrots*
*Note: We are omitting the mixed peas and carrots and using a premade mirepoix mixture. This is a handy mixture to get, especially if you don't like to waste time chopping vegetables.
To start, preheat the oven to 425 degrees. On a large baking sheet, unroll the pie dough and sprinkle with pepper and a pinch of the poultry seasoning. Cut the disk into four quarters and bake until the dough is cooked through and is puffed and golden, about ten minutes. If you are concerned about finding poultry seasoning, it's actually not that hard to find. It's located right with the other seasonings and spices in your local grocery store.
Pie crust, sans pie
While the pie dough cooks, melt the butter in a large pot over medium high heat. Once the butter is melted, add the chicken and 1/2 teaspoon of salt and cook. Don't be tempted to move the chicken, because it will need to cook undisturbed for two minutes. Then cook the chicken, stirring for about one minute. Transfer to a bowl and keep warm.
Next, in the same pot, add the celery, onion, flour, 1/2 teaspoon of salt, and 1/2 teaspoon of poultry seasoning and cook for one minute, stirring. Stir in two cups of water, the chicken broth, half and half, and potatoes. Cover this mixture and bring to a simmer. Reduce the heat to medium. Keep the pot partially covered and simmer for 10 minutes. Add the peas and carrots and continue to simmer until the vegetables are tender, about six minutes.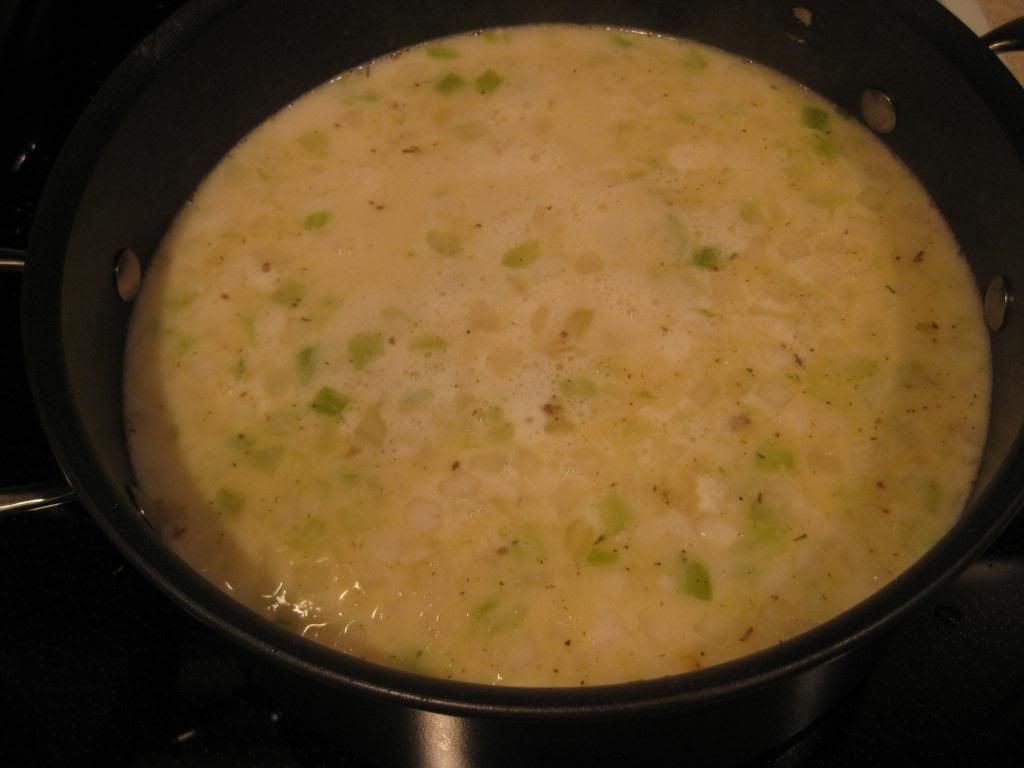 Getting all those flavors ready for our tastebuds!
Return the chicken to the pot and cook until everything is cooked through, about one minute. Divide amongst bowl, top with the crust, serve, and enjoy!
The End Result: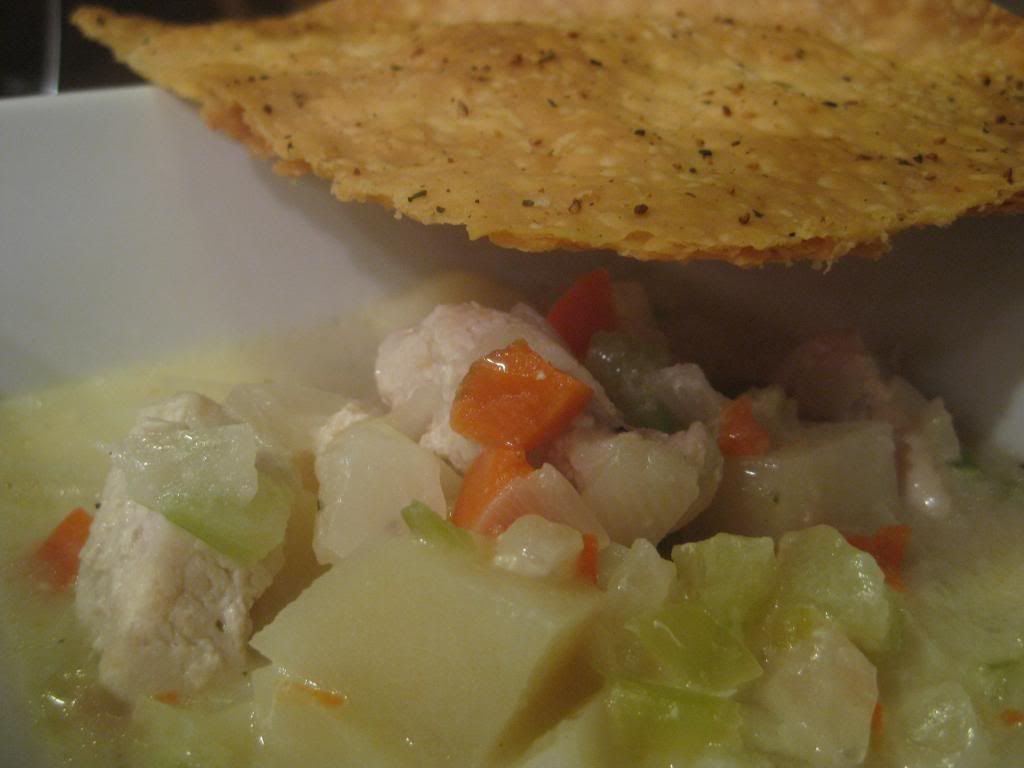 While the premise behind this dish was promising, it ended up somewhat similar to a recipe I made two years ago. The base of the soup should have been thickened, but resulted in a runny, flavorless mixture. Also, my potatoes were somewhat undercooked, and that also threw off the flavor of the dish. But something miraculous happened when the soup amount in my bowl got lower. Not only did the base get thicker, the potatoes were cooked and the flavor of the soup was actually there; if only the entire bowl of soup had that flavor. I think I underestimated the "simmer" portion of the recipe. That's where the true heart of any soup is - if you let the flavors meld during the simmer process, it will go a long way for a truly, hearty dish.
Thanks for joining us this evening. Check back tomorrow as Tyler delves into a brand new recipe. Until then,
~Cheers!