Good evening everyone! It's been an exciting (and kinda crazy) past couple of weeks: from packing all our belongings to moving said belongings to unpacking and arranging everything where we want to, it's been such a great experience. And to top it off, we own a house, I believe this to be the best part. I'm sure we'll give you a tour of our kitchen, which is one of the highlights of our new place. We upgraded about 30, almost 40, years and there is so much space! But enough raving, let's get to cooking!

Tonight, I'm taking on a variation of the classic meat and starch recipe. I'm introducing a new dish to the blog. I've heard wonderful things about this dish and I am eager to try it.
The Recipe: Skirt Steak with Gorgonzola Polenta
Original Recipe Found In: Cooking Light, December 2012
What You'll Need:
2 Cups plus 1 Tablespoon fat-free, lower sodium Chicken Broth, divided
1 Cup 2% Reduced-Fat Milk
2/3 Cup quick-cooking Polenta
1 Ounce Gorgonzola cheese, crumbled (about 1/4 cup)
1/2 Teaspoon kosher Salt, divided
1/2 Teaspoon freshly ground black Pepper, divided
1 Pound Skirt Steak, trimmed and cut into four pieces
1 Teaspoon unsalted Butter
1 Tablespoon finely chopped Shallots
1/2 Cup dry Red Wine
1 Teaspoon chopped fresh Thyme
1 1/2 Teaspoons Honey
1/4 Teaspoon Cornstarch
To start, combine 2 cups chicken broth and the milk in a medium saucepan over medium heat and bring to a boil. Add the polenta and gradually whisk in, stirring constantly. Reduce the heat to medium-low and cook for four minutes, stirring frequently. After the polenta looks fluffy, remove from the heat. Stir in the cheese, 1/4 teaspoon salt, and 1/4 teaspoon pepper. Cover the saucepan and let stand for five minutes.

Next, heat a large skillet over medium-high heat and coat with cooking spray. Sprinkle the steak with the remaining salt and pepper. Once the skillet is heated, add the steak to the pan and cook for three minutes on each side, or until desired degree of doneness. For us, that degree of doneness is somewhere between well done and medium done, so cooking it six minutes is the sweet spot. Once the steak is cooked, transfer it to a cutting board and cover loosely with foil.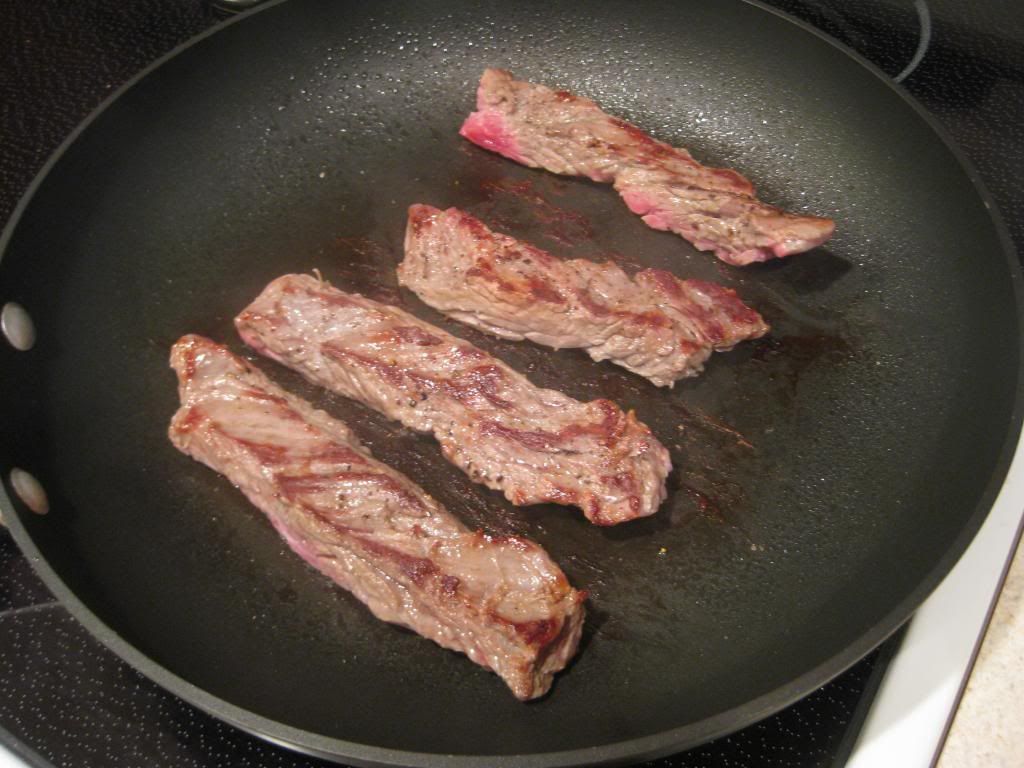 Cooking the steak to perfection
Once the steak is cooked and covered, melt the butter in the skillet over medium-high heat. Add the shallots and sauté for one minute. Add the wine, thyme, and honey and bring this mixture to a boil. Cook until reduced by half, between two to three minutes. In a small mixing bowl, combine the remaining chicken broth and the cornstarch and whisk to combine. Add the cornstarch mixture to the skillet and cook for one minute or until the sauce thickens slightly.

Cut the steak diagonally across the grain into thin slices. Spoon the sauce on each plate, along with a half of cup of polenta and three ounces of steak. Serve and enjoy!
The End Result: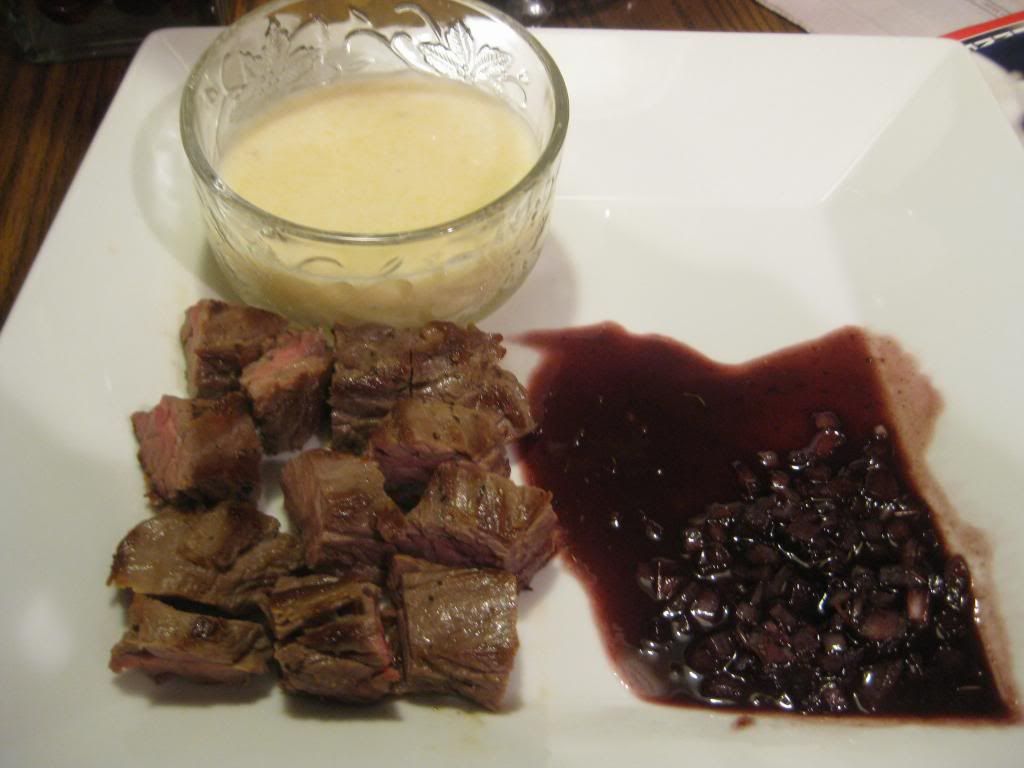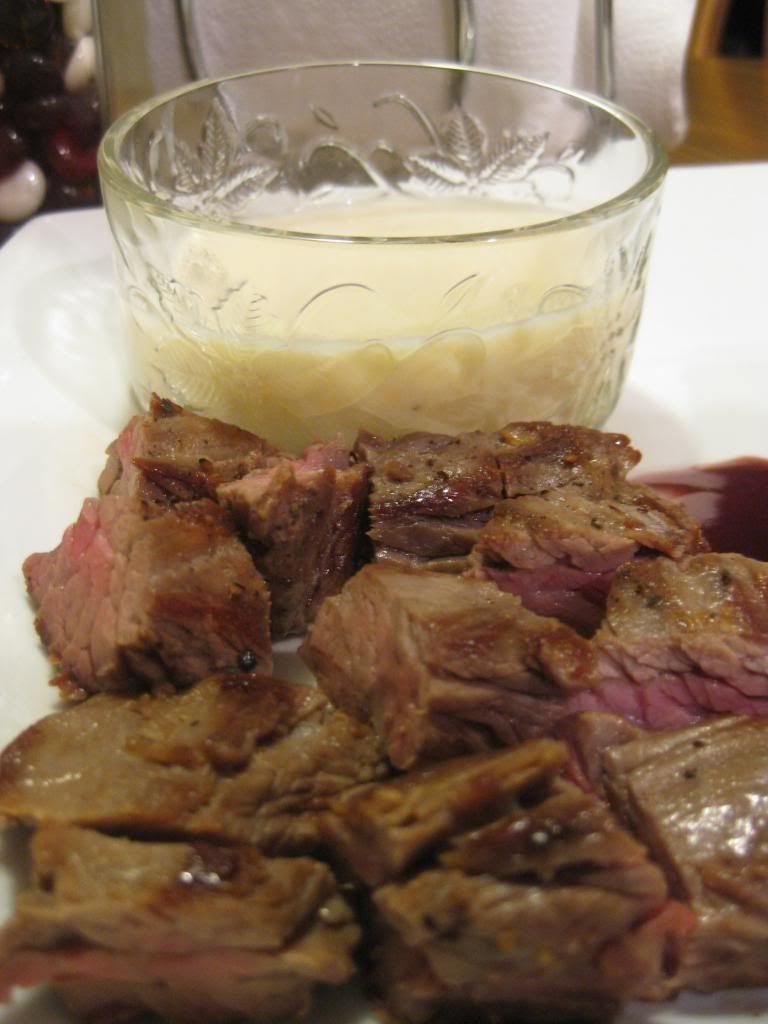 The steak was cooked to near perfection. While I like my steak well done, and Tyler likes his medium done, I met in the middle with an in between of our two. It was still a smidge pink, but it was mostly cooked all the way through. It was also juicy and had the just the right about of flavor. It's amazing that the steak had just salt and pepper on it and didn't need any of those other seasonings or extra ingredients.

Unfortunately, I believe the steak was the best part of tonights recipe. The polenta is supposed to be thick, but it turned out to be a soupy mess. It was probably lack of experience cooking with polenta is what really threw me off. I was very excited to cook with a new ingredient to have it in our stock, but the fact it fell flat got me really disappointed. Also, the red wine sauce could have been reduced a little bit longer and become thicker. It had an great, pungent flavor that tasted incredible with the steak. But if I had cooked it for just a couple of minutes longer, it would have been the perfect sauce. Overall, a great recipe with good intentions, but a bit more attention to detail would have really perfected this ensemble.
Join us next week as we round up a new batch of recipes and share them with you. Plus, we get to give you a tour of our new kitchen - you won't want to miss this! Until then,

~Cheers!