Good evening everyone! In my opinion, summertime produces the world's greatest vegetable – sweet corn. Sure, sweet corn may have nonexistent nutritional value but it's loaded with delicious value (which is a metric I just made up). There are few things that can top freshly picked sweet corn, lightly glazed in butter, eaten right off the cob.
The only downside with sweet corn is from a culinary creativity standpoint. Other than wrapping it in bacon, throwing it on the grill or getting cute and slathering it in a medley of spices and herbs, you can't really deviate from the norm of corn on the cob. When I found this week's recipe – corn chowder – I was intrigued; it took fresh summertime sweet corn and placed it in a form that I've yet to try (chowder) the only question is, would this new form still carry the great flavors of summer, or would we create something entirely different? Let's get to cooking and find out!
The Recipe: Corn Chowder
Original Recipe From: Cooks Country Online
What You'll Need:
(Serves 6)
8 Ears Sweet Corn (Husks, silk removed – washed, boiled and cut from cob)
3 Tablespoons Unsalted Butter
1 Onion (Finely chopped)
4 Slices Bacon (Halved lengthwise, then cut into ¼ inch pieces)
2 Teaspoons Fresh Thyme
¼ Cup All Purpose Flour
5 Cups Water
¾ Pound Red Potatoes (Diced into ½ inch pieces)
1 Cup Half and Half
Sugar
3 Tablespoons Chopped Fresh Basil
Begin by preparing your sweet corn the standard way (clean, boil for 5 to 7 minutes). Then, using a sharp chef's knife or corn stripper, remove the kernels from the cob and transfer them to a large bowl. Don't discard the cobs – instead transfer them to a plate until you've finished removing all of the kernels from all of the ears.
Once the kernels are removed, grab the cobs and use a butter knife to scrape off any of the remaining pulp left behind on each cob (scrape this pulp into a small bowl). Repeat this process on all 8 ears until you've gotten a nice amount of pulp (the recipe says you will get about 2 to 2 ½ cups of pulp but my experience yielded about ¼ to ½ of a cup). Next, take a kitchen towel or paper towel and wrap it around the pulp. Over a clean bowl, squeeze the towel until you've worked all of the moisture out of the pulp (once again the recipe claims 2/3 a cup of juice, I was closer to 1/8th of a cup). Set this juice aside.
Next, melt the butter in a large dutch oven over medium high heat. Once melted, add the onion, bacon, thyme, 2 teaspoons salt and 1 teaspoon pepper and cook (stirring constantly) for 8 to 10 minutes or until the onions begin to brown along the edges. Stir in the flour and cook for an additional 1 to 2 minutes (be careful the flour doesn't burn or brown too quickly – if it is cooking fast, move on to the next step regardless of the time). Whisk in the water slowly and bring the mixture to a boil. Once boiling, stir in the corn kernels and the red potatoes and return the mixture to a simmer. Reduce the heat to medium low and let the mixture simmer for 15 to 20 minutes, or until the potatoes have softened.
Remove 2 cups of the chowder from the dutch oven and process it in a food processor or blender until it becomes smooth. Then return this to the dutch oven. (This process creates a creamy base for the choweder, while keeping all of the great flavors we've been building). Add the half and half and return the mixture to a soft simmer. Once simmering, remove the pot from the heat and stir in the reserved corn juice from earlier along with a pinch of salt and pepper. Taste the chowder and add up to 1 tablespoon sugar as needed (don't over sweeten if the corn has provided enough natural sweetness). Top with fresh basil, serve and enjoy!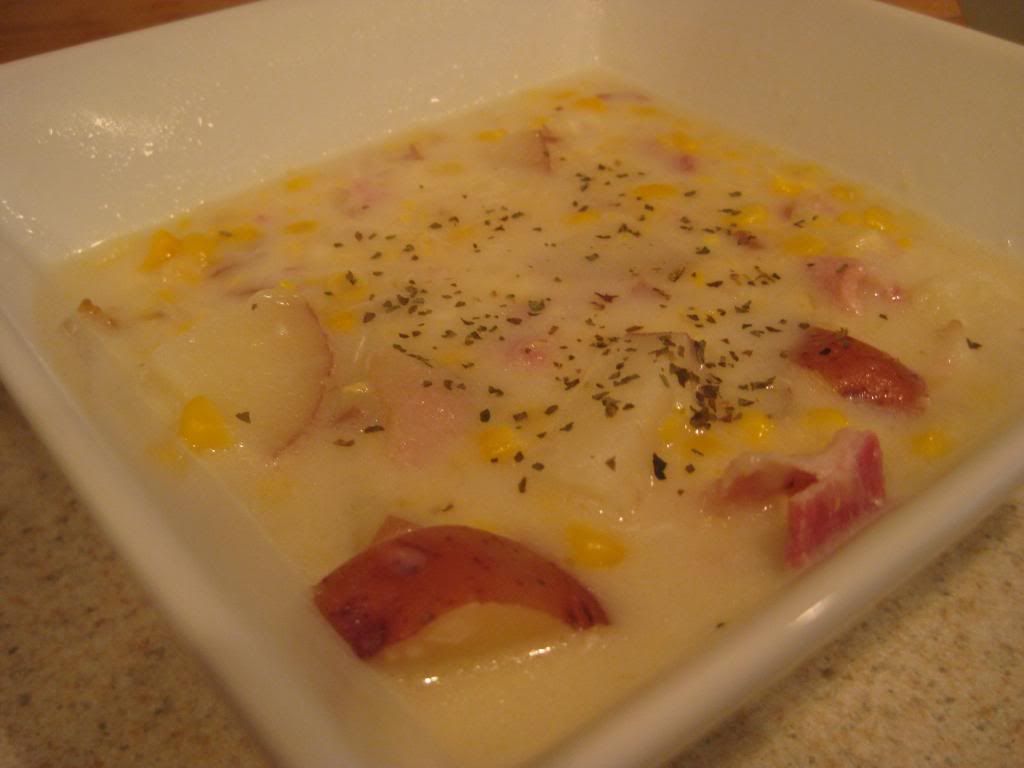 This is one tasty chowder! The sweetcorn blends beautifully with the red potatoes to create a dish reminiscent of 'fresh of the grill' summer flavors. I found the chowder to be sweet enough without adding any extra sugar, but your results will vary based on how sweet your sweet corn actually is. The one tweak I would make to this recipe would be to cook the bacon before adding it in with the onions. It never fully browns while being cooked this way and great crispy bacon bits would be a better addition than bacon on its own.
That's a minor gripe in what otherwise was a very tasty and easy recipe. If you're in the mood for summertime's greatest vegetable, but don't want to prepare it in the same old way - give this recipe a try.
That's all we have for you this evening. We're back tomorrow night with a product review that just may make the life of the at home chef so much easier. Until then,