Good evening everyone! When you order take out from any restaurant, the only complaint is that the food you are receiving is too high in calories. While it's a quick and convenient way to have any meal, there are way too many calories that one should consume in a day, (but it's definitely nice to indulge every once in a while.) Tonight, I'm bringing the take out home. By cooking it yourself, you save the calories and still get to indulge.
The Recipe: Stir-Fried Rice Noodles with Beef and Spinach
Original Recipe Found In: Cooking Light September 2013 iPad Issue
What You'll Need:
6 Ounces uncooked wide Rice Noodles (or rice-flour noodles)
1 Tablespoon Canola Oil
1 Cup thinly sliced Green Onions
2/3 Pound top Sirloin Steak, cut into thin, one inch strips
2 Cups sliced Shiitake Mushroom caps
2 Garlic cloves, finely minced
1 (6 ounce) bag washed Baby Spinach
2 Tablespoons Rice Vinegar
1 Tablespoon fresh Lime Juice
3 Tablespoons lower-sodium Soy Sauce
2 Teaspoons grated peeled fresh Ginger
2 Teaspoons Sriracha (or hot chili sauce)
1 Tablespoon dark Sesame Oil
1/4 Teaspoon Salt
2 Teaspoons Sesame Seeds, toasted
To start, bring a large stockpot of water to boil. Once at a boil, add the rice noodles. Cook the noodles according to package directions (usually between eight to ten minutes.) Once cooked, drain the noodles in a colander and rinse with cold water. Set the noodles aside.
In a small mixing bowl, combine the rice vinegar, lime juice, soy sauce, ginger, and Sriracha. Whisk these ingredients together until well combined. Set the bowl aside.
Next, heat a large nonstick skillet over high heat. If you have a wok available to use, you can use this instead of a large skillet. Add the canola oil and swirl to coat. Once heated, add the onions and steak and stir fry for one minute or until the steak begins to turn a light brown and the onions begin to soften. Next, add the mushrooms and garlic. Stir fry these ingredients until the mushrooms begin to soften, about three minutes. Add the spinach and continue to stir fry, until the spinach begins to wilt, about two minutes.
Once all the ingredients in the skillet are well-combined and cooked through, add the vinegar mixture to the steak mixture. Stir everything together until the sauce begins to thicken. Add the noodles, sesame oil, and salt. Stir until the noodles are heated and coated, about one to two minutes. Sprinkle in the sesame seeds, serve, and enjoy!
The End Result: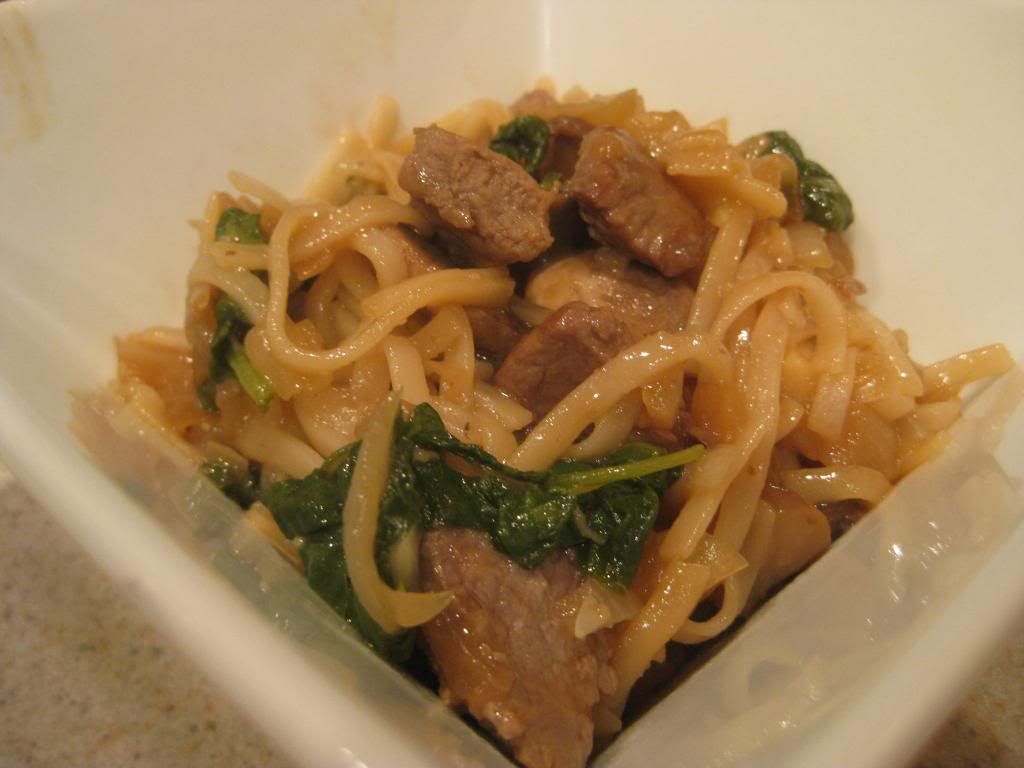 When we create a recipe that is very similar to take out food, it's impossible to brag. All the ingredients were incredible tasty together - I swear beef and mushrooms were meant to be together! The beef was so thinly sliced that it cooks almost instantly and soaks in any flavor from other ingredients. The mushrooms almost give a meaty quality that isn't given by the beef. The spinach is almost tasteless, but does add that pop of green and adds some definite vitamin power. The rice noodles are slowly becoming by new favorite. Not only are they low in calories, but they make an excellent substitution for any pasta. At slightly over 400 calories a serving, it's hard to enjoy this take out substitute at home!
Thanks for joining us this evening. Check back tomorrow as I present a bonus dessert recipe that you'll want to whip up this week. Until then,
~Cheers!