Good evening everyone! Tonight's recipe is going to be a smidge different than what Tyler mentioned last night. Due to a technical difficulty (an ingredient going bad,) I'll be presenting an incredibly delicious dessert. As we've mentioned before, we try to focus our blog with healthy recipes that are easily duplicatable. Every now and then, it's fun to create dishes that you can indulge yourself in. Tonight's recipe is one of those kinds of recipes, especially if you love the combination of peanut butter and chocolate.
The Recipe: Nutella Swirled Peanut Butter Banana Bread
Original Recipe Sourced From: www.pinterest.com
What You'll Need:
3 very ripe Bananas, mashed
1/2 Cup creamy Peanut Butter
1/4 Cup Canola Oil
1 Egg
1/3 Cup White Sugar
1/4 Cup Brown Sugar
1.5 Cups white Whole Wheat Flour
1/2 Teaspoons Baking Soda
1.5 Teaspoons Baking Powder
1/2 Teaspoon Salt
3/4 Cup Reese's Mini Cups (if you can't find those, Reese's peanut butter chips will do in a pinch)
1/3 Cup Semi-Sweet Chocolate Chips
3 Heaping Tablespoons Nutella
To start, preheat an oven to 350. Prepare an 8x4 inch loaf pan with nonstick cooking spray and set aside.
In a medium bowl, add the flour, baking soda, baking powder, and salt together. Slowly whisk these ingredients together. Next, in a stand mixer, add the bananas, peanut butter, oil, egg, white and brown sugars. Turn the mixer on to the lowest speed and mix these ingredients together until everything is well combined.
Next, slowly pour the dry ingredients into the wet ingredients and mix until everything is just combined - the batter will be very thick but resist the temptation is over mix. Add the Reese's mini cups and the chocolate chips. With a spatula, fold the cups and chips into the batter until just combined.
After the batter is well mixed, spread into the prepared loaf pan. Drop the three tablespoons of Nutella on top of the batter in a row. Poke a knife into the batter and swirl the Nutella into the batter. Next, place the pan in the oven and bake for 50 minutes or until a toothpick inserted into the center comes clean. Every oven is different, so adjust the cooking time if necessary.
Transfer the bread from the oven to a cooking rack. Let the bread cool in the pan for thirty minutes. Cut up slices of the bread, serve, and enjoy!
The End Result: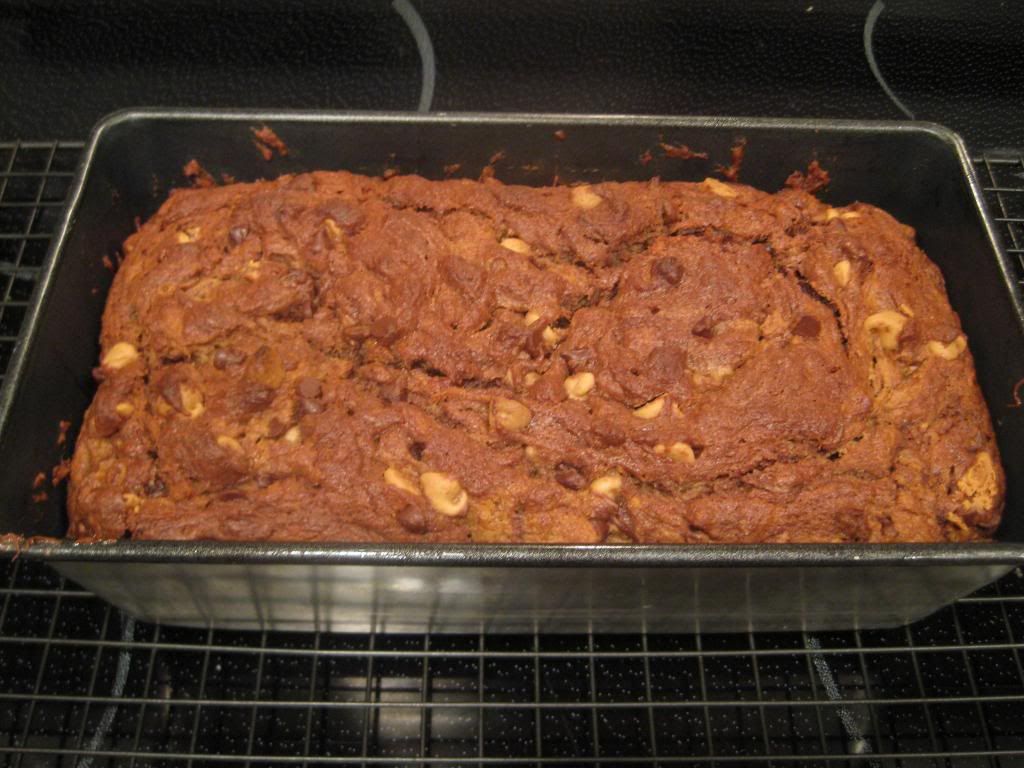 Oh my goodness! If you are a fan of banana bread, or any type of chocolate/peanut butter flavorings, this is the treat for you! It mixes all the different flavors from the bananas, the chocolate chips, and peanut butter into one flavorful combination. The banana flavor is almost a little overwhelming, but the other ingredients help to balance it out. I was a little disappointed that the Nutella didn't get a bigger flavor spotlight, considering there was three tablespoons of it. But overall, it's a hearty, delicious recipe, if you want to enjoy a boost to the generic banana bread.
Thanks for joining us this evening. Check back next week as we continue to showcase recipes and share some of our local eateries. Until then,
~Cheers!