Good evening everyone! Every so often, we like to partake in the 'meatless Monday' movement. For those who are not familiar, it's the simple concept of removing one meat based dish from the menu each week. There are benefits to going vegetarian one day a week, including lower grocery bills (vegetables are considerably cheaper than meat) and better nutritional value per calorie.
This week, we're returning to an old favorite - lentils. Lentils get a bad wrap in the vegetable world. I'm not sure if it's because they need a better PR firm, a new agent who can get their name out there or if they just ticked off some king pin in the vegetable promotion industry and have been blacklisted - but whatever the reason - lentils are looked at like a third world citizen when it comes to the culinary world.
Rather, lentils are looked at unfavorably in the at-home culinary world. Those that cook with the little legumes know that they pack great nutritional value and are actually quite tasty. The challenge is getting others to give them a try.
We've cooked with lentils before (
HERE
) and enjoyed the great, earthy flavor (think, dark beans) that they provided. The key is cooking lentils like rice, but considering their flavor profile to be that of a kidney or black bean - understand those two concepts and a whole new world of culinary fun is open to you. A world that includes recipes like this:
The Recipe: Lentils with Fried Eggs
Original Recipe Found In: Food Network Magazine, October 2013
What You'll Need:
(Serves 4)
3 Tablespoons Unsalted Butter
4 Large Shallots (Finely chopped)
3 Stalks Celery (Finely chopped)
3 Sprigs Thyme
1/4 Cup Red Wine Vinegar
1 1/2 Teaspoons Sugar
14 Ounces Canned, Diced, Fire Roasted Tomatoes
15 Ounces Lentils
2 Teaspoons Dijon Mustard
2 Tablespoons Parsley
4 Large Eggs
Pita Bread (For serving)
I'd first like to note that the original recipe calls for canned lentils, which are a bit different than dried. We have dried on hand, so it was important for us to follow the instructions on the bag to prepare the lentils PRIOR to using them in the recipe. Canned lentils are already softened and "damp" (for lack of a better word) so they can jump right into the recipe as instructed. If you're using dried, take the extra steps ahead of time to prepare them for the recipe.
To begin, heat 1 tablespoon of the butter in a large dutch oven or high sided skillet (medium high heat). Add the shallots, celery, thyme and a pinch of salt and cook until the shallots begin to brown, roughly 5 minutes. Make sure to stir the mixture occasionally to promote even cooking.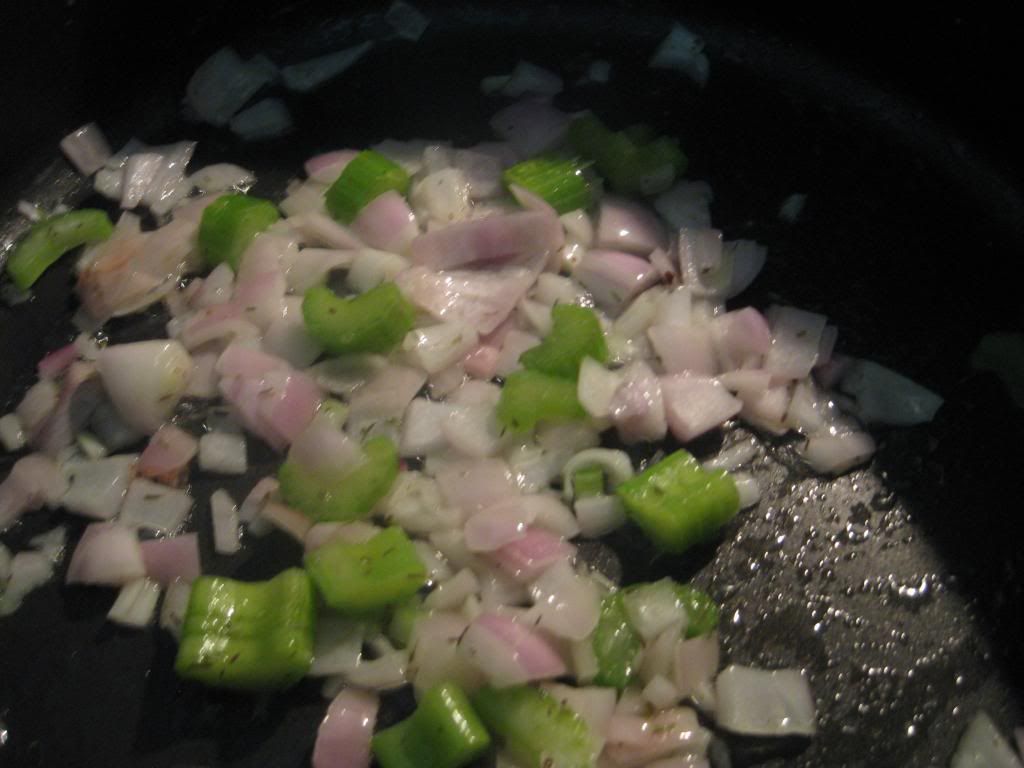 Next, stir in the sugar along with the red wine vinegar and 1/4 cup of water. Allow the mixture to simmer until the water is nearly evaporated - 5 to 10 minutes.
Add the tomatoes (drained of the liquid from the can) and increase the heat to high. Bring the mixture to a simmer and allow it to cook for 3 minutes before stirring in the lentils along with a cup of water. Return the mixture to a simmer, then reduce the heat to medium and cook until the lentils are soft and cooked through. (Remember, if you used dried lentils, they will already be soft - because you cooked them ahead of time - so they will only need to be heated through here).
Once soft, stir in the mustard and allow the mixture to cook for another 5 minutes. Season lightly with salt and pepper and remove from heat. Keep the pot covered to keep warm while you prepare the eggs.
Melt the remaining butter in a large non stick skillet over medium heat. Break each egg into a small bowl, then slide it into the skillet. Cook until the whites set, 3 to 5 minutes. Serve the fried egg on top of the lentils and with a few pieces of pita bread. Sprinkle with the parsley and enjoy!
The Results: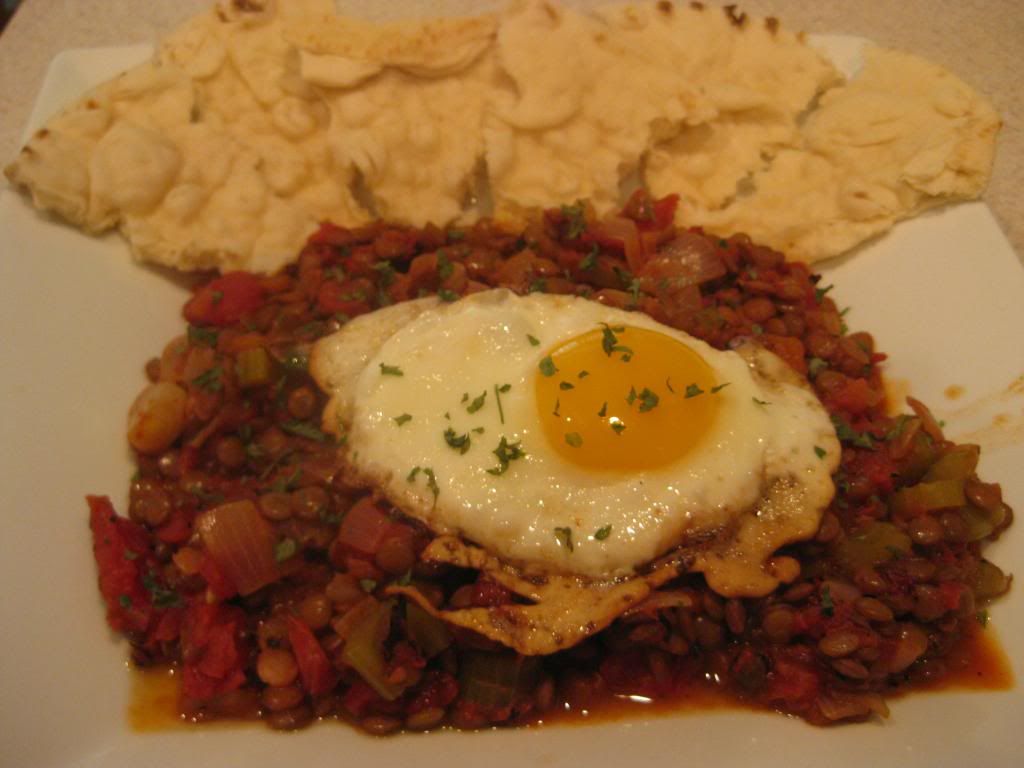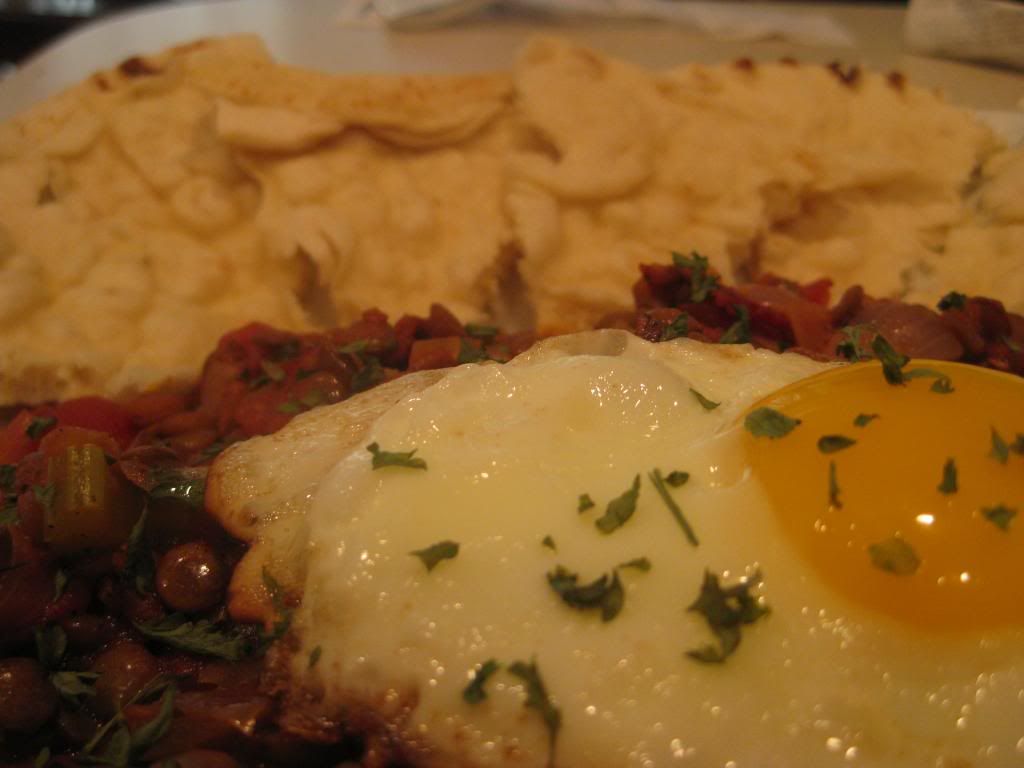 Lentils are versatile, we learned that much when we first used them almost two years ago. Tonight, they proved that again. The combination of the lentils' earthy flavor with the base (tomatoes, mustard, shallots) made for a rich, almost "Italian meets American country" flavor.
It's the egg and pita that truly complete this dish, however. The egg almost acts like the meat of the dish, adding a bright contrasting flavor that all blends beautifully with the pita bread, which serves as the perfect ambassador of both ingredients.
THe flavors of this dish are rich and refreshing - they're somewhat difficult to put a firm label on, but they can certainly be called "delicious". If you're in the mood for something new and adventurous on the menu, be sure to give this vegetarian dish a try.
Did I mention it's only 300 calories? (Bonus!)
That's all we have for you this evening. Maggie will take to the kitchen tomorrow night with a brand new recipe to share. We'll follow that up with another recipe on Thursday and yet ANOTHER post on Sunday. It's another big week, so be sure to stop back in and see what we have cooking! Until then,
~Cheers