Greetings everyone! As Tyler previously mentioned, this week, I will be highlighting Autumn's favorite gourd: the pumpkin. While some people celebrate its annual return by buying any (and all) pumpkin flavored drink, the pumpkin actually serves itself to be made in numerous ways. I have found four recipes to infuse the delicious flavor of pumpkin into every day recipes. Of course, you could make these recipes any time of the year, but there's something about fall that makes us crave this particular flavor. First up, Pumpkin Pie Cupcakes!
What You'll Need:
1 (15 Ounce) Can Pumpkin Puree
1/2 Cup White Sugar
1/4 Cup Brown Sugar
2 large Eggs
1 Teaspoon Vanilla Extract
3/4 Cup Evaporated Milk
2/3 Cup All-Purpose Flour
2 Teaspoons Pumpkin Pie Spice
1/4 Teaspoon Salt
1/4 Teaspoon Baking Powder
1/4 Teaspoon Baking Soda
To start, preheat an oven to 350 degrees. Prep a muffin tin by lightly spraying 12 to 15 silicone muffin liners with cooking spray and set aside. Silicone muffin liners will help pop the cupcakes out better than paper muffin liners. If you haven't invested in silicone liners, I would highly recommend it!
In a large bowl, add the pumpkin, white sugar, brown sugar, eggs, vanilla extract, and evaporated milk. Whisk until everything is combined. Next, add the flour, pumpkin pie spice, salt, baking powder, and baking soda into the pumpkin mixture. Slowly combine until all ingredients are mixed thoroughly.
Next, fill each muffin liner with a 1/3 cup of the pumpkin mixture. Place the muffin tins in the oven and bake at 350 degrees for 20 minutes. Once baked, take the tins out of the oven and let cool for 20 minutes. After this, remove the cupcakes from the tins and chill in the refrigerator for 30 minutes. Serve with a dollop of whipped topping and enjoy!
The End Result: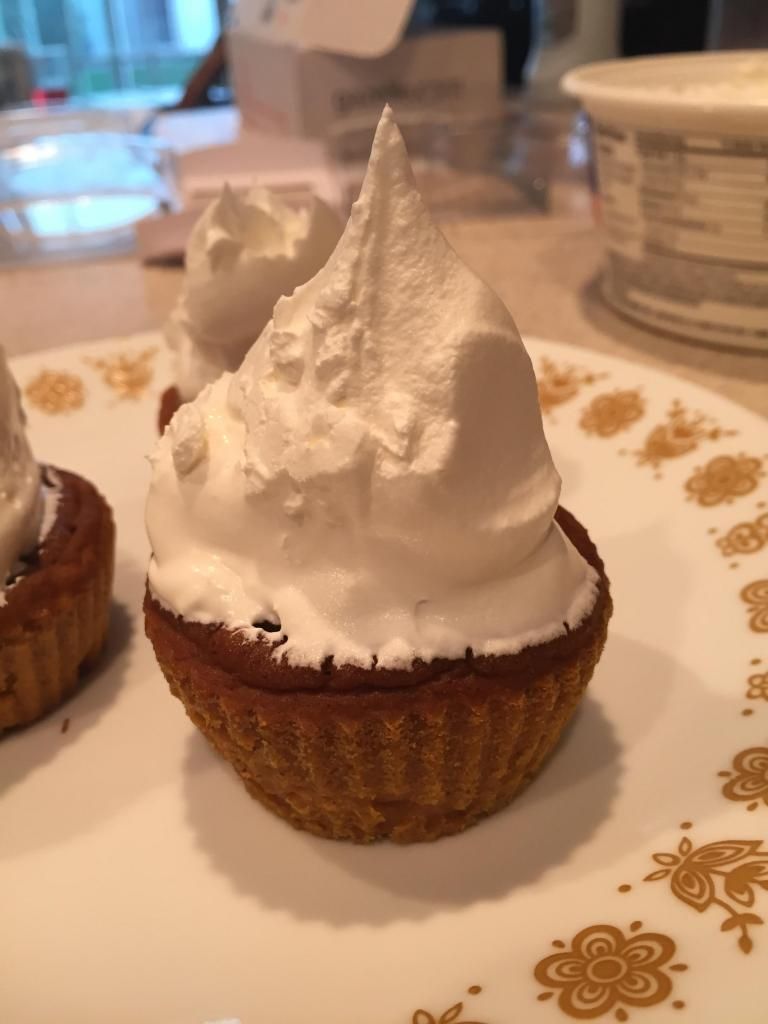 If you are wanting pumpkin pie, but aren't willing to go through the effort of the entire process, these cupcakes are for you! They are just like little pumpkin pies, with the same consistency as pie, but without the crust and a third of less effort. Plus, it's easier to serve. While the notion of cold cupcakes might throw you for a loop, trust me, you won't think a thing about it.
Join us again tomorrow as I present a pumpkin cookie, with a unique twist. Until then,
~Cheers!