Good evening everyone! Tonight's cookie recipe will blow your socks off. Well, that might be an overstatement. But not everyone thinks of pairing pumpkin and chocolate together. It's a flavor combination that was meant to be together.
What You'll Need:
1/2 Cup Vegetable Oil
1 Cup 100% Pure Pumpkin
1 Cup White Sugar
1 Egg
1 Teaspoon Vanilla Extract
1 Teaspoon Baking Soda
1 Teaspoon Milk
2 Teaspoons Cinnamon
2 Teaspoons Baking Powder
1/2 Teaspoons Salt
2 Cups Flour
2 Cups Semisweet Chocolate Chips
To start, in a large mixing bowl, add the vegetable oil, pumpkin, sugar, egg, and vanilla extract. Whisk until all the ingredients have combined. In another large mixing bowl, sift together the flour, cinnamon, baking powder, and salt. In a small dish, combine the baking soda and milk until it becomes a sticky goo. Add to the pumpkin mixture and stir to combine. Add the flour mixture to the pumpkin mixture and stir until all ingredients are well combined. Fold the chocolate chips and let the batter sit for 15 minutes.
In the meantime, preheat an oven to 350 degrees and cover a large baking sheet with baking spray. Once the batter has sat and the oven is up to temperature, scoop out the batter using a cookie scoop. Place the balls of batter two inches apart on the baking sheet. Bake at 350 degrees for 12-13 minutes. Let cool for five minutes, serve, and enjoy!
The End Result: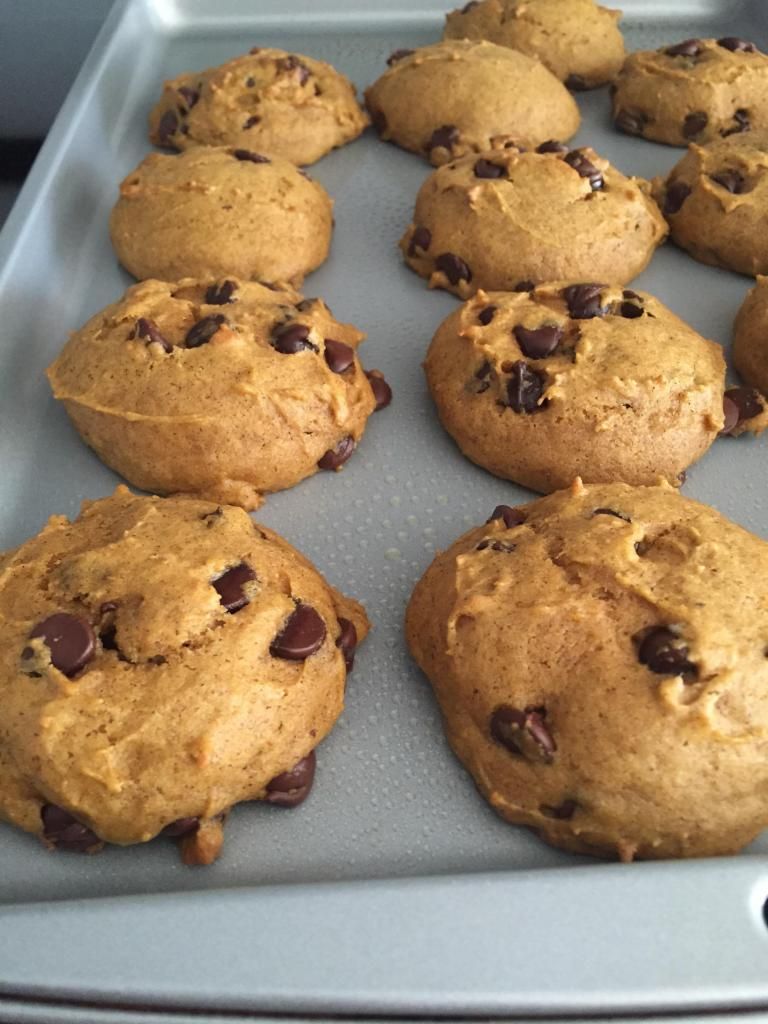 While one doesn't normally think of pumpkin and chocolate going together, it's a great combination for this cookie recipe. The pumpkin flavor isn't too heavy in the batter and holds the chocolate chips in perfectly. It's actually a delicate cookie, without getting too heavy on the pallet. I was quite surprised at how delicious this cookie actually was and it's a great way to have pumpkin, without an explicit pumpkin taste.
Check back later this week for two more pumpkin recipes, one to take to your next fall outing, and one for home use only. Until then,
~Cheers!