I suppose it was inevitable - pumpkin has made its way to breakfast food. While doughnuts are pretty standard fare for this, this french toast recipe will definitely make you want more.
What You'll Need:
2 Eggs
1/4 Cup Milk (skim, almond, whatever you have on hand)
1/4 Cup Pumpkin Puree
1 Teaspoon Pumpkin Pie Spice
1/2 Teaspoon Cinnamon
2 Tablespoons Brown Sugar
6-8 slices of Texas Toast Bread*
*This style of bread was made for french toast! While thicker than its regular sandwich bread counterpart, it soaks all the ingredients of the french toast mixture. Plus it makes it extra fluffy and delicious!
To start, heat a large, nonstick skillet over medium-high heat. While the skillet is heating up, you can make your french toast batter. In a small mixing bowl, whisk the eggs and milk together until well combined. Add the pumpkin pie spice, cinnamon, and brown sugar. Thoroughly mix until all the ingredients have formed a consistent batter. The pumpkin will be a little bit more tricky to mix in, but it will be essential to batter.
Next, dip two pieces of the bread, front and back in the batter. You can hang the bread over the bowl to drip any remaining excess. Once the skillet is heated, spray with cooking spray and lay the two pieces of bread flat on the skillet. After one side has cooked for two to three minutes, flip the pieces over and cook for another two minutes. Repeat with the other pieces of bread.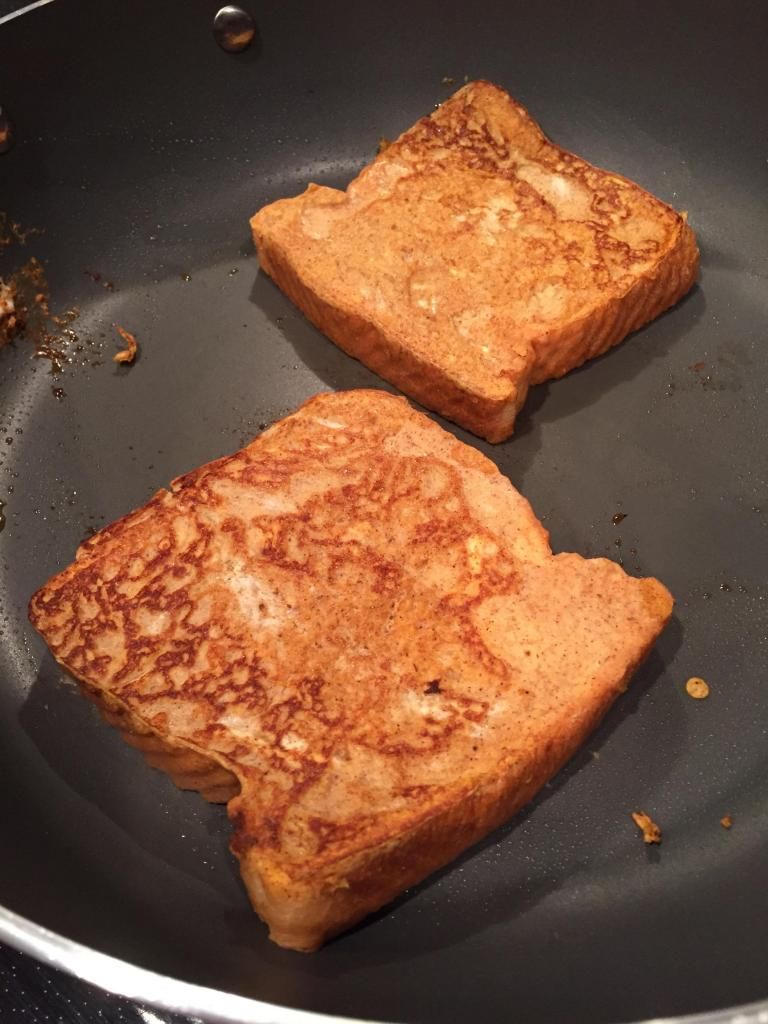 Serve the french toast with syrup and enjoy!
The End Result: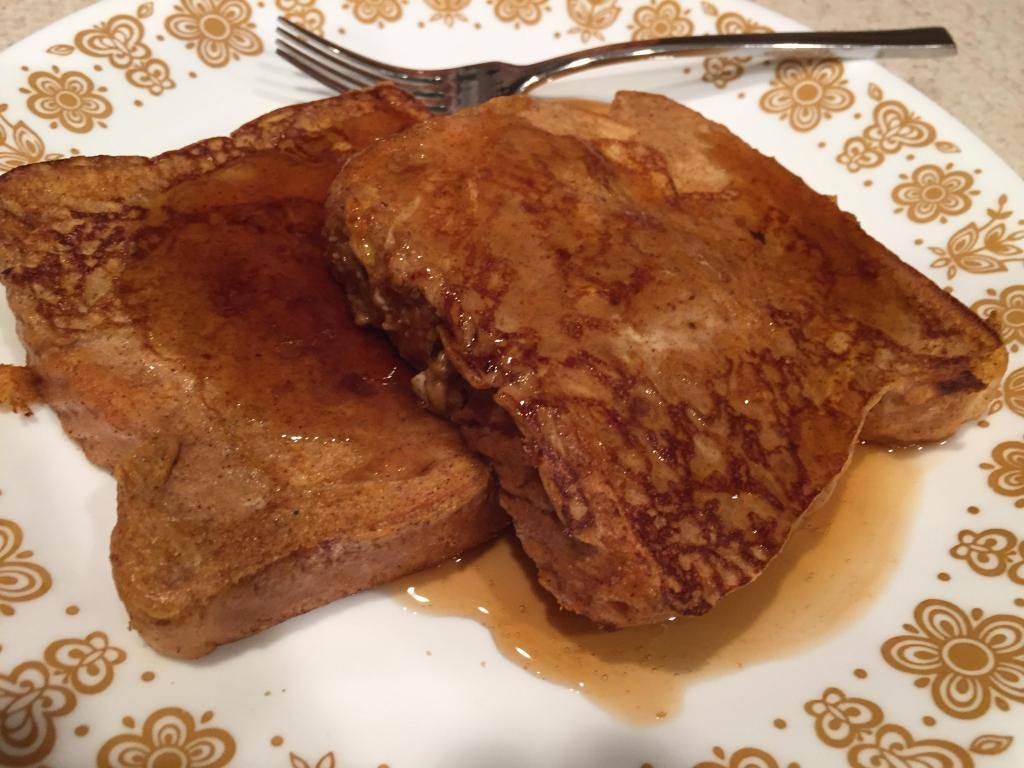 If you are a huge fan of pumpkin, like we are, this is probably one of the best recipes to showcase the flavor of pumpkin. The batter doesn't soak too deeply in the bread, so it doesn't have a gut-busting after feeling. We had three to four pieces each and we didn't feel weighed down by it. Instead, the toast is very light and fluffy, not to mention the great, non-overwhelming flavor of pumpkin. I will probably make this recipe again, because it's simplicity matches it's great taste.
Thanks for joining us tonight. Check back tomorrow as we present our final Pumpkin Week recipe. Until then,
~Cheers!