Good evening everyone! There are often times where becoming a vegetarian wouldn't be so bad of an idea. Promote a more healthful status while giving new fruits and veggies I've never heard of before a shot. While I romanticize the idea, it's recipes, like this one tonight, that make me think otherwise and remember that I like being an omnivore.
The Recipe: Roast Beef Tenderloin with Cognac Butter
Original Recipe Found In: Cooking Light, November 2014 Issue
What You'll Need:
For the Tenderloin:
1 Tablespoon Dijon Mustard
2 Teaspoons Honey
1 Teaspoon Lower-Sodium Soy Sauce
3/4 Teaspoon Salt
1/2 Teaspoon Black Pepper
1 (2 Pound) Beef Tenderloin, trimmed
2 Tablespoons chopped fresh Thyme
For the Cognac Butter:
1 1/2 Teaspoons Butter
3 Tablespoons minced Shallots
3 Tablespoons Cognac
6 1/2 Tablespoons Butter, softened
1 Tablespoon fresh Thyme leaves
1/8 Teaspoon Black Pepper
Start by preheating an oven to 425 degrees and prepare the cognac butter: melt 1 1/2 teaspoons butter in a small, nonstick skillet over medium-low heat. Next, add the shallots and cook for two minutes or until tender, stirring shallots occasionally. Carefully stir in the cognac and cook for one minute or until the liquid has reduced by about one-third. Remove the skillet from the heat and cool.
Next, place the 6 1/2 tablespoons butter in a small bowl and stir in the cooled cognac mixture, one tablespoon thyme leaves and 1/8 teaspoon black pepper. Cover with plastic wrap and chill in the refrigerator for ten minutes. Bring the mixture from the fridge and divide it in half. Scrape each half of the butter mixture onto a piece of plastic wrap. Shape each portion into a four-inch long log. Wrap each butter log in plastic wrap and refrigerate or freeze one log for another use.
To prepare the tenderloin, combine the mustard, honey, soy sauce, 3/4 teaspoon salt, and 1/2 teaspoon of pepper in a medium mixing bowl and stir with a whisk. Spread the mustard mixture over all the sides of the tenderloin and sprinkle with two tablespoons of thyme. Place the tenderloin in a shallow roasting pan. Place the pan in a 425 degree oven and cook for 38 minutes or until a thermometer inserted reads 135 degrees. Cover the tenderloin with foil and let stand for ten minutes.
Remove the tenderloin from the roasting pan and onto a cutting board. Cut the tenderloin crosswise into 16 slices. Arrange the slices on a serving plate and cut one butter log into eight slices and top each serving with one butter slice. Serve and enjoy!
The End Result: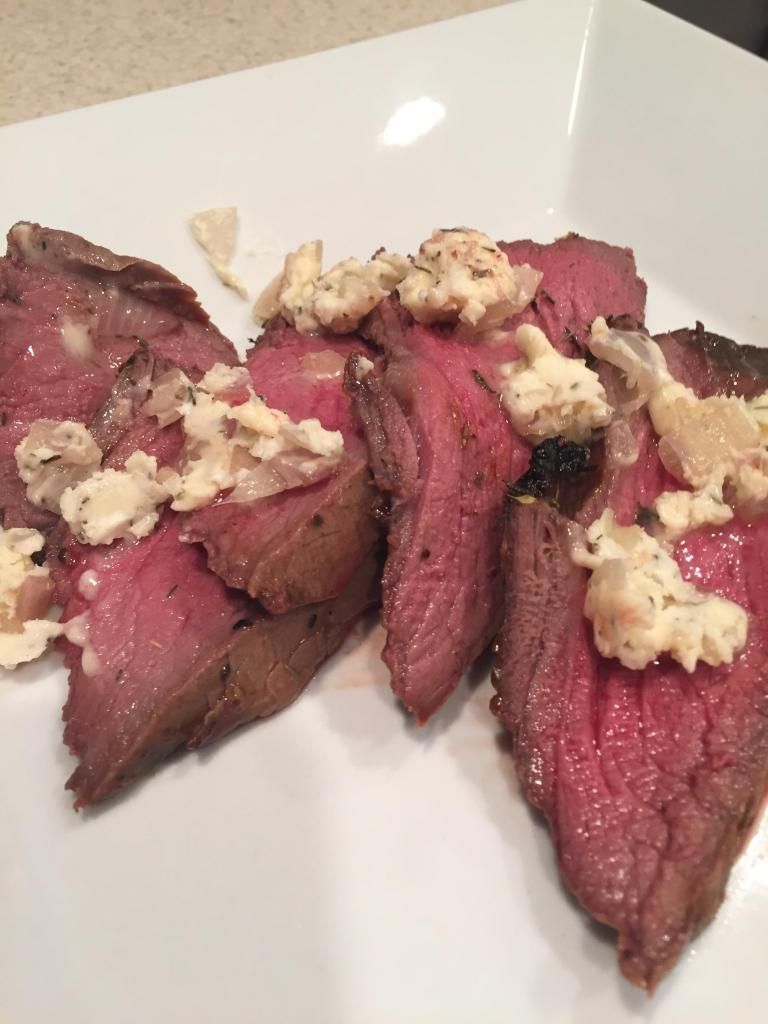 I've been raised to like my meat at just under well done to well done, but lately I have been enjoying my cooked meat to still have some pink in the middle. But for this recipe, it's well worth it. I've never cooked with a beef tenderloin, but it is, by far, the best meat you can purchase and cook yourself. Served with a wee bit of a boozy butter, it's quite fantastic. If you don't like your meat that undercooked, you are welcome to cook it for longer, but just remember to let it rest once it is done cooking - your pallet will thank you!
Thanks for joining us and we continue to share our culinary adventures. Until next time,
~Cheers!