Good evening everyone! I absolutely love the combination of cheese and pasta! To me, there is no greater combination of foods that can be put together. Sure there are quite a few that can compare, but for comfort food, when cheese wraps itself around pasta, it's sure to be a hit. When I found this recipe to enhance the traditional mac and cheese with garlic, it was worth whipping up a batch and see what would happen!
The Recipe: Roasted Garlic Mac & Cheese
Original Recipe Found In: Cooking Light, October 2014 Issue
What You'll Need:
2 Whole Garlic Heads
1 Tablespoon Olive Oil
3 Tablespoons Water
10 Ounces Whole-Grain Penne
2 3/4 Cup 1% Low-Fat Milk
3 1/2 Tablespoons All-Purpose Flour
1 Teaspoon Kosher Salt
1/2 Teaspoon Black Pepper
4 Ounces Sharp Cheddar Cheese, shredded and divided (about 1 cup)
2 Ounces Part-Skim Mozzarella Cheese, shredded (about 1/2 cup)
To start, bring a large saucepan of water to a boil and cook pasta according to package directions. Once cooked, drain in a colander and set aside.
Next, remove the white, papery skin from the garlic heads, but do not peel or separate the cloves. If you've ever worked with garlic, this is a hard concept to follow through since in most recipes it calls to separate the garlic cloves. Tempting as it may seem, keep the cloves intact, but try to remove as much skin as possible. Place the garlic heads in a microwave-safe bowl and rub the garlic heads with oil. Pour the water in the bottle of the bowl and cover the entire thing with plastic wrap. Place the bowl in the microwave and cook on high for 4.5 minutes or until the garlic is very tender. Remove the bowl from the microwave and let it cool slightly.
Next, combine the milk and flour in a medium saucepan, stirring with a whisk. Bring the mixture to a boil over medium-high heat, stirring frequently. Cook the milk mixture for three minutes or until thickened. Once cooked, remove from the heat and add the salt, pepper, 1 ounce of cheddar and mozzarella cheeses. Stir until smooth and the cheeses have melted. Set this aside.
Begin to preheat an oven broiler. Meanwhile, from the microwaved bowl, separate the garlic cloves and squeeze to extract the garlic pulp. Some of the garlic cloves will still be pretty warm, but if you work quickly, it should be a light task. Place the garlic pulp and two cups of the milk mixture in a blender. Process until the sauce is smooth. Stir the garlic mixture into the remaining milk mixture and stir until well incorporated. Add the pasta and stir to coat.
Spoon the pasta mixture into a broiler-safe 11x7 glass or ceramic baking dish coated with cooking spray. Alternatively, you could use 6 (10 ounce) ramekins or gratin dishes. Once in the desired baking vessel, sprinkle with the remaining three ounces of cheddar cheese. Broil for two minutes or until the cheese has melted and begin to turn brown. Let the cooking vessel stand for five minutes, serve, and enjoy!
The End Result: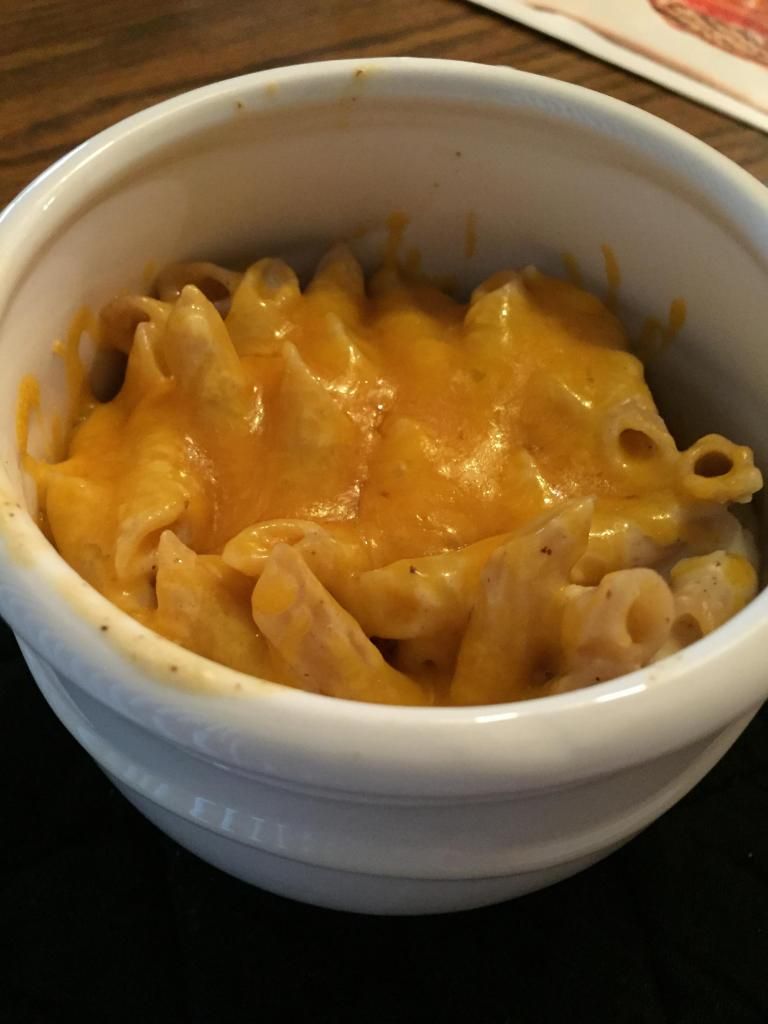 If you are not a fan of particularly strong garlic flavor, this mac and cheese will not be for you. If you love garlic infused in every single bite, along with some potent cheese flavor, then be careful not to eat the entire batch in one sitting! I didn't quite process the garlic to a smooth consistency, as instructed, but the flavor made itself known and was quite delightful. While there was only two cheeses in this recipe, you could fool anyone with the outstanding cheese flavor. If you want to kick up your mac and cheese game, this recipe is for you!
Join us next week as we continue our quest for awesome recipes to present to you. Until then,
~Cheers!