Good evening everyone! Continuing on my soup conquest, I bring you a fall/winter time favorite ingredient, that might not be used as often as anticipated. Granted, there's a whole menagerie of squashes out there, but to use one in a soup like this is quite tasty. Plus, it's paired with a cheesy crouton that evens out all the flavors.
The Recipe: Butternut Squash Soup
Original Recipe From: My Fitness Pal app
What You'll Need:
Two Tablespoons Olive Oil
1 Large White Onion, chopped
2 Medium Carrots, chopped
1/2 Medium Butternut Squash, cut into 1/4-inch pieces
6 Cups Low-Sodium Chicken Broth
2 Sprigs of fresh Rosemary
1/2 Small Baguette, sliced
4 Ounces of Sharp Cheddar Cheese, shredded
2 Scallions, thinly sliced
To start, head the oil in a large saucepan over medium heat. Add the chopped onion and season with salt and pepper. Stir all the ingredients together and cover, cooking for six minutes, stirring occasionally.
Once the onions have cooked, add the carrots and the squash, stir and cover. Cook this mixture for five more minutes, stirring occasionally also. Add the chicken broth and the rosemary and bring the mixture to a boil. Once at a boil, drop the heat and let simmer for 12-15 minutes, or until the vegetables are tender.
While the vegetables are cooking, heat the oven broiler. Place the sliced baguette pieces on a foil lined baking sheet and sprinkle with the shredded cheddar cheese. Place the baking sheet in the oven and broil under the cheese has melted, about one to two minutes. Remove from the oven and set aside.
Once the vegetables have cooked, remove and discard the rosemary. If you are using a stainless steel saucepan, use a corded immersion blender and blend until all the ingredients are thoroughly mixed. If you used a nonstick saucepan, carefully pour the ingredients in a blender and pulse to puree the ingredients. Pour into serving bowl, top with scallions and the cheese croutons, and enjoy!
The End Result: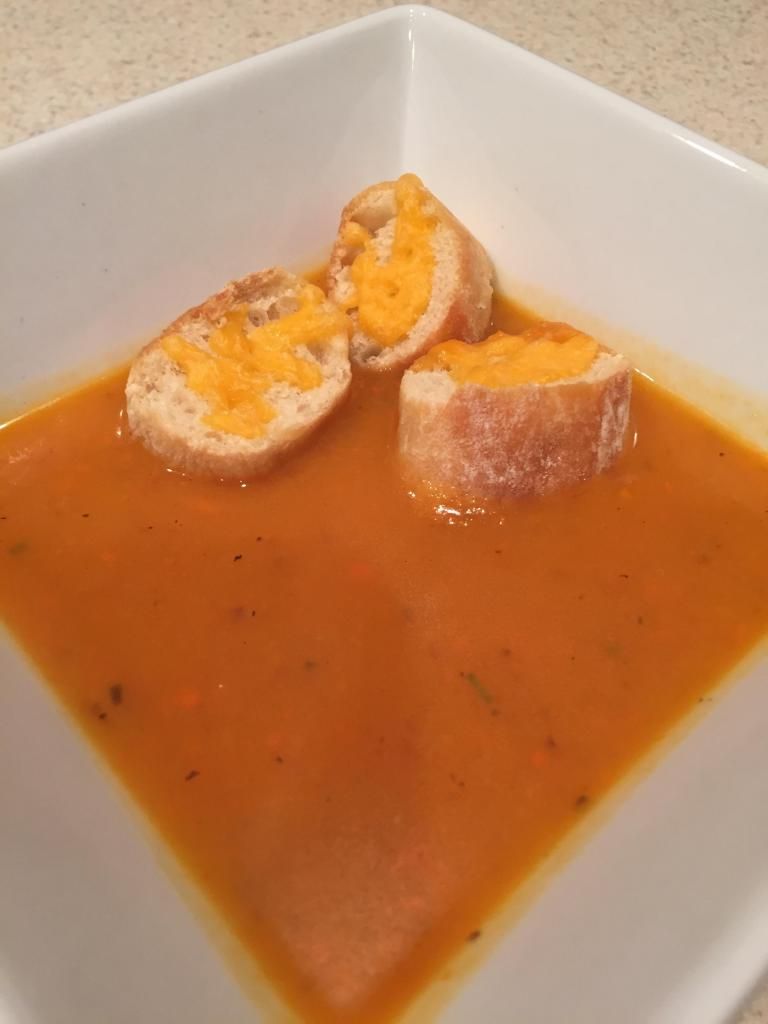 The soup will be surprisingly sweet, as the butternut squash is naturally that way. The carrots help to enhance that flavor and no onion can be found. But the cheese croutons, as I have so lovingly named them, will add a depth to the soup that can't be found elsewhere. While they might look pretty on top the of the soup, submerge them in the liquid and add with your slurps of soup. The bread will give the soup something to cling to and the sharp cheddar cheese is a nice contrast with the squash flavor. Overall, a great, fresh soup recipe to add to your soup arsenal!
That's all we have for you this week. Check back frequently for more tasty additions to your recipe book. Until then,
~Cheers!