Good evening everyone! It's nice to add a bit of decadence to the standard evening meal. There are numerous options when this is the case. Nothing says it more than steak. While the meat itself is pretty bland, the possibilities of how you serve it and what you serve it with is what defines it. Tonight, I'll be creating a delicious steak, served with some veggie options that are out of the norm.
The Recipe: Strip Steak with Onions and Poblanos
Original Recipe Found In: Cooking Light, November 2014 Issue
What You'll Need:
2 (10 Ounce) New York Strip Steaks, trimmed
3/8 Teaspoon Smoked Paprika
1 1/2 Tablespoons Sesame Oil, divided
1 (12 Ounce) Yellow Onion, cut into 12 wedges
2 Poblano Peppers, seeded and cut into 1/2-inch strips
4 Lime Wedges
To start, heat a large, cast-iron skillet over medium-high heat. On a clean plate, position the steaks. Sprinkle the steaks evenly with the paprika, salt, and freshly ground black pepper. Add 1 1/2 teaspoons of oil to the pan and swirl to coat. Carefully place the steaks to the pan and cook for four minutes on each side, or until desired degree on doneness. Once cooked, remove the steaks from the pan on a cutting board, cover with aluminum foil, and let stand for ten minutes.
Meanwhile, add the remaining tablespoon of oil to the pan swirl to coat once more. Add the onion wedges and cook for two minutes on each side. Make room in the pan and add the poblanos. Saute the ingredients for four minutes, stirring occasionally. Remove the skillet from the heat, cover, and let stand for five minutes. Season with salt and pepper.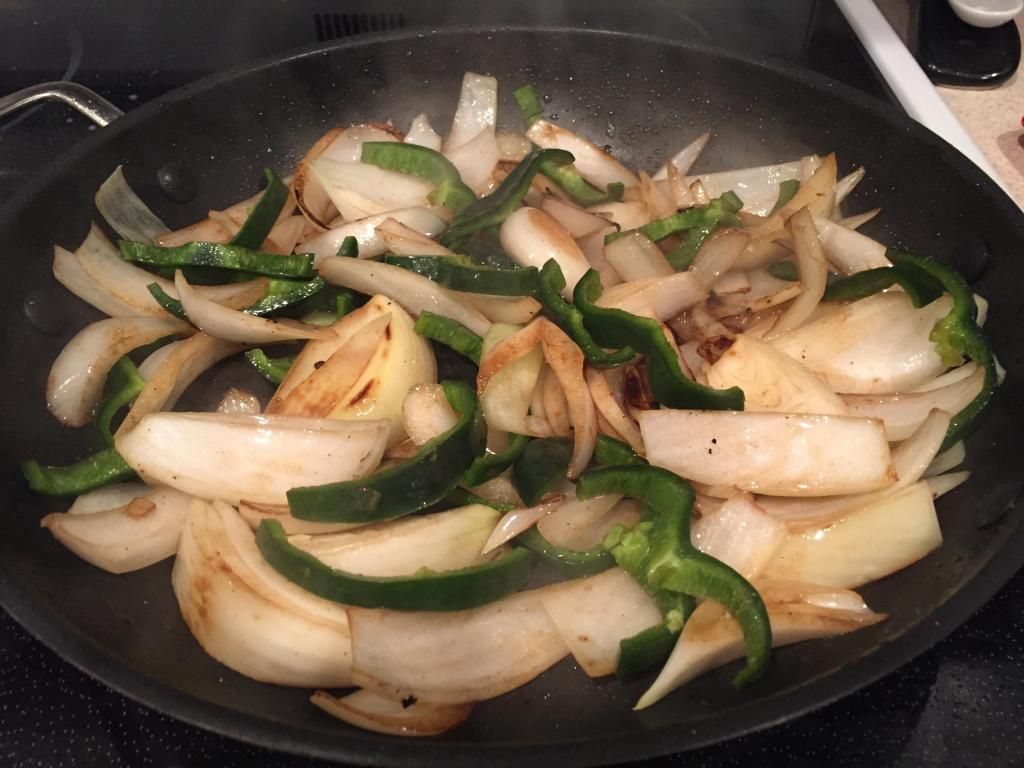 Prepare a clean platter and arrange the onion mixture on top. Remove the foil from the steak and cut the steak across the grain into thin slices. Arrange the steak over the onion mixture and sprinkle with salt. Serve with lime wedges and enjoy!
The End Results:
While the onions look a bit charred, trust me, it only adds more complexity to the dish. The steak is cooked perfectly, while resting it gives it more juice that would be lost if it was cut into right after cooking. The poblanos lost most of their heat while deseeding and cooking, which ended up being a a great pepper add in. The lime juice (we used bottled) spritzed on the meat and veggies added a bright note to the ingredients. Overall, a great, simple, and a hint of class dinner option that will leave you hungry for more.
That's all we have for you this week. Continue to check back with great options to try in your kitchen. Until then,
~Cheers!