Good evening everyone! It is no secret that I love Mexican food. I'm quite keen to the burritos and enchiladas of the world. But most Mexican dishes are pretty calorie ridden and it's tough to find recipes that keep the flavor and loose the bulk. Tonight, I'm sharing a pretty tasty Mexican recipe that won't break the calorie bank and will definitely be a fan favorite at your house.
The Recipe: Chicken Enchilada Stuffed Spaghetti Squash
Original Recipe Adapted From: www.pinterest.com
What You'll Need:
1 Large Spaghetti Squash, cut in half and seeded
1 Tablespoon Oil
1/2 Pound Boneless, Skinless Chicken Breast, cooked and shredded
2 Cups Enchilada Sauce
1/2 Cup Black Beans
1/2 Cup Corn
1/4 Cup Cilantro, torn (optional)
1/2 Cup shredded Sharp Cheddar Cheese
1/2 Cup shredded Monterey Jack Cheese
To start, prepare the spaghetti squash. Preheat an oven to 400 degrees. Brush in the inner flesh of the spaghetti squash with the oil and season with salt and pepper. Place the squash on a heavy baking sheet, skin side up, and cook until tender, about 30 minutes.
While the squash is cooking, prepare the "inner" ingredients. In a medium mixing bowl, combine the chicken, enchilada sauce, beans, corn, and cilantro and mix well. Once the squash has cooled enough to touch, divide the mixture between the two halves. Top the squash and ingredients with equal amounts of cheese.
Place the squash back in the oven and cook until the cheese has began to melt and turn a light golden brown, about three to five minutes. Place the cooked squash on clean plates, serve, and enjoy!
The End Result: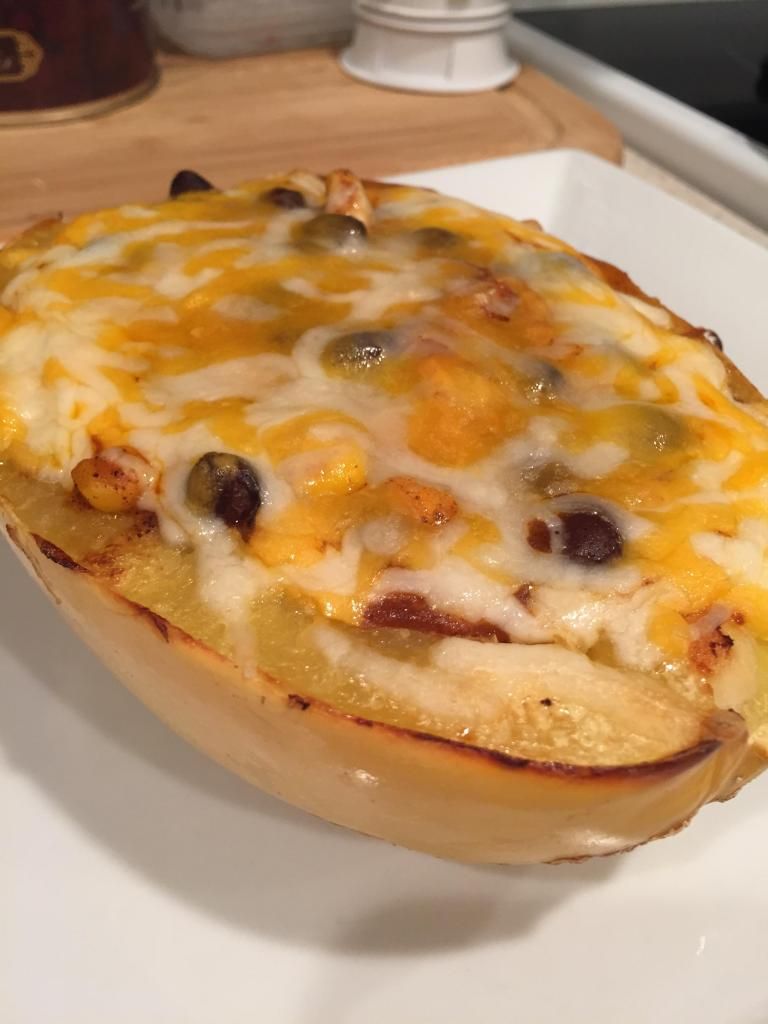 Using a spaghetti squash makes this a much healthier alternative to the traditional Mexican fare. The portions are smaller, but yet in equal parts, so it's a good way to eat sensibly. Also, when you mix all the ingredients (the chicken portion with the spaghetti squash flesh,) it tastes incredible! I'm a big fan of spaghetti squash already and this is a great recipe to incorporate a healthy take into a favorite type food!
That's all we have for you tonight. Keep checking back for more delicious ideas to bring into your kitchen. Until then,
~Cheers!