Good morning everyone! Welcome back to a new week here at Out Of The Culinary. After a rough week last week, we're back with some medical news (more on that in a minute) and with a new batch of culinary stories to share to get your week started off right! The week, we've got stories ranging from Taco Bell's great legal meat dispute, tips to organize your kitchen and a Super Bowl menu for those who find their wallets to be a little more 'full' than others.
First and foremost, however, is our medical situation. As we said last week - Maggie was going in for a surgical consultation on Friday (28th) in order to find out exactly what her options were when it came to this difficult gallbladder problem she's been fighting for months. Long story short - surgery is scheduled and we're finally on the path to making Maggie feel 100% again. In the meantime, however, the doctor did suggest that we make some adjustments to her diet - in order to keep the gallbladder attacks down to a smaller scale. This presents a challenge for a cooking blog, obviously, as our once full menu now has to be carefully scripted and crafted around the foods that are deemed 'gallbladder friendly'. The doctor suggested that we switch to a bland diet - mainly mashed potatoes and oatmeal. Maggie isn't having any of that. Flavor, she states (rather stubbornly) is imperative. So, for the next two weeks, we're going to be taking an interesting diversion down the culinary road. Yes, we're still going to be cooking creative dishes and still plan on making delicious meals 3 nights per week - but now our ingredient list is hampered and our menu is trimmed. As such, you can expect a much tamer menu for the next couple of weeks. We will touch on each menu item (regarding why it's 'okay' for Maggie) as we present the dish, but just wanted to drop an FYI to keep our readers in the loop.
Now, on to the stories of the week!
The biggest news of the week has to center around Taco Bell. The news broke late Monday afternoon (after we had already shared our stories for the week - of course!) that
an Alabama law firm was suing Taco Bell for false advertising
, claiming that their 'seasoned beef' as advertised in commercials was not technically beef. The lawsuit centers around the USDA standard for products to be called beef. In order to advertise any item as containing beef - you have to have 40% beef in the product.
Let's stop right there for a second. Is anyone else shocked, nay, appalled by the fact that 40% is the percentage needed to be called beef? Shouldn't it be like...oh, I don't know? 80% 100% Heck at the very least it should have to be 51% beef to be called beef. I think it's the least we can ask for - a product that labels itself as beef to AT LEAST be 50% beef. 40% is a disgustingly low number.
The law firm claimed that Taco Bell fills their seasoned beef with (tasty?) binders and fillers that lower the percentage of actual beef in their seasoned beef to 35%. This, says the law firm, is false advertising and entitles someone (*cough*the law firm*cough*) to millions of dollars of Taco Bell's money.
Now, I don't know about you - but if someone made a blatantly false claim about me, I'd come out swinging. I'd yell from the rooftops, I'd go on Oprah - I'd do everything humanly possible to get my message out there and clear my name. TV commercials - full page newspaper ads... to their credit - Taco Bell did just that: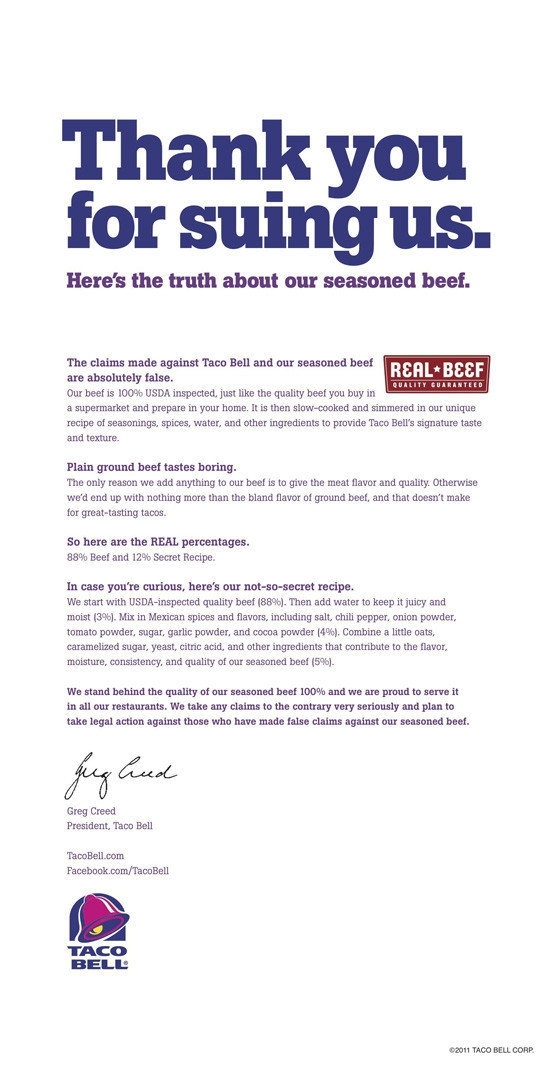 Taco Bell is fighting back
, and fighting back HARD. Online ads, full page newspaper ads, they are not pulling any punching in getting their message to anyone who will care to read it. I'd imagine a countersuit for defamation and damages is in the Alabama law firm's future.
Obviously, there still is a lot to be decided with this case. We can't simply say that Taco Bell has freed itself from the claims just because they are fighting back so aggressively. A story like this has the potential to destroy a company. In the short, customers may choose to skip Taco Bell while they find out all of the facts. In the long term (assuming this case has merit) Taco Bell could suffer greatly. If it's proven that their tacos only contain 35% beef (or less) I don't see how they could recover. That is reputation damage that corporations simply cannot outlast.
In the end, the moral of the story is simple. Beef only has to have 40% beef to be called beef - be wary of fast food restaurants - even if they claim to use beef. It might only be 40% of what you think it is. Anyone else feel ill?
Speaking of reasons to avoid fast food - The Huffington Post has a collection of the
10 worst fast food items
(from a nutritional value standpoint). Oddly enough, the first item on the list is from Taco Bell... Click through to see the most heart stopping menu items from a multitude of fast food eateries. If you weren't motivated to cut down on eating out before - you might be after reading this!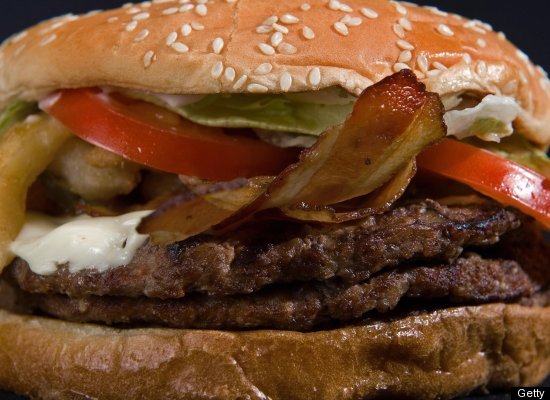 Seriously? How can this NOT be healthy! Just look at the slice of lettuce - and the tomato!



Next weekend, the greatest American sporting spectacle will get underway- the Super Bowl. Accompanying the big game is the always (if not equally than maybe more so) popular Super Bowl party. Nachos, little smokies, dip, chips, beer, hotdogs - you name it - it's all fair game for the big game. Did you ever wonder what the folks sitting in the multi-million dollar skyboxes were eating during the game? Well, now you can see for yourself.
The menu
for one such skybox has been revealed (courtesy of The Stir). Check it out and see how the high rollers fill their faces while multi-million dollar players pound their faces in on the field below.
Above: NOT the Super Bowl spread for the millionaires
If you're like us, you have a lot of kitchen gear, and very little kitchen space in which to store said gear. The Daily Meal has composed a list of kitchen products and gadgets that can help you organize your kitchen, reduce the clutter and even help keep some kitchen utensils in better condition for longer. Check out the full list of space saving ideas
HERE
.
Finally, America - you can rest at ease. After decades of research, after multiple test - the debate has been settled. We have finally discovered the perfect breakfast food. Bid adieu to bagels, say farewell to eggs and cereal can just stay home, because the folks at Eatingwell.com have discovered that this item is the king of the breakfast heap! Find out for yourself by reading the story
HERE
.
That's all we have for you on this week's edition of Around The Culinary World. We have a full menu of recipes coming up this week, I will be cooking on Tuesday and Wednesday, and Maggie will finish us off on Thursday. As we said, we're shooting for a gallbladder friendly menu, so it's sure to be a week like you've never seen before on the blog. Be sure to stop back tomorrow evening to see what I've got cooking. Until then,
~Cheers