Good evening everyone! Tonight, I took to the kitchen to get 2011 started off right - with a whole new (to the blog anyway) menu item: tilapia. For those that don't know, tilapia is the common name for close to one hundred related cichlid species of fish. Tilapia as we know it typically look a lot like this: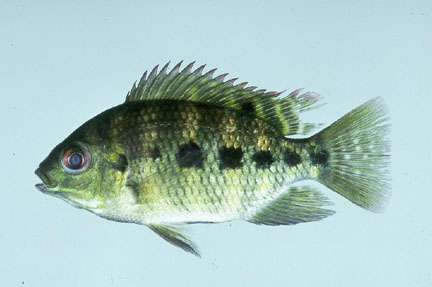 and have quickly become a mainstay in the culinary world as tilapia is now in the top five of the most consumed fish in world. This surge up the fish hierarchy can be attributed to the ease of raising tilapia. They are large growing fish, that mature quickly and exist mainly on vegetation. (They're big, they're grown quickly and are cheap to feed to put it bluntly). In addition, tilapia are tolerant to living in high density groups. By any standard, that's a recipe for profit, especially in the competitive and costly world of fisheries.
Today's version of tilapia is a hybrid of many different species of fish - scientifically bred to create the best fish for farming. As such, many forms of 'pure blooded' tilapia have been wiped out of existence, due to the muddled genetic bloodlines. In some areas, tilapia are considered an invasive species - if introduced into a warm water climate where they are not a natural element, the fish can clear out the vegetation and wipe out an aquatic ecosystem in short order. As such, many tilapia farms are required to store and raise the fish in above ground tanks that do not have access to a natural waterway.
In the culinary world, tilapia have a lot of healthy benefits. Like most large fish, tilapia are high in protein and are low in saturated fat content. Tilapia are also incredibly low in mercury, because they do not feed on other fish (like salmon do in fisheries). Wild (or fresh) raised tilapia are low in cholesterol and high in protein, making them a great addition to any healthy diet.
There is a reason to make a distinction between wild (fresh) and farmed tilapia, however.
A Wake Forest University study
published in 2008 found that farmed tilapia have an astoundingly high level of cholesterol and fat.
In addition, this study found that most farmed tilapia have lost most of their beneficial nutritional value due to the way they are raised. Farmed tilapia are fed almost exclusively corn - which contains high levels of omega-6 and long chain omega-3 (which, so the experts tell me, is a bad thing - especially the omega-6, which is only a bad fat). Essentially, this means that pound for pound, farmed tilapia has the same nutritional value of 80% lean hamburger or bacon. Yes - bacon. Not what you're expecting when you buy fish, right?
Researchers have pointed out that this poor nutritional benefit from farmed tilapia is especially bad considering the emphasis nutritional groups have been making on eating fish towards a healthy lifestyle. Farmed tilapia are considerably cheaper than fresh tilapia - thereby making it more easily acquired by low income families. The American Heart Association recommends that people with heart issues consume two servings of fish a week - the Wake Forest Study points out that Omega-6 is most damaging to patients with heart conditions. Now you can see the problem!
In short, when buying tilapia, be sure to verify that the fish was either wild caught or (more likely) fresh raised - which allows the tilapia to develop in a more natural way (many are raised in rice fields for example - the fish eat the rice plant waste for the growing season and are ready to harvest by fall).
Finally, from a culinary standpoint - tilapia is very bland and flavorless. This can be remedied, however, by using aggressive rubs or other marinades to infuse the fish with flavor. Tonight, I used one such aggressive rub to create one of the best fish dishes we've ever shared on the blog to date.
The Recipe: Chili Rubbed Tilapia
Original Recipe Found On: Eatingwell.com
What You'll Need:
2 Tablespoons Chili Powder
1/2 Teaspoon Garlic Powder
1/2 Teaspoon Salt
1 Pound Tilapia Fillet (Wild caught or fresh raised)
3 Tablespoons Olive Oil
* The original recipe calls for this dish to be served with asparagus. Since Maggie and I find asparagus to be disgusting and vile - we opted to serve our fish with corn instead. Feel free to substitute any vegetable of your choosing!
Begin by mixing the chili powder, garlic powder and salt together in a small bowl. I found it was easier after mixing the spices to transfer the blend to a small plate. Don't be alarmed by the relatively small quantity of spice - I know it doesn't look like there is enough spice there to cover 1 pound of tilapia - but you'll be surprised to find that you may even have a little extra spice left over.
Carefully dredge the fillets through the spice mixture, making sure that each fillet is completely and evenly covered with the seasoning. Rub the spice into any difficult areas and brush excess seasoning off of any areas that are clumping (this will make cooking a lot easier).
Next, heat the olive oil in a large skillet over medium heat. Once the oil is shimmering, add the fillets and cook - roughly 3 to 4 minutes per side. Once the fillet is white and flaky - you're good to go! Don't be alarmed if your fillet looks dark - chili powder tends to become an almost crimson color when cooked -which give the impression that the fillet is burnt. Finally, simply dish out directly onto the plate and serve with your favorite veggie. A few drops of lemon juice can also be added to the final fillet to add an extra kick to the seasoning.
The Results:
As I said earlier, this is one of the best fish dishes we've made to date on the blog. Only the
breaded cod fillet
topped tonight's dish. The chili powder and garlic salt combination provided a subtle kick to the normally neutral tilapia - the extra addition of lemon juice added the final layer of complexity to the flavor (a nice little 'zing' in the aftertaste). With a total preparation time of 5 minutes, and a cook time of 5 more minutes - this is an incredibly quick fix for any size of family. Great flavor, quick and easy to make and good for you? We have an early candidate for 2011's cookbook!
Speaking of cookbook's have you purchased your copy of the Out Of The Culinary Cookbook yet? Why not? It's filled with the best recipes from the blog - full color photos, large, easy to read pages. It makes a perfect gift or a great addition to any cookbook library. Grab yours by clicking on the link on the right side of the blog!
That's all we have for you this evening. Maggie takes to the kitchen tomorrow evening - and she's getting her cooking in 2011 started off with something completely different as well. Be sure to stop in tomorrow evening to see what she's got cooking. Until then,
~Cheers