Good evening and salutations from the recently vacationed couple! It was really great to have some time off from reality (aka work) and have some 'us' time. In the time we spent far, far (four hours) away, we packed a lot into three days. But everything was executed successfully and we are now rested up from another stretch of work until Thanksgiving or so.
With that being said, we are kicking it back into high gear...literally. Tonight, I'm preparing a dish that might send your taste buds into a whole 'nother level. Granted, I tend to shy aware from recipes that have a whole lot of spice and pizzazz. But I'm taking a risk here with something that will be flavorful, and hopefully won't burn off our tongues.
The Recipe: Chili-Rubbed Pan-Roasted Chicken with Pico de Gallo
Original Recipe Found In: Food Network Kitchen Favorite Recipes
What You'll Need:
2 Tablespoons Peanut or Corn Oil
4 Bone-in, Skin-on Chicken Breast Halves (we are substituting chicken thighs for our version)
2 Teaspoons Chili Powder
For the Pico de Gallo:
2 Cups Cherry or Grape Tomatoes, halved
1/2 to 1 Jalapeño, stemmed and minced with seeds
1/4 medium Red Onion, grated
1/2 Teaspoon Salt
1 Clove Garlic, peeled
2 Tablespoons Extra Virgin Olive Oil
1/2 Cup chopped fresh Cilantro
Warm Corn Tortillas (optional)
To begin, preheat the oven to 400 degrees. Heat a large ovensafe skillet over medium-high heat, add the oil and cook until shimmering. A Dutch oven comes in real handy if you don't have an ovenproof skillet - I'm sure the deep sides aren't as useful as the shallow sided skillet, but you essentially get the same results. We've yet to find a good (affordable) non-stick, ovensafe skillet. Most of the good non-stick skillets come with rubberized handles. So, while we search, our favorite cooking dish - the dutch oven, makes a great substitue.
Next, season the chicken with the chili powder and salt. If you want to eat the skin, season the skin with the chili powder. If you're opting for a healthier version, spread the chili powder on the underside of the skin (AKA between the skin and meat) this will allow the juices to stay in the chicken but will put the chili powder flavor right into the meat. Lay the chicken in the skillet, skin side down, and cook until brown, about four minutes. Turn the chicken (and try not to get splattered with hot oil,) transfer the pan to the oven. Baste occasionally with the pan drippings (if able), and cook until firm, about 15-20 minutes (or until the chicken reaches 170-175 degrees.)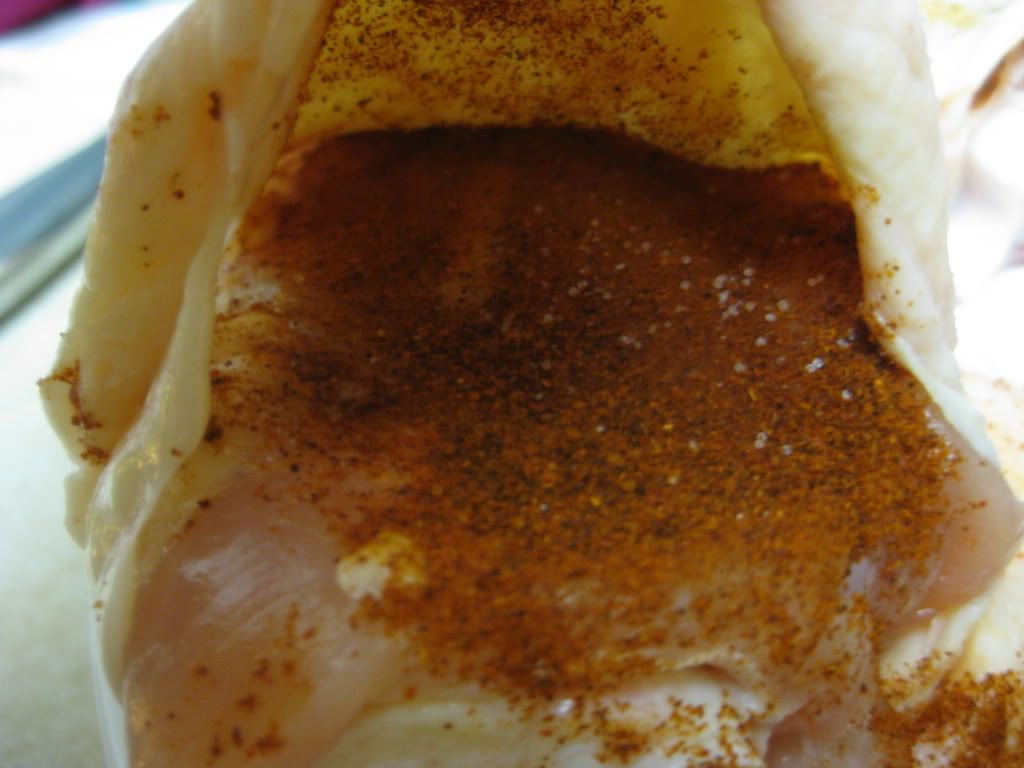 Hence the name 'chili-rubbed'
Now, I'm all about convenience in the kitchen. When I saw that this recipe wanted you to make your own pico de gallo, I was reminded that most grocery stores sell pre made pico de gallo. Talk about super convenient! But for those of you who want to make their own, fresh pico de gallo, here's step-by-step instructions:
Toss the tomatoes with the jalepano, onion, and 1/2 teaspoon of salt. Smash the garlic clove, sprinkle with a pinch of salt, and, with the flat side of a knife, meh and smear the mixture to a coarse paste. Stir the paste into the salsa with the olive oil and cilantro.
After the chicken is done cooking, serve with chicken with the pan drippings and spoon some salsa over. If you prefer an easier way to serve this, shred the chicken from the bones, and prepare in corn tortillas with the pico de gallo. Serve and enjoy!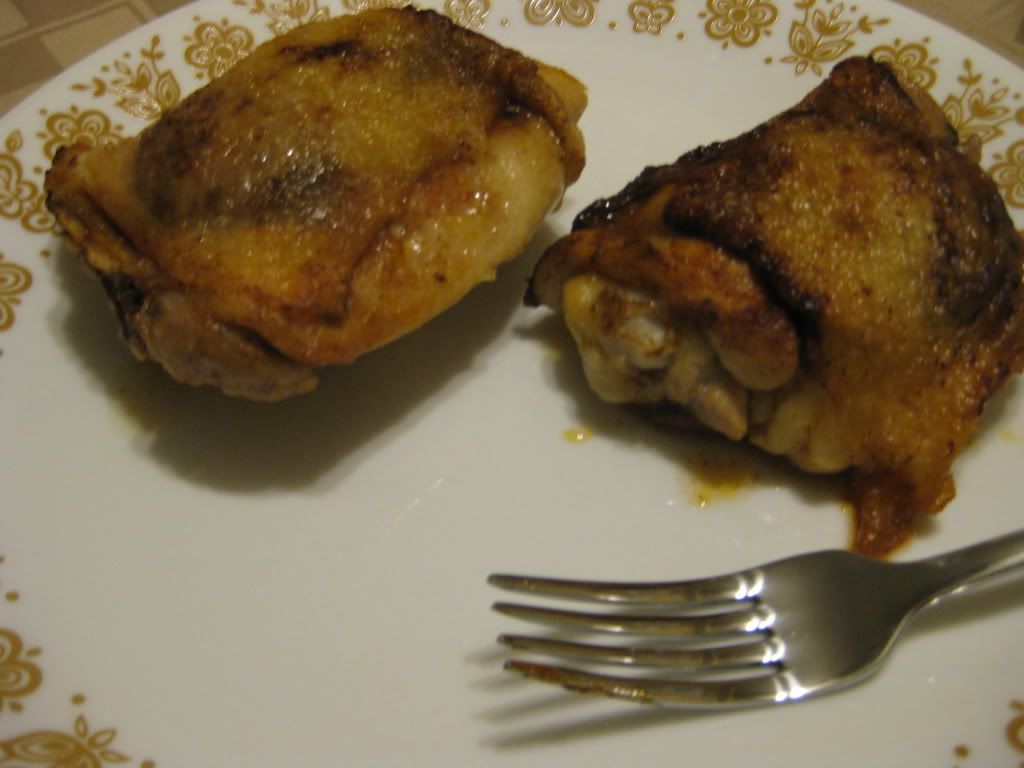 Cooked results with skin left on
The End Result: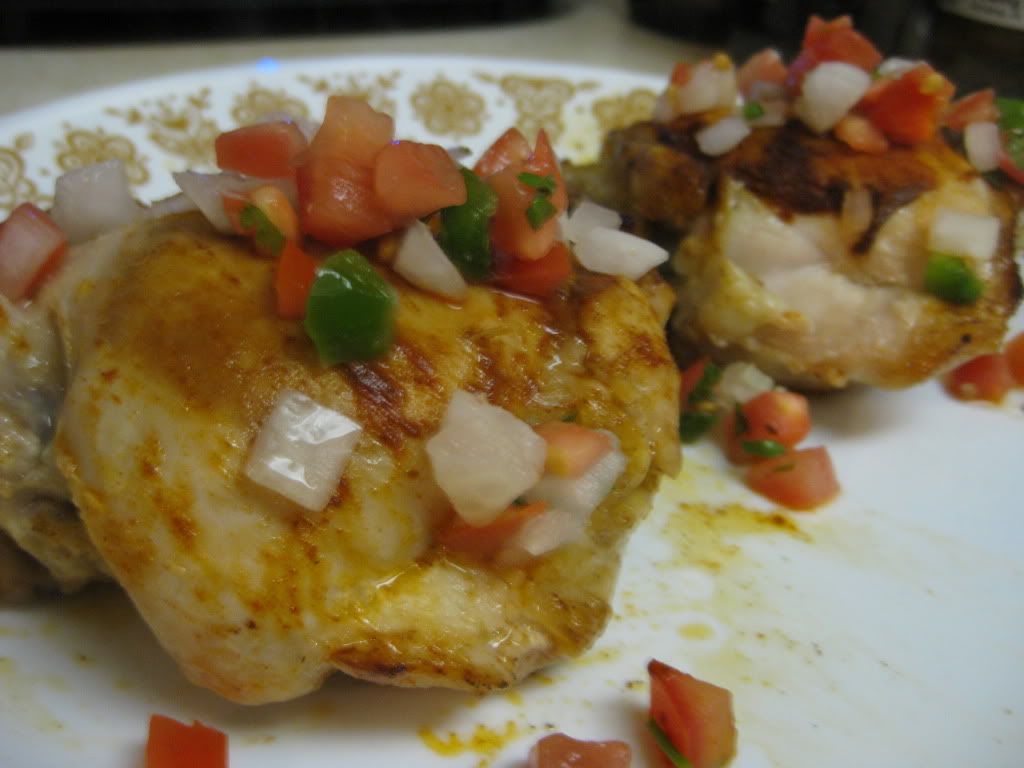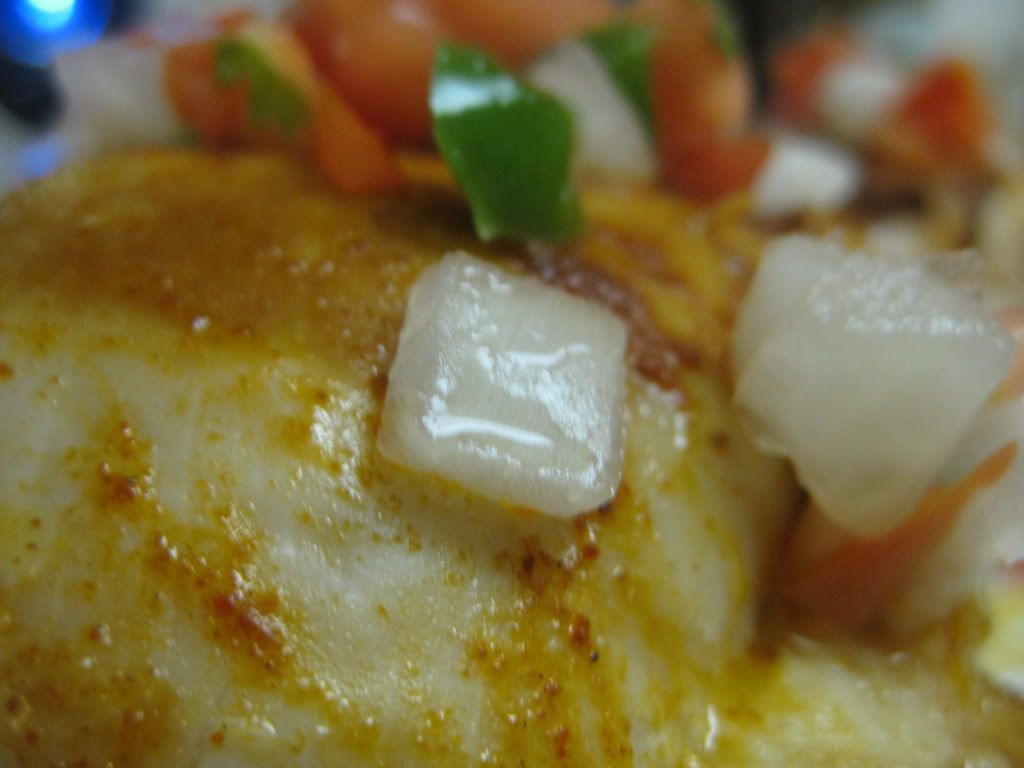 The chicken had real smoky flavor and it wasn't that spicy at all. The key difference between selecting a chili powder to use in a dish, whether you like it amped up a notch or a very subtle notch, make sure to pay attention to labeling. I chose a mild chili powder, because neither one of us likes very spicy things. If you like your food blazing hot, then choose a hot chili powder for that extra kick (or two or three.) The pico de gallo, I think, really gave the dish a well roundedness. It's not really spicy, just three or four ingredients that really added more flavor to the dish. Overall, a great dish, and worth a shot for those following along at home.
Join us on Thursday for a tasty new take on a Mexican dish. Until then,
~Cheers!