Good evening everyone! As we continue to ease back into cooking (we've also returned to our exercise plan, after taking a solid month off,) I keep finding myself easy recipes to cook. As we have done numerous amounts of times, fish is pretty much of our mainstays here on the blog. The ultimate versatile dish, fish can soak up any flavor it's around, or it can keep its distinct flavor and accompany it with suitable options. Tonight, we are going to explore the first choice, with hopefully, positive results. Since this is such a straightforward recipe, Tyler has chipped in with some fun facts and research about flounder and the origins of the dish (as you're all well aware, Tyler likes to have the why behind cooking as well as the how!) So tonight's blog is a bit of a collaboration!
The Recipe: Baked Flounder with Tomatoes and Basil
Original Recipe Found In: Bon appetite Magazine, September 2011
Serves 4
What You'll Need:
1 Pound Very Ripe Tomatoes, cored and quartered
4 Garlic Cloves, minced
2 Tablespoons Extra Virgin Olive Oil
2 Tablespoons Fresh Lemon Juice
2 Tablespoons Thinly Sliced Fresh Basil
4 6-8 Ounces Boneless Flounder Fillets
Tyler's Note: We're using a unique fish for tonight's recipe - flounder. Flounder is a flatfish (similar to halibut) that are most commonly caught off of the Atlantic coast. Flounder is a whitefish that behaves very similarly to cod, it has a thick, fairly durable texture and a very neutral flavor. It's easier to roll (for wraps and the like) than cod and tends to be a little less durable when baking when compared to cod. While we have featured the fish in a past recipe, it's relatively new to the blog (and as an extension, to our cooking expertise). Luckily, flounder shares some great properties with other whitefish fillets that you probably are familiar with - so don't shy away from this recipe just because it's featuring a new style of fish!
Begin by preheating an oven to 425 degrees. Toss the garlic, olive oil, lemon juice, sliced tomatoes and basil in a large baking dish. Season with salt and pepper. Spread this mixture in an even layer across the bottom of the baking dish. You can either use full size tomatoes or grape (cherry) tomatoes. Full sized are slightly easier to slice, but if you're not a big fan of whole tomatoes, the cherry tomatoes will be easier to 'blend' with the rest of the dish.
Tyler's note 2: For this recipe, we're using the 'tube' version of basil, from the company Gourmet Garden. Much like the parsley and thyme we discussed previously on other recipes, this version is 100% basil, but condensed down into a paste for easier use and storage. So far, we've been fairly pleased with the product, although it does have some limitations (We'll cover those in a future blog post - sometime in the next few weeks). For the most part, the flavor is comparable and it lasts much longer than fresh basil would. Feel free to use fresh basil if you have it handy (in fact, it's preferred that you do) but in a pinch this tubed version of the herb works well.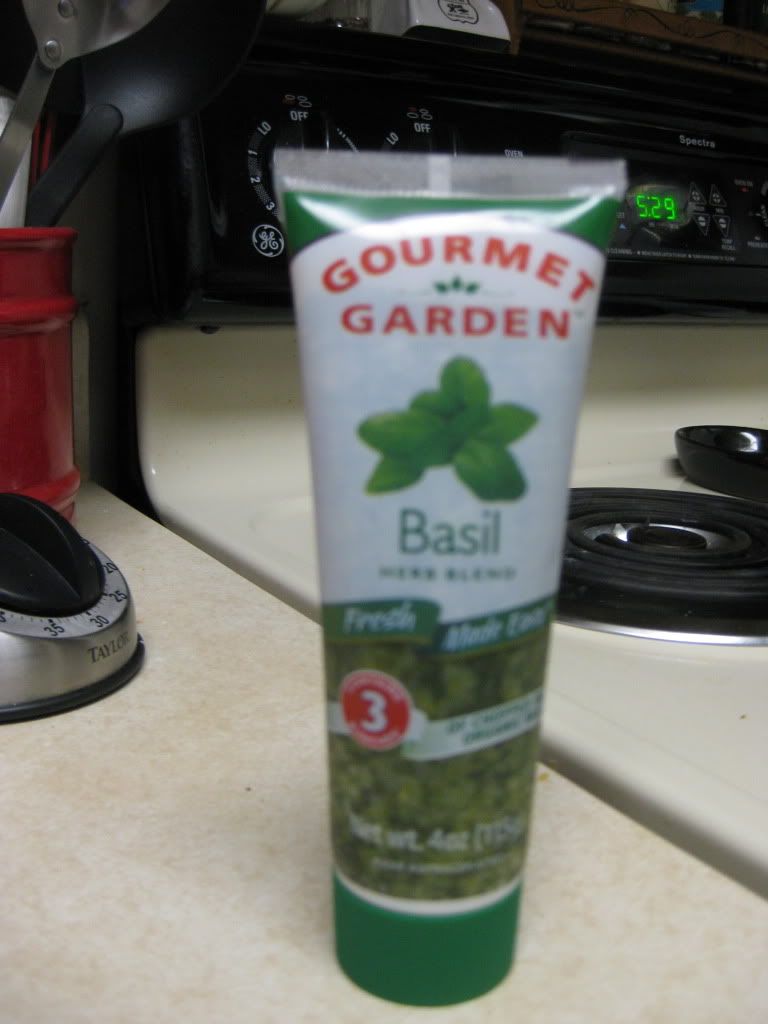 Easy herbs in a pinch...or squeeze...
Tyler's Note 3: Like mirepoix, and the pico mixture from last week's Spanish dishes - tomato and basil are the basis of many Italian and Mediterranean dishes. From side garnishments to full blown recipe additions, these two ingredients are well acquainted with each other. Baking them intensifies the flavor of basil and really brings a whole new element to the tomato. Combine that with baking the flounder, which causes the fish to absorb that flavorful base it's resting upon - and you achieve a 'summertime in Italy' flavor without all of the travel and language barriers!
Next, bake the tomato mixture for five minutes. Season the fish with salt and pepper. Arrange the fish in a single layer over the tomato mixture. Roast the fish with the tomato mixture until the fish begins to flake, about 10 minutes. You'll notice the flounder go from an off white to a more 'pure' white, that will be the best indicator, but you can't beat the reliability of poking it with a fork to see if it flakes! Serve and enjoy!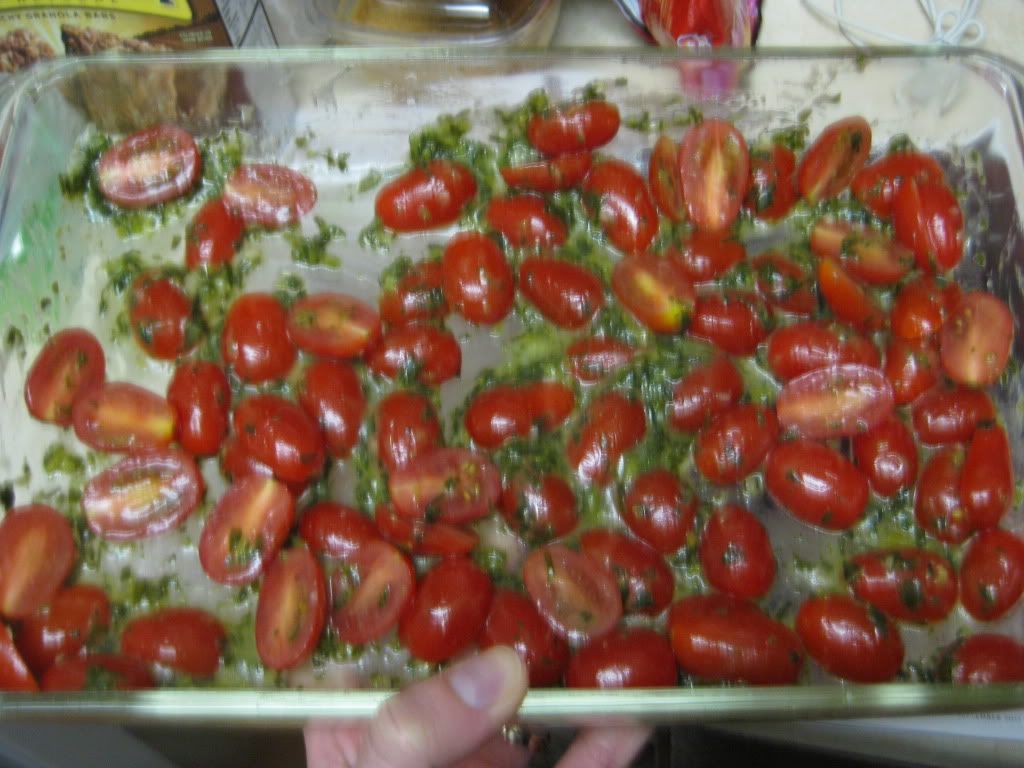 Pre-oven mixture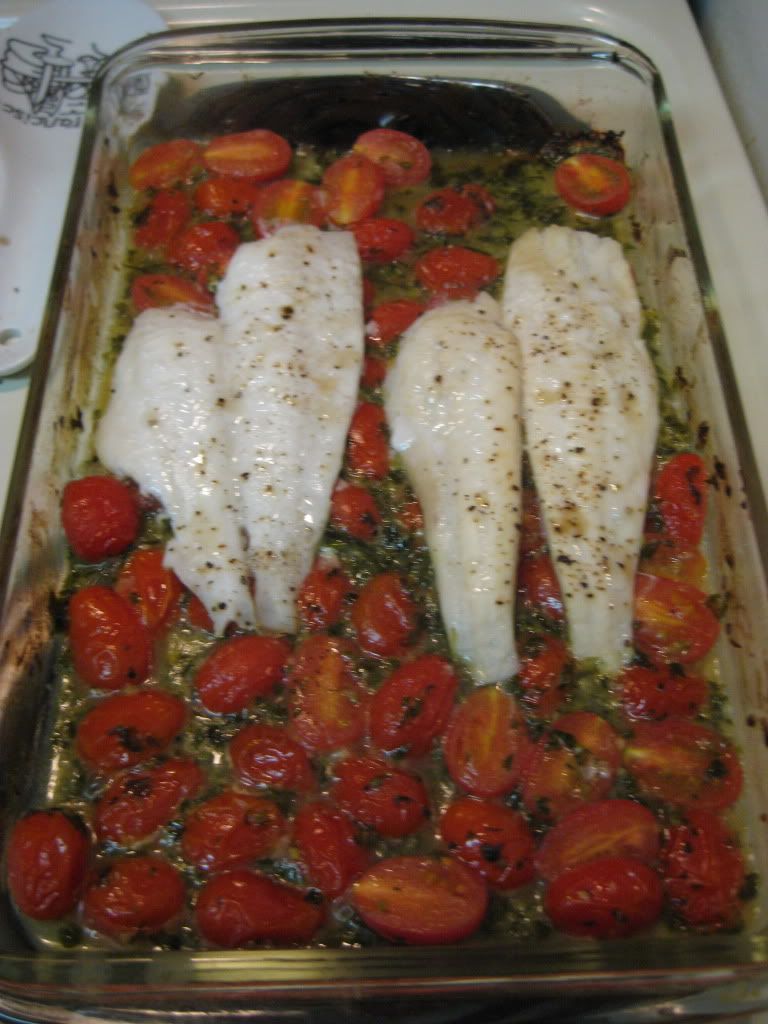 Post oven
The End Result: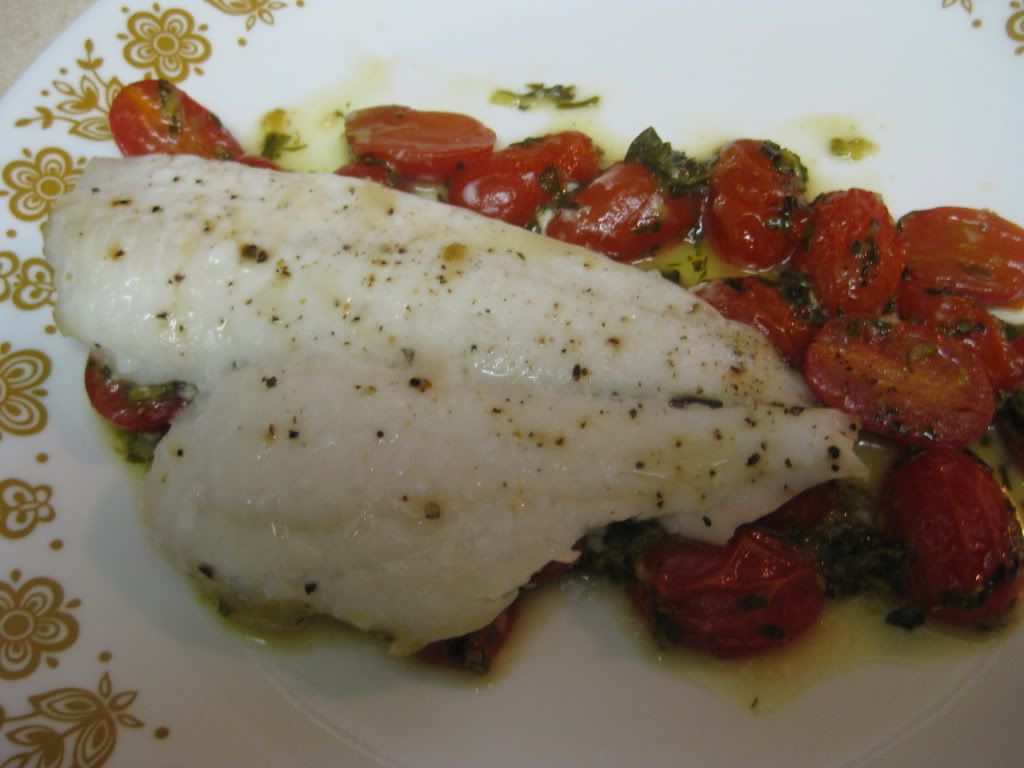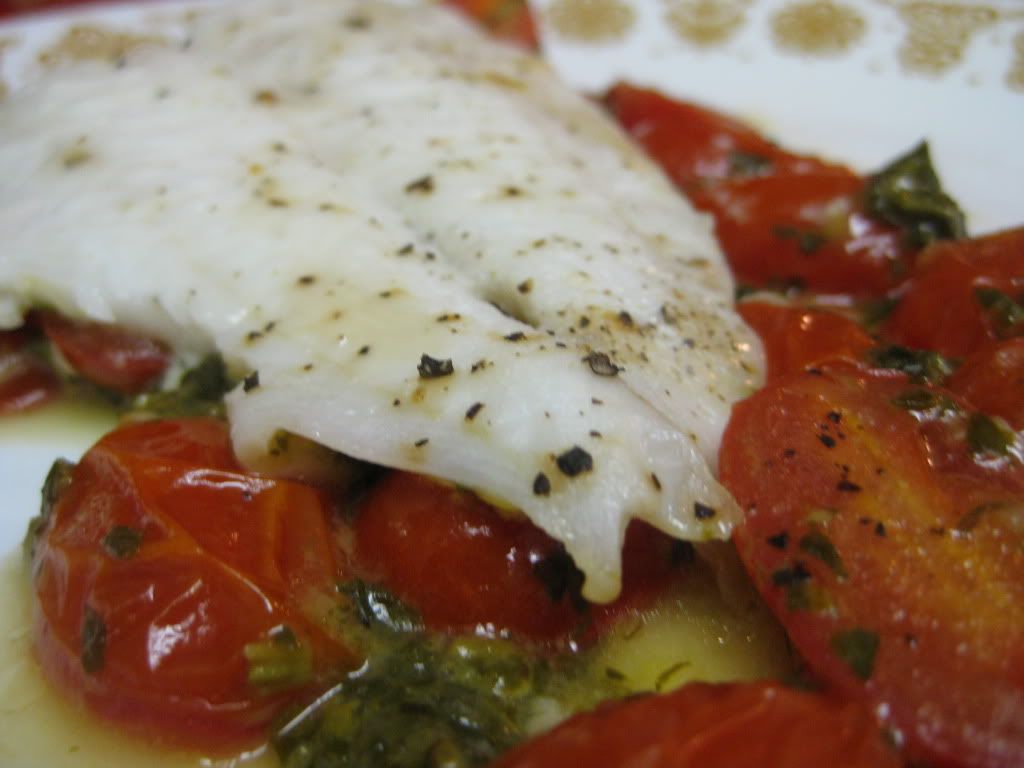 Exactly what we thought it would taste like. The flounder was very flaky and easy to cut with a fork. It soaked up all that tomato and basil flavor. It almost made the recipe taste like a restaurant dish, with fish caught straight from the Mediterranean Sea only minutes prior to cooking and tomatoes picked off the vine that morning...sorry, caught in my own Mediterranean daydream. But if you dream of fish and a taste that classic, yet fresh and new, this recipe is right up your alley!
Join us tomorrow as Tyler debuts a unique dish. Until then,
~Cheers!