Good evening everyone! Although I am not officially part of the Live Healthy Iowa program, I've been following Tyler's lead and learning to live a healthier lifestyle. I haven't lost 20 pounds like he has (but, needless to say, I am very, very proud that he has accomplished this goal,) I can say that I have lost some weight and toned up in some areas that I was unhappy with. We are very happy with the results we've achieved and our bodies will thank us in years to come.
Since we've started this program, it was always a goal to share great tasting recipes that won't be heavy on the calories. With all these tasty low calorie recipes we've been creating, it's not tough to lose the weight with dishes this good. Tonight is no exception: turkey meatballs, served with a delicious tomato barbecue sauce, that will make you wanting more.
The Recipe: Barbecue Turkey Meatballs
Original Recipe Found In: Cooking Light Magazine, April 2013
What You'll Need:
2 Tablespoons Dark Brown Sugar
2 1/2 Tablespoons Apple Cider Vinegar
1 Teaspoon ground Cumin
1/4 Teaspoon Smoked Paprika
1/8 Teaspoon ground Cloves
1 (14.5 ounce) can diced Tomatoes with mild Green Chiles
1 1/4 Pounds ground Turkey
3 Tablespoons Italian-Seasoned dried Breadcrumbs
1 Tablespoon Chili Powder
To start, place the brown sugar, apple cider vinegar, ground cumin, paprika, ground cloves, and diced tomatoes with green chiles in a blender. Blend all these ingredients until smooth. Pour into a bowl and set aside. In another bowl, combine the turkey, breadcrumbs, and chili powder until well mixed. Rinsing your hands with cold water and keeping your hands wet, shape the mixture into 16-18 meatballs. Place the meatballs on a clean plate.
Heat a large skillet over medium-high heat and lightly coat with cooking spray. Once the pan is hot, add the meatballs. Cook the meatballs for two minutes on each side, for a total of 10-12 minutes, until all sides turn brown. Next, carefully add the tomato mixture to the skillet, not to splash any sauce on your hand. Bring the heat to a simmer. Cover the skillet and cook for 10-15 minutes or until the meatballs are done cooking, checking with a meat thermometer to see if they reach 165 degrees. Serve with the tomato sauce and enjoy!
The End Result: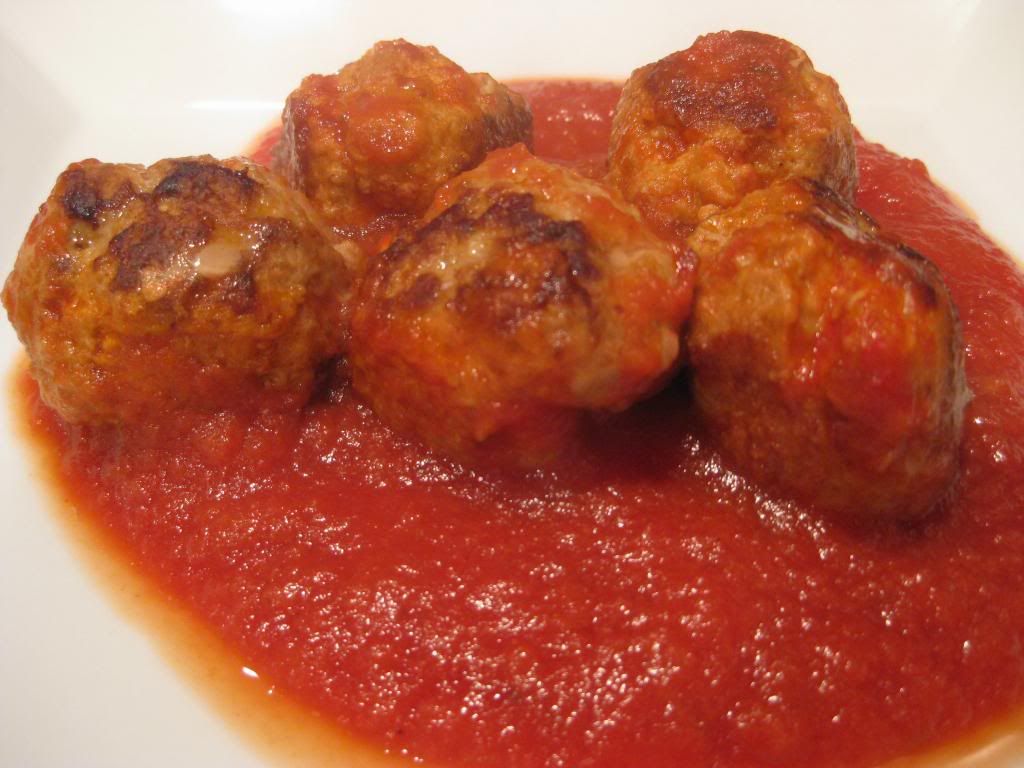 I can't quite put my finger on which style of barbecue this recipe derives from, but the sauce has an incredibly great smoky flavor. It also has a nice kick of heat to it, thanks to the paprika and the green chiles in the tomato sauce. Also, the chili powder in the meatballs gives it a nice boost of flavor that normally isn't in meatballs. The turkey is a great substitute for beef and I wouldn't be afraid to use turkey in any meatball recipe. Turkey has been a wonderful addition into our cooking and I'm sure this isn't the last you'll see turkey being used. Overall, a very tasty meatball with a sauce that you can't help to lick up.
Thanks for joining us this week and sharing with us as we continue to explore the culinary world. Until next time,
~Cheers!