Good evening everyone! After having such a delicious and filling meal last night, it's a nice switch of pace to have a sandwich that's considered a comfort food. More often than not, comfort foods are high in calories and feature ingredients that are not that great for you. But once in while, it's nice to find a comfort food that still tastes great, without feeling guilty after eating it. Tonight, I tackle one of those classic dishes, tweak a few of the ingredients, and make it something you can create any night of the week.
The Recipe: Apple Cheddar Bacon Grilled Cheese Sandwiches
An Adaptation from a Eat This, Not That No-Diet Diet recipe
(Serves Two)
What You'll Need:
2 Slices Rye Bread
2 Tablespoons spreadable Butter
1/4 - 1/2 Cup Cheddar Cheese
4 Slices Bacon
1 Apple, cored and thinly sliced
To start, heat a nonstick skillet over medium-high heat. Once the pan becomes hot, begin to cook the bacon, until each side is slightly crispy. As with all things, everyone likes their bacon differently, so use discretion when cooking the bacon to your liking. Once the bacon is cooked, transfer to a paper towel lined plate and let the bacon dry and cool.
Meanwhile, heat another skillet over medium heat. On a plate, cut each slice of bread in half and begin to prepare the sandwich: Spread the butter on the outside sides of the bread until completely coated. Flip the buttered sides out and sprinkle an even layer of cheese on both slices. Line one slice with a layer of apple. Line the other layer with the bacon. Carefully, flip one slice onto the other and smoosh the sandwich together.
By this time, the skillet will be hot enough to cook the sandwich. Place both sandwiches in the skillet, place a sandwich press, or another heavy skillet on top of the sandwiches. Cook on one side for five to six minutes. Remove the sandwich press and carefully flip the sandwiches over. Cook this side between three to four minutes, until the cheese is melted. Transfer to a plate, serve, and enjoy!
The End Result: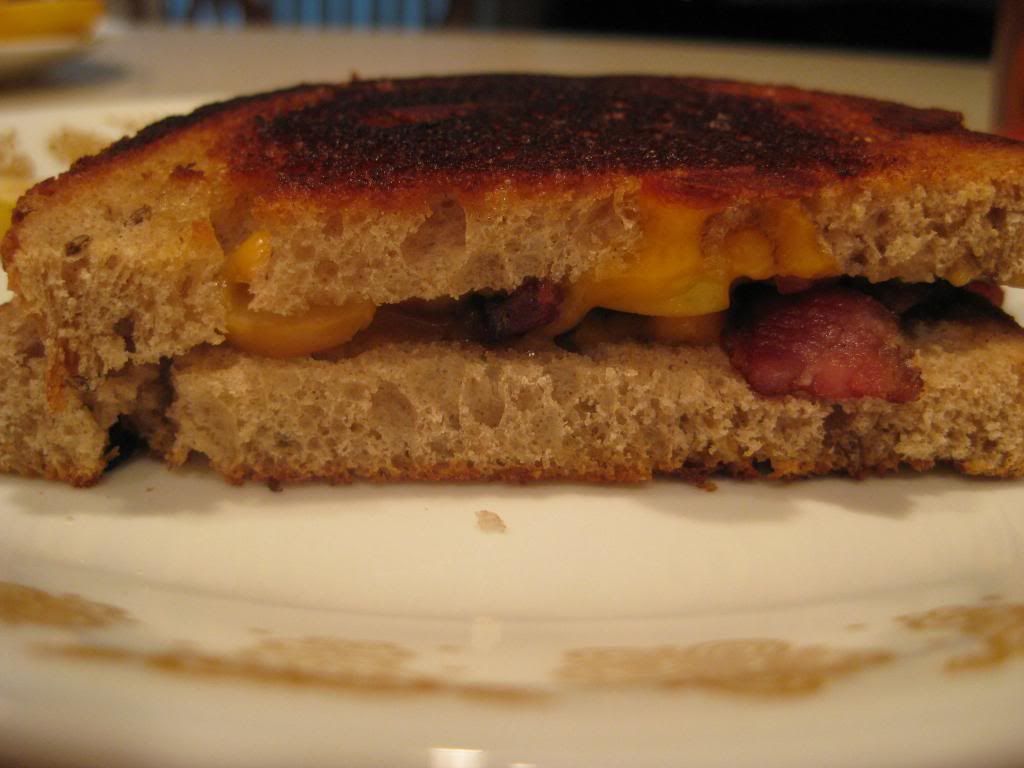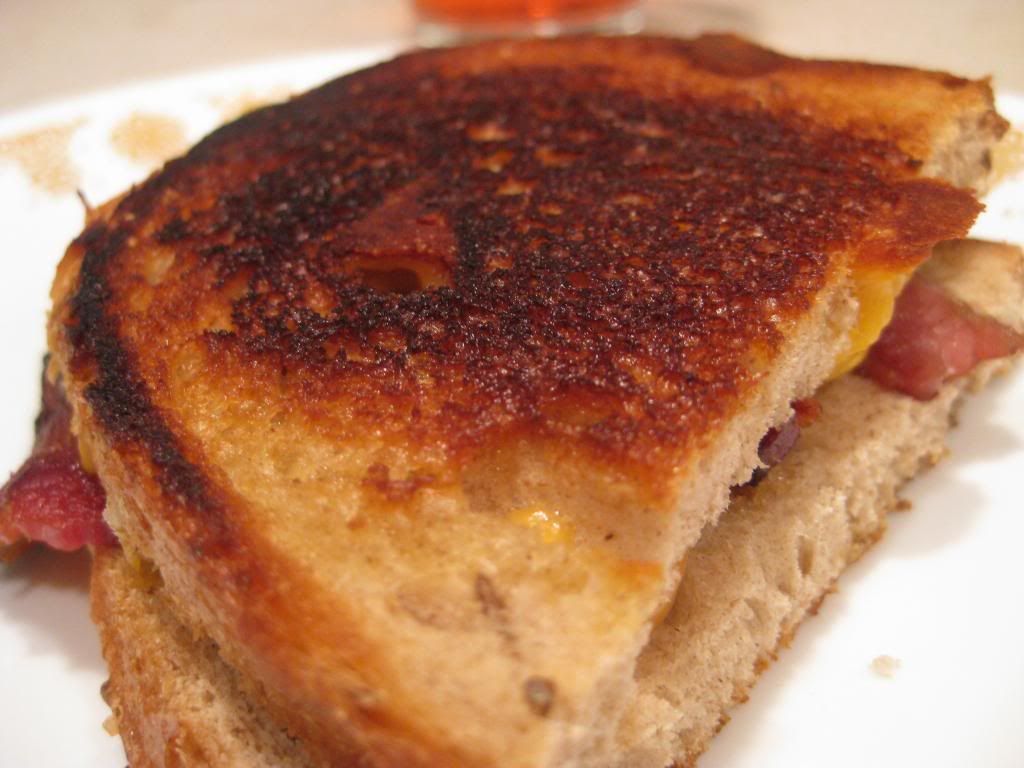 This makes any other grilled cheese obsolete. The cheddar cheese makes it creamy, melty, and serves as a nice base for the sandwich. The bacon is the star of all these ingredients, adding a smokey flavor that can't be duplicated. Using rye bread, instead of whole wheat or white bread, adds a new, delicious flavor and is very hearty. The surprise of the sandwich is the apple. It's not usual to have apple in a sandwich, let alone a grilled cheese sandwich, but it's sweet, crunchy texture is something that makes this sandwich a league of its own.
Thanks for joining us this week. Tune in next week as we continue in our journey in the culinary world. Until then,
~Cheers!