Good evening everyone! There's a program known as "Live Healthy America" that rolls out in the last week of January each year and runs to the first week in April. It's sponsored by a large collection of corporate sponsors, including Hy-Vee and other regional partners. The larger program is broken down into state specific groups (Live Healthy Iowa, Minnesota, Texas - etc.) and encourages local business to get their employees to form groups (teams) to get active and lose weight.
This year, my coworkers and I decided to join our employer's initiative and formed our own team. While Maggie and I have always championed eating healthy, I still found myself not quite where I wanted to be. Using the Live Healthy Iowa program and the My Fitness Pal app, I set out with a goal - to lose 20 pounds by the end of the program.
This morning, with 1 week to go in the program, I'm happy to report I've reached my goal. I'm 20 pounds lighter than I was 9 weeks ago, all done through eating healthy and making sure to stay active. (Our team combined has lost nearly 60 pounds in that time frame).
The nice part about this program is that it isn't a diet, it's a lifestyle change. You're not going to gain everything right back, because the program forces you to lose weight in small, reasonable steps. By changing your eating habits and activity, you lose weight in a natural, healthy way.
The long and short of it is this - if you have an opportunity to partake in this program next year, go for it. If you want to start losing weight now, find the My Fitness Pal app and stick too it. It's hard at first, but as you adjust and see results, you'll be delighted with your progress.
Tonight's recipe comes directly from the Live Healthy Iowa website. It blends southwestern flavors (one of our favorite mediums) with low calorie cooking. You can't go wrong with that combination!
The Recipe: Southwestern Pork
Original Recipe Found On: Livehealthyiowa.com
What You'll Need:
(Serves 8)
1.5 Pounds Pork Tenderloin (Trimmed of fat)
2 Teaspoons Ground Cumin
2 Teaspoons Vegetable Oil
1/4 Cup Cornmeal
1 Cup Low Sodium Chicken Broth
2 Tablespoon Red Wine Vinegar
3 Tablespoons Tomato Paste
1 Tablespoon Brown Sugar
1/2 Cup Frozen Corn
1/2 Red Bell Pepper, Diced
In a small bowl, combine the cornmeal and cumin. Blot your pork dry with a paper towel to remove excess moisture, then carefully roll each piece in the cornmeal mixture, making sure each piece is evenly covered. Repeat until all pieces are breaded.
Add the vegetable oil to a large (12 inch) non stick skillet over medium high heat. Once the oil is hot, add the pork and cook for 3 to 5 minutes on each side, or until the breading takes on a nice golden brown color.
While your pork is cooking, mix the chicken broth, vinegar, tomato paste, brown sugar and a pinch of salt and pepper. Add this mixture to the skillet with the browned pork, and bring the mixture to a boil. Once boiling, cover and reduce the heat to medium. Let the pork cook for 10 to 15 minutes.
Next, add the corn and red pepper to the skillet, stirring to evenly incorporate everything amongst the skillet. Return the lid and allow the mixture to cook for an additional 10 minutes. Slice the tenderloin into pieces and serve surrounded by the sauce. Enjoy!
The Results: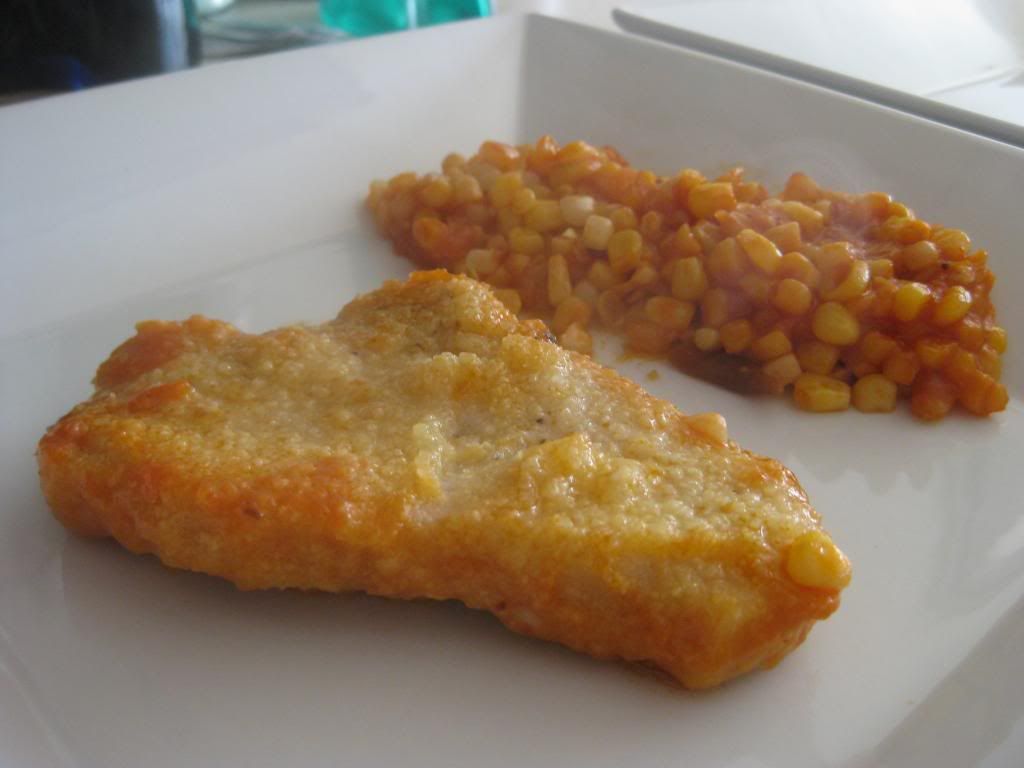 This dish lives up to the southwest name. I added a little bit of chipotle sauce to the dish while it was cooking - about 1 tablespoon (to give it a little kick) and would recommend you do so as well. The extra little layer of heat really adds to the depth of the sauce, which beautifully compliments the crunchy yet tender pork.
At just over 150 calories per serving, this light and tasty pork treat will be sure to please the whole family while keeping your healthy eating habits.
That's all we have for you this evening. Maggie takes to the kitchen tomorrow night with a brand new dish of her own.
Also, be sure to keep your eye on our blog in the next coming weeks, we're finally able to have a full size grill with our new home - and we're going to be able to pick one up sometime soon. That means that years worth of grilling recipes filed away until we had a grill are about to come to the blog. It's going to be a grilling summer! (Assuming summer ever gets here...)
~Cheers