Good evening everyone! Tonight, we're returning to a favorite ingredient of the blog, risotto. This versatile little pasta has been the base in many dishes across our three years of cooking healthy and has shown great flexibility to fit into nearly any flavor combination we can throw at it.
The downside with risotto is that it is a bit of a kitchen diva. It needs attention while it cooks, as you balance out the right amount of liquid and allow it to simmer – but not rest – for 35 to 40 minutes. Too short and the result is a chewy, sticky mess, too long and you just created 40 minutes worth of mush.
Don't get me wrong, it's not difficult to cook, it's just time consuming. Most of the time, it's worth it, however. A few months back, I stumbled across a process of making risotto that involved an oven and 35 minutes of cook time…and that was it. No stirring, no babysitting, no fluid monitoring – just prep and let cook. Suddenly, risotto was easy and delicious.
Oh the possibilities!
Naturally, when I stumbled across a light and healthy risotto recipe last week, I was eager to try my new technique on a slightly more complicated dish. Does this quick and easy recipe work for a dish with a few more components? Let's find out!
The Recipe: Risotto With Yogurt and Peas
Original Recipe Based On: Food Network Magazine March 2013 Issue
What You'll Need:
2 Cups Low Sodium Chicken Broth
2 Tablespoons Unsalted Butter
½ Cup Finely Chopped Shallots
1 Cup Arborio Rice
1/3 Cup Dry White Wine
1 Cup Frozen Peas
3 Tablespoons Fresh Parsley (Minced)
3 Tablespoons Fresh Chives (Minced)
1 ½ Teaspoons Fresh Marjoram (Minced) or Thyme
½ Cup Grated Parmesan Cheese
¼ Cup Nonfat Plain Greek Yogurt
Note: I'm using the concept of the Food Network recipe, but applying our own cooking technique to the dish. As such, the instructions are note the same as the original recipe. If you'd rather follow that version, I'd encourage you to pick up the March 2013 issue of Food Network Magazine.
Preheat your oven to 425.
Add the butter into a large Dutch oven or baking dish and place it in the oven, covered for 3 to 4 minutes to allow the butter to melt.
Once the butter has melted, add the risotto, shallots, peas, chicken broth and white wine to the baking dish and stir well to evenly combine all of the ingredients. Once blended, return the baking dish to the oven and allow it to cook, covered, for 20 minutes.
Just add heat!
After the first 20 minutes, remove the baking dish and give the ingredients another stir. Return the dish to the oven, covered, for an additional 15 minutes. The risotto will look a little dry and sort of flat when you first remove it from the oven, however, resist the urge to add any additional liquid until you taste test the risotto. If the risotto is soft and creamy, you're good to go. If you find it to be a little crunchy, add a splash of chicken broth, stir, and return to the oven for an additional 5 minutes.
In a small bowl, combine the parsley, chives and marjoram. Once your risotto is soft, add all but 1 tablespoon of the herb mixture along with the plain yogurt and the parmesan cheese. Stir vigorously until the mixture becomes creamy (this takes about 1 minute). Serve topped with the reserved herb mixture and a pinch of parmesan cheese. Enjoy!
The Results: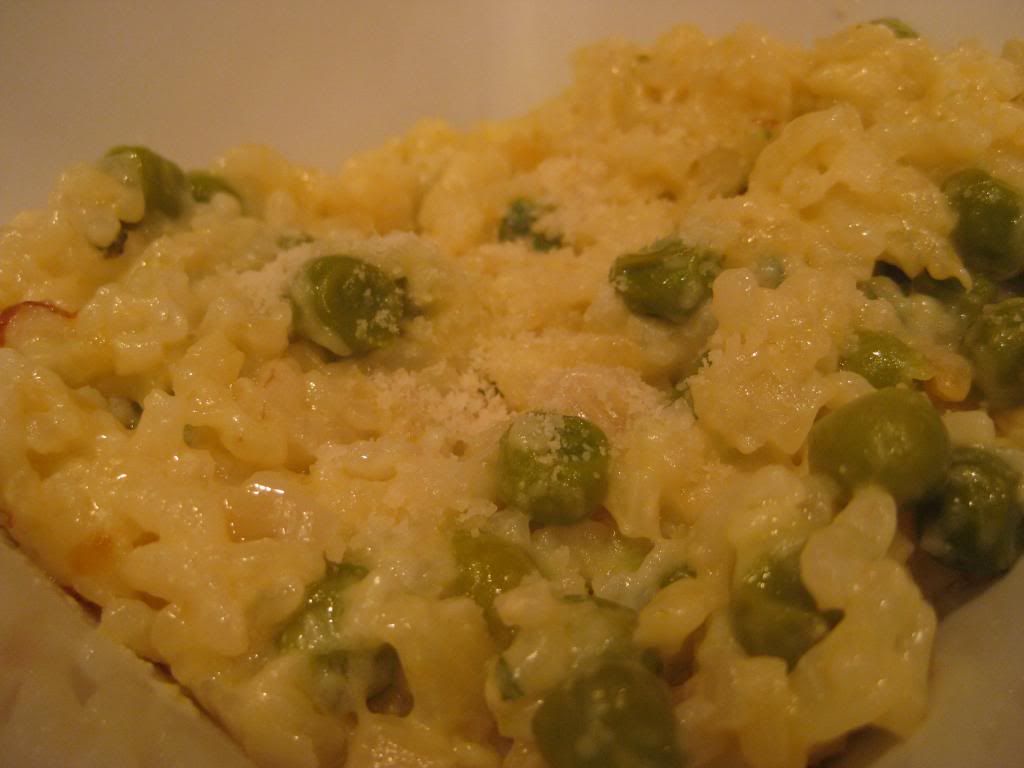 Typically, creamy risotto dishes feature mascarpone cheese as it melts beautifully and adds a great, rich flavor to the profile of a dish. This recipe cuts out the calories that mascarpone would deliver by substituting non-fat Greek yogurt. The result is the same creamy base, but you do lose a little bit of bonus flavor that mascarpone brought to the table.
That's where the white wine and parmesan cheese come in. Combined, these two more than compensate for the missing mascarpone by adding a great layer of deep, rich flavor to the natural risotto. Blended with the bright flavorings of the herbs and peas, this dish morphs into a fresh, almost 'summer salad' tasting pasta dish that will warm you up on these cooler March nights without bogging you down like a traditional pasta salad would.
If you're cooking for a full family, especially young ones who detest vegetables, this dish might be a tough sell. But the adults or those with a fondness for fresh veggie flavors will find a lot to love with this pasta.
That's all we have for you this week. We're back next week with another set of brand new dishes to share. Until then,
~Cheers