Good evening everyone! We're one day away from it "officially" being summer, but the weather in the greater Midwest has already taken a turn for the hot. While I'm not a big fan of hot weather, the warmer days do signal the return of some things I greatly enjoy – including tropical fruits that tend to make their best appearances in the summertime. One particular favorite of mine is the mango. We've used mango as an ingredient in previous recipes, and have even featured how to cut, slice and clean your very own mango. It's somewhat surprising that I've never tried using this bright citrus in a marinade, since its flavors lend so well to grill season. Well, that trend ends tonight. Mangoes make it to the grill!
The Recipe: Mango Grill Chicken
Recipe (Heavily) Adapted From: Food Network Magazine, July 2012 Issue
What You'll Need:
(Serves 4)
2 Mangoes, cleaned and diced (alternatively, buy a package of mango chunks from your grocer – it's easier)
4 Bone in, skin-on chicken breasts
1 Cup Fresh Cilantro (stems, leaves and all)
4 Tablespoons Chipotle Based Salsa
*The original version of this recipe appears in the July / August 2012 issue of Food Network Magazine as "Chipotle Mango Chicken with Chimichurri" and it differs greatly from the version I'm writing about tonight. I gave credit to the recipe for "inspiring" tonight's dish, but if you want to try the original, understand it will be vastly different from what I'm sharing.
In a large food processor, add the mango, cilantro and chipotle based salsa (it doesn't really matter what kind of salsa, just as long as it is tomato based and lists chipotle as it's main pepper. You can increase or decrease the heat to your liking by choosing varying levels of salsa heat). Pulse the mixture until everything becomes a nice puree (there will be some chunks left behind, and that's okay, but make sure the pieces are fairly small).
Pat your chicken breasts dry with a paper towel, then work about 1 tablespoon of the marinade under the skin of each chicken breasts. Next, scoop between three to four heaping tablespoons of the marinade into a plastic sealable baggy (repeat for each chicken breast you're cooking). Place one breast into each bag, seal tightly, then jumble and jostle the chicken around until it is evenly coated in the marinade. Store the chicken in the baggies, in the refrigerator for at least 6 hours. It works best if you make this before you leave for work in the morning and let the little buggers marinate all day until you come home.
Next, preheat your grill to 350-400 degrees. Lightly oil the grates and place the chicken, skin side up, on the grates (directly over the heat) Cook for 5 minutes before turning the breasts (skin side now down) and allowing them to cook for an additional 5 to 7 minutes. Leaving the skin side down for so long is sacrilege to many 'chicken skin aficionados', but by doing this you'll create a great crispy skin that crackles after you've pulled it off the grill. This skin almost becomes one with the marinade and produces a nice, lightly crispy exterior full of marinade flavor while allowing most of the fat to burn off on the direct heat.
Check your chicken to make sure it registers 165 degrees at the thickest part of the breast. If not, turn it once more (skin side up) and allow it to cook for an additional 3 to 5 minutes, or until you reach the target temperature. Remove from the grill and serve immediately!
The Results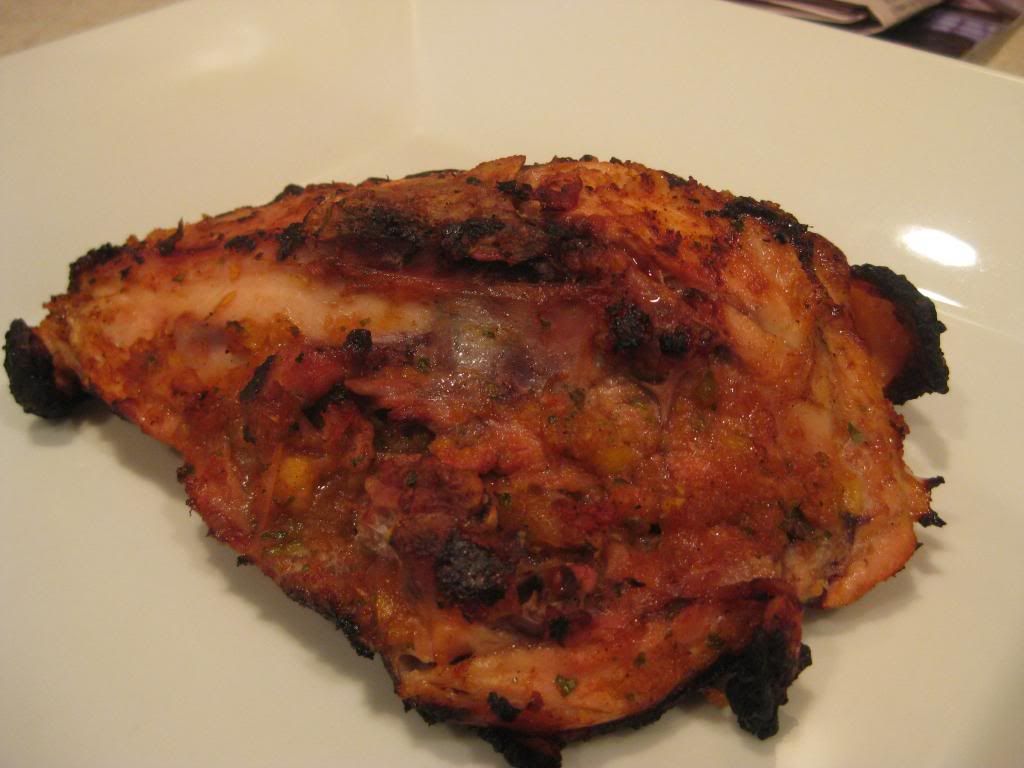 It's a rare feat to create a BBQ style chicken, fresh off the grill, that doesn't need BBQ sauce. This recipe manages to do just that. The chicken is moist and full of flavor, thanks to an all day session with the marinade – which is OUTSTANDING! The slight heat of the chipotle blends beautifully with the sweetness from the mango and everything is tied together wonderfully with the fresh undertones of cilantro. This dish is simple, looks great off the grill and is full of delicious flavor. That's a win, win, win situation! Give this one a try at your next summer cookout – it's sure to be a favorite.
That's all we have for you this week. We're back next week with two brand new recipes. Until then,