Hello again everyone! One of the perks of summertime cooking is the ability to grill fruit. If you've never tried a pineapple slice or watermelon chunk on the grill, you really should give it a shot. The natural sugars of the fruit caramelize, greatly intensifying the fruit's natural sweetness.
As I mentioned in last week's post, we had a big grill out over the Memorial Day weekend. One of the dishes we tried involved grilling up pineapple slices and combining them with frozen yogurt. Intrigued? You should be!
The Recipe: Caramelized Pineapple Fro-Yo
What You'll Need:
1 Pineapple (Cored, peeled, sliced into rounds)
1/4 Cup Brown Sugar
1 Tablespoon Cinnamon
Vanilla Frozen Yogurt
In a small bowl, combine the brown sugar and cinnamon. Next, dip each pineapple slice into the brown sugar / cinnamon mixture. Make sure each slice has an even coating of the mixture before transferring them to a plate. Allow the slices to rest for 5 to 10 minutes before adding them to the grill.
Cover 1/2 of the grill with aluminum foil, and bring the temperature to 350 degrees. Add the pineapple slices to the foil and allow them to cook for 5 minutes per side. This allows the brown sugar to caramelize, creating a thick, sticky glaze on the pineapple. After both sides of the pineapple have been coated in this lovely glaze, transfer the slices directly onto the grates for 1 minute per side. This creates the great char lines on the pineapple slice and adds a little more depth to the final flavors.
Once charred, remove the pineapple from the grill and dice it into smaller pieces. Scoop a few pieces of the pineapple into the bottom of a bowl, top with vanilla frozen yogurt and scoop a few slices of pineapple on top of the frozen yogurt. Serve and enjoy!
The Results: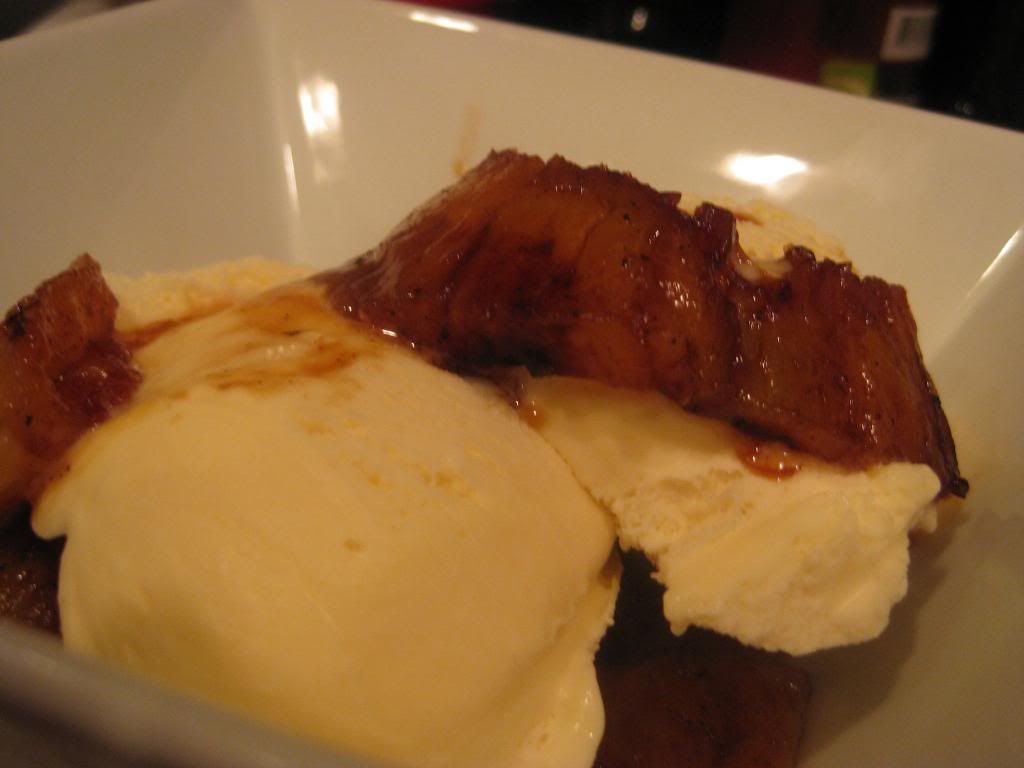 This is one sweet little treat! Pineapple is already packed with natural sugars, so caramelized pineapple is predictably sweet. (That's a subtle way of warning you that a little of this dish is better than a lot - good things come in small serving sizes). But warm pineapple blended with cool vanilla frozen yogurt is one of summertime's most simple and decadent flavors. The next time you're firing up the grill, throw a few slices of pineapple on there and give this dessert a try for yourself.