Good evening everyone! It's always fascinating when one cooks to take an ingredient and mold it in such a way to make it familiar. This is often done with fish and rightfully so. If you are cooking for kids (and adults,) they recognize round patties and never think twice on what they are eating. Tonight, I'm whipping up a batch of fish cakes that won't get confused with any kind of burger.
The Recipe: Cod Cakes with Garlic-Basil Aioli
Original Recipe Found In: America's Test Kitchen Simple Weeknight Favorites
What You'll Need:
1/2 Cup Mayonnaise
1/4 Cup chopped fresh Basil
2 Tablespoons Lemon Juice
1 Garlic clove, minced
1 Pound skinless Cod fillets, cut into 1 inch pieces
1 1/2 Cups Panko Bread Crumbs
1 large Egg
2 Scallions, finely chopped
1/4 Cup Olive Oil
To start, place the mayonnaise, basil, lemon juice, and garlic in a food processor. Blend these ingredients until everything is smooth and lightly green, no more than 20 seconds. Transfer this mixture to a serving bowl and season with salt and pepper to taste. Clean the aioli remnants out of the food processor and begin to prepare the cod.
Place half of the cod in the food processor and process until the cod pieces are finely minced, about six pulses. Transfer the cod into a large mixing bowl and repeat the process with the other half of the cod. Add the previously processed cod back to the food processor. Next, add 3/4 cup panko, 1/2 teaspoon salt, 1/4 teaspoon pepper, an egg, the scallions, and 3 tablespoons aioli. Blend this mixture until all the ingredients are evenly mixed, between 10 to 15 pulses, depending on how well you want this mixture combined.
On a clean plate, place the remaining 3/4 cup panko and spread into a thin layer. Reach into the food processor (with the blade out!) and form into 3 1/2 inch patties. If there is any remaining liquid, gently squeeze out and reform the patties if necessary. Lightly dredge the patty into the panko to adhere and place onto another plate. Repeat this process until there are four patties.
Next, inn a nonstick skillet, heat the oil over medium high heat, until about shimmering. Add the patties to the skillet and cook until golden brown and cooked through, about four to five minutes. After they have cooked on the one side, carefully flip the patties over and cook for another four to five minutes. Serve with the remaining aioli and enjoy!
The End Result: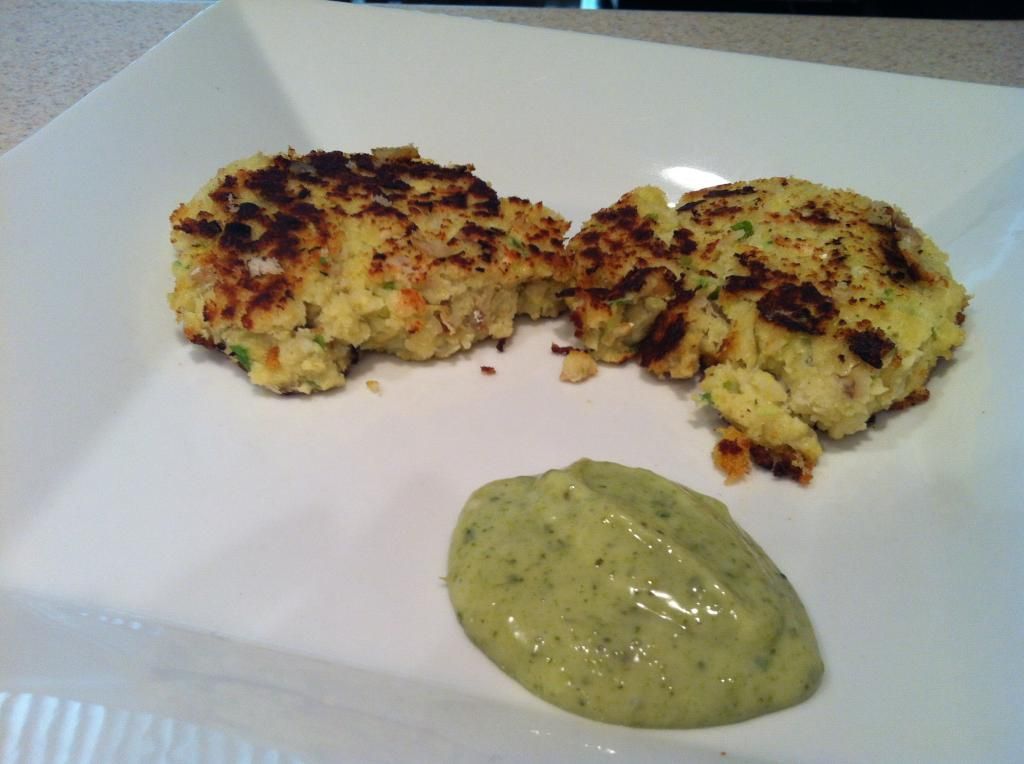 We've said it once, we'll say it again: cod is such a versatile fish. It will absorb from any other flavors, mask its fishy flavor, and leave you completely surprised. Biting into the cakes, I didn't get any overwhelming fish flavor, but instead, I got a little crunch from the panko and from the scallions. Using the food processor to blend all the ingredients together is brilliant, because you will end up with a lifeless blob (trust me, I tried it.) The garlic basil aioli is actually a great take on a tartar sauce. The basil might be a bit much for those who aren't used to that basil flavor. But it's a great topping over these delightful little cakes!
Thanks for joining us this week. Check back again next week as we continue to explore our culinary creativity. Until then,
~Cheers!