Good evening everyone! As Tyler mentioned earlier this week, sometimes we share simple recipes that are easily duplicated. While elaborate recipes are mighty tasty and worth the extra effort, a quick recipe that looks simple enough can surprise with an outstanding flavor. Tonight, I present to you a dish that fits those qualifiers and will make you want more.
The Recipe: Prosciutto Pesto Chicken
Original Recipe Found In: Grill This, Not That
What You'll Need:
4 boneless, skinless Chicken Thighs
1/2 Cup fresh Goat Cheese
2 Tablespoons store-bought Pesto
4 thin slices Prosciutto
To start, place the goat cheese on a clean plate. Let the cheese soften at room temperature for at least 30 minutes, or until it is easy to spread. Add the pesto and combine until well mixed. Set this mixture aside. Now, if you like the freshness of just prepared pesto, you are more than welcome to create this palate pleaser. But, if you want a quick mix, store-bought pesto is your best bet. Honestly, I couldn't tell the difference between freshly prepared and store-bought pesto. The choice is yours!
Next, preheat a grill to medium-high heat. On another clean plate, season the chicken with salt and pepper. On the underside of the chicken, place a line of the pesto/cheese mixture down the middle. It's just as easy to spread the entire mixture over the chicken, but, just so nothing runs out while cooking, stick to the middle. Wrap each piece of chicken with a slice of prosciutto until snug. If one piece of prosciutto doesn't fit, another piece or two won't harm the chicken.
After the chicken is wrapped in prosciutto, place each piece of chicken on the grill. Cook on four minutes on each side, until the prosciutto is crispy and browned. Be careful when flipping the chicken, because it might want to separate from the chicken. Place the chicken on a serving plate and enjoy!
The End Result: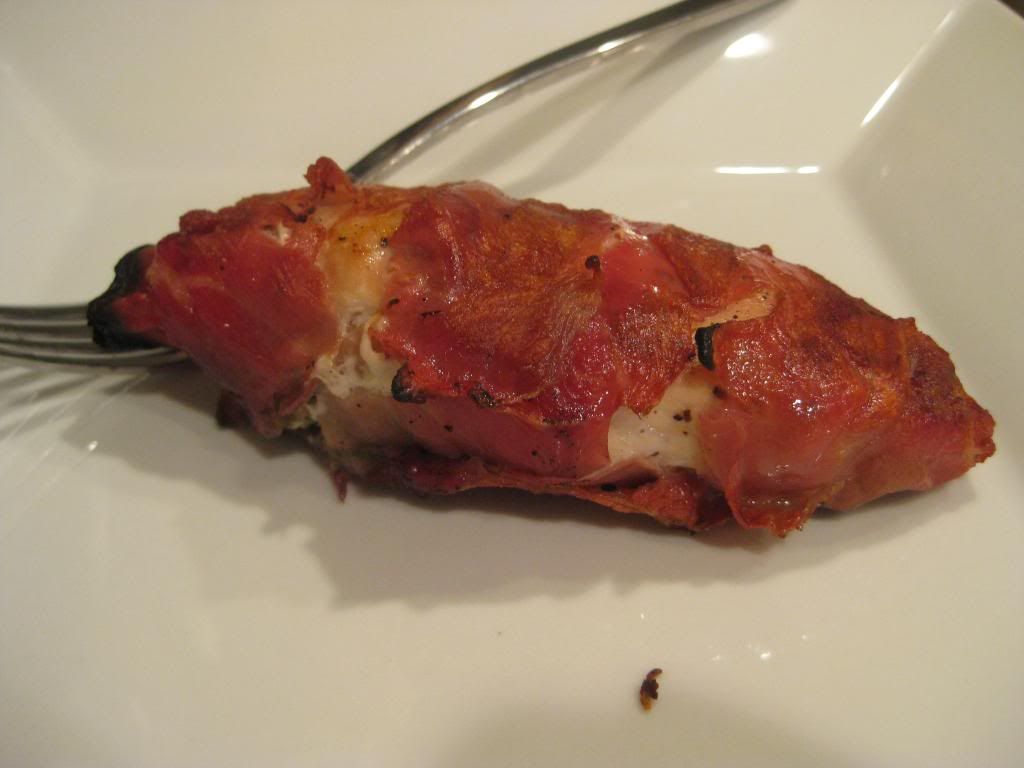 The chicken remains super moist around the coat of the prosciutto. Four minutes on each side is a perfect amount of cooking time. But of course, 160 degrees is the cooked time for the chicken, if you want to be safe. The pesto and the cheese combination is something I've never tasted before. The pesto will be the predominant flavor, which cheese playing second fiddle, but a creamier, herby flavor is not to be missed. And finally, the prosciutto keeps all these flavors encased is a salty wrap. The prosciutto almost tastes like bacon, but has a deeper flavor to it. Overall, these are tasty little chicken numbers that are so easy to create, it'll become your next weeknight dinner!
Thanks for joining us this week. We'll continue on our culinary journey next week with brand new recipes to share with you. Until then,
~Cheers!