Good evening everyone! If you're a regular watcher of any cooking related TV shows ('Chopped', 'Iron Chef America', 'Diners, Drive-Ins & Dives' or the like) you've likely seen more than a few interesting culinary trends when it comes to cooking the classic steak.
I tackled one of those trends a couple of weeks ago
, and this week I'm looking to take on another.
Whether it's in a high end restaurant or a small diner along the roadside, chances are if someone is cooking up a high quality steak, they're topping it with a butter infused sauce or simply topping it with butter by itself. At first this seems a bit odd, why top a perfectly good steak with a rich fat like butter? The answer is surprisingly simple, the butter becomes a beautiful glaze that adds just a bit of richness to the hearty steak. Even better, you can infuse butter with other flavors, such as garlic and onion, to further enchance the steak's flavor. The key to using a butter sauce, like anything in the culinary world, is moderation. Too much butter and you'll overwhelm the final dish.
With a bit of the background out of the way, let's get to cooking our own butter enhanced steak!
The Recipe: Grilled Steak with Vegetables and Lemon Herb Butter
Original Recipe Found In: Food Network Magazine (July, August 2013)
What You'll Need:
(Serves 4)
1.5 Pounds Sirloin Steak (About 1 inch thick)
1 Red Onion (Sliced into 1/2 inch rings)
2 Large Zucchini (Cut diagonally into 3/4 inch slices)
1/2 Cup BBQ Sauce (Your choice, we have recipes
HERE
&
HERE
)
1 Tablespoon Chili Powder
2 Teaspoons Worcestershire Sauce
2 Tablespoons Unsalted Butter (Room temperature)
2 Tablespoons Fresh Parsley (Chopped)
1/2 Teaspoon Lemon Zest
Preheat your grill to medium high heat.
Meanwhile, add the steaks, zucchini, onion, BBQ sauce, worcestershire sauce, chili powder and a pinch of salt and pepper into a large bowl. Toss everything until all the ingredients are evenly covered. Let everything rest for 5 minutes to allow the marinade to settle in.
While your steaks are resting, mash the butter with the parsley and lemon zest. (A fork works well here). Set this mixture aside.
Remove your steaks from the bowl and transfer them to the grill. Transfer your vegetables to a grill basket and add them to the grill as well. Cook the steaks for 4 to 5 minutes per side (for medium) and then move them to a cutting board and allow them to rest for 5 minutes.
Leave the vegetables on the grill for another few minutes (making sure to toss / stir them every couple of minutes) until they're nice and crispy.
Slice the steaks into a few pieces and top with the lemon herb butter. Serve with the vegetables and enjoy!
The Results: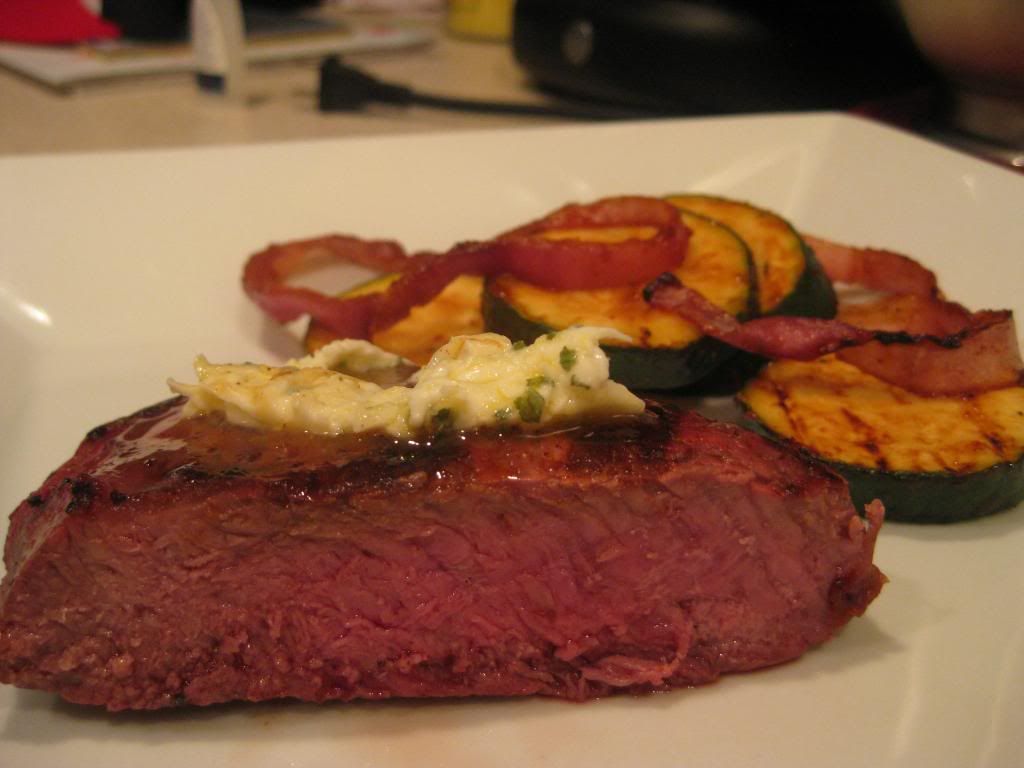 True to the concept, the lemon herb butter adds just a touch of richness to the steak without overwhelming the flavor. The grilled vegetables complimented the steak beautifully (you really can't top fresh veggies off the grill) and the BBQ sauce 'marinade' ties everything together remarkably well. The best part is that this entire dish clocks in just under 330 calories. Low calorie and full of flavor, that's a win - win recipe!
That's all we have for you this evening. Maggie takes to the kitchen Thursday night with a brand new recipe of her own. Until then,
~Cheers