Good evening everyone! Sometimes, the "culinary world' just dictates which recipes we'll try in a given week. For example, as I perused my favorites spots for inspiration last weekend, I was finding little in the way new recipes. Digging a little deeper, I stumbled across a unique steak marinade featuring vegetable juice and vodka. I tabbed the page, essentially marking it as "come back to in the future". Further browsing into another source eventually lead me to ANOTHER steak marinade recipe featuring vodka, hot sauce and vegetable juice. That settled it - the culinary world was telling me to try this marinade, and I wasn't about to ignore that message.
So, armed with two "bloody mary" marinade recipes I combined the best parts of each and set out to try this idea on my own. Here's what I came up with:
The Recipe: 'Bloody Mary' Steak
What You'll Need:
(Serves 2)
1 Large Skirt Steak (1 - 1.5 Lbs)
1 Cup Vegetable Juice
1/2 Cup Vodka
1 Teaspoon Hot Sauce
1 Tablespoon Lemon Juice
1 Tablespoon Worcestershire Sauce
2 Garlic Cloves (Crushed)
Salt (Pinch)
Pepper (Pinch)
Begin by combining all of the ingredients in a large 1 gallon sealable bag or in a small glass dish with a lid. (I prefer the second option, as it makes for easier cleanup and it's easier to get the steak out when the marinating process is over). Mix the ingredients well until everything is evenly combined, then add the steak to the bag / dish and seal. Place the steak in the refrigerator for 8 to 24 hours prior to cooking.
When you're ready to cook, remove the steak from the marinade and allow the excess to liquid to drip off the steak (don't pat the steak dry, however). Place the steak on a grill set to medium high heat and cook for 10 to 12 minutes, making sure to flip halfway through the cooking process. This method will produce a medium rare steak, for those who prefer things a little more done, add a few minutes per 'level' of doneness (3 more minutes for medium, 6 minutes for medium well - etc.)
Allow the steak to rest for 3 to 5 minutes before slicing it and serving. Enjoy!
The Results: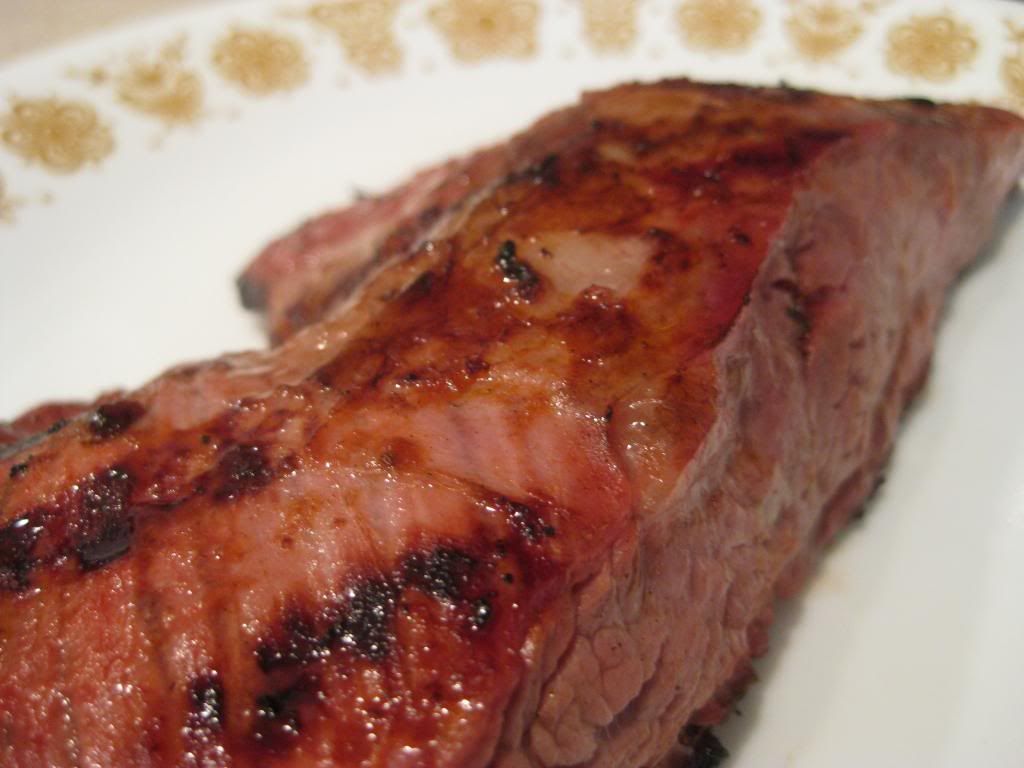 The best testament I can give to this recipe is that you don't need a steak sauce. The steak is so full of great flavor that a steak sauce would only mask what the marinade created - even those that THINK they HAVE to have a sauce with every steak may find themselves surprised. Flank steak on its own is a relatively underwhelming steak. It gets the job done, but it's not typically going to be the star of the dish. (Most flank steak recipes feature a sauce or side to help "pick up" the steak) With this marinade, the typically ho-hum flank steak shines with great, rich flavor. You have to try it to fully believe it, but this marinade is certainly one to keep close by for a summertime cookout.
That's all we have for you this evening. Maggie takes to the kitchen tomorrow night for a brand new recipe of her own, and we'll close out the week with a product review that may help those of you who aspire to be at home chefs, but feel like you can't cook enough to justify buying the fresh ingredients. Intrigued? You should be!
Until then,
~Cheers