Good evening everyone! My absolute favorite part of fall is the great pumpkin invasion. The orange gourd works its way into coffee, beer, baked goods and nearly any other culinary offering that will have it. This is good for me, because I absolutely love pumpkin flavoring (and the cinnamon, nutmeg, brown sugar flavors that typically accompany it).
Despite the wide range of foods pumpkin can lend itself to, I'm partial to the most basic offering – pumpkin bread. (If you're not familiar, think banana bread…but with pumpkin…) There is a myriad of pumpkin bread recipes out there, and a whole slew of strategies for preparation. I've taken a few components from a couple of recipes and have come up with what feels like the best balance of moist, flavorful bread that each recipe has to offer. To make things even better, I adapted a simple buttercream frosting recipe to take on a whole new 'cinnamon' twist. Let's get cooking!
The Recipe: Pumpkin Bread
Original Recipe From: Various sources – including but not limited to America's Test Kitchen, Good Eats, Food Network Magazine
What You'll Need:
1 Can Pumpkin Puree
1 ¾ Cups All Purpose Flour
½ Cup Canola Oil
¾ Cups Packed Brown Sugar (Light)
1/3 Cup Granulated Sugar
1 Teaspoon Baking Soda
1 Teaspoon Baking Powder
1 ½ Teaspoon Cinnamon
½ Teaspoon Salt
½ Teaspoon Nutmeg
½ Teaspoon Allspice*
2 Large Eggs
Cinnamon Buttercream Frosting
What You'll Need:
¼ Stick (2 Tablespoons) Softened Butter
1 Teaspoon Ground Cinnamon*
½ Teaspoon Vanilla Extract
1 ½ Cups Powdered Sugar
2 Teaspoons Milk
¼ Cup Chopped Pecan Pieces
* This recipe mirrors many popular recipes I found, but the largest difference seems to be whether to use allspice or ground cloves. (Nutmeg is a frequent substitute amongst different recipes as well). I prefer allspice in my pumpkin dishes, so I used that in place of ground cloves. You're free to adapt as you see fit.
Preheat your oven to 325 degrees.
In a medium bowl, combine the flour, allspice, nutmeg, cinnamon, baking powder and baking soda with a wire whisk until all ingredients are evenly incorporated. Set this bowl aside.
Using an electric mixer (a stand mixer is ideal – I'd highly advise against whisking by hand. You'll need to do a lot of mixing in the coming stages and to keep things uniform and your arm intact you'll want a motorized partner) beat the eggs on medium low until they begin to lighten in color. This typically takes two minutes, but you'll want to key an eye on them to make sure they don't begin to form peaks.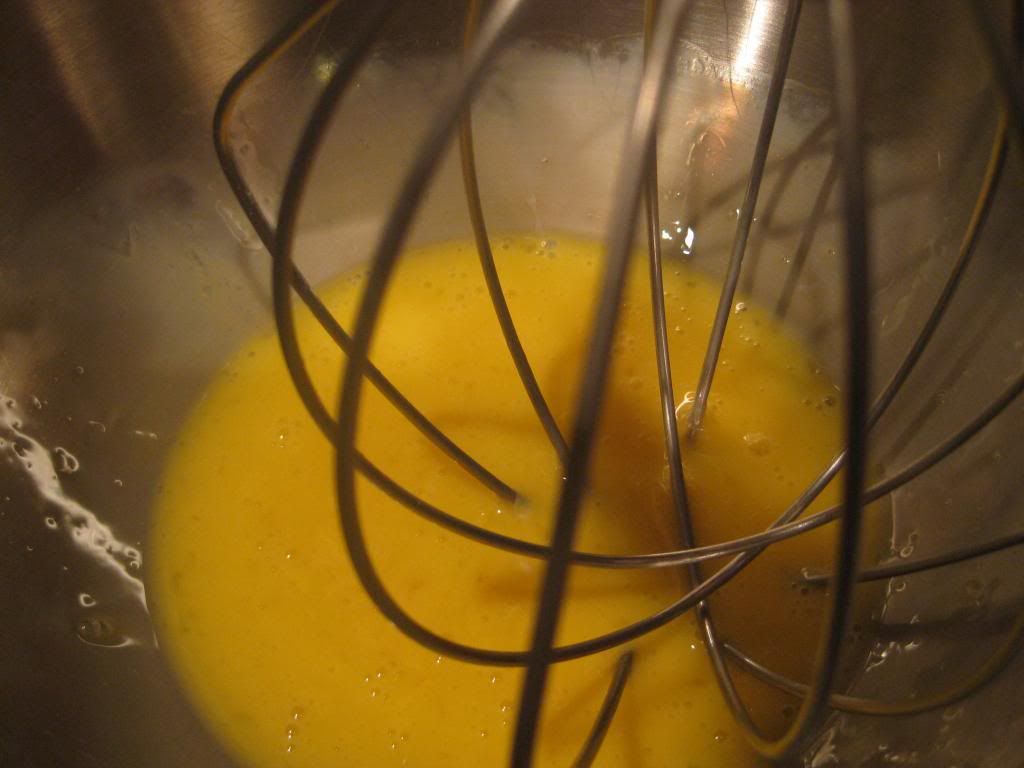 Next, add the brown sugar and mix on medium until the sugar is evenly incorporated with the eggs. You're looking for a thick, sugary consistency like the picture below: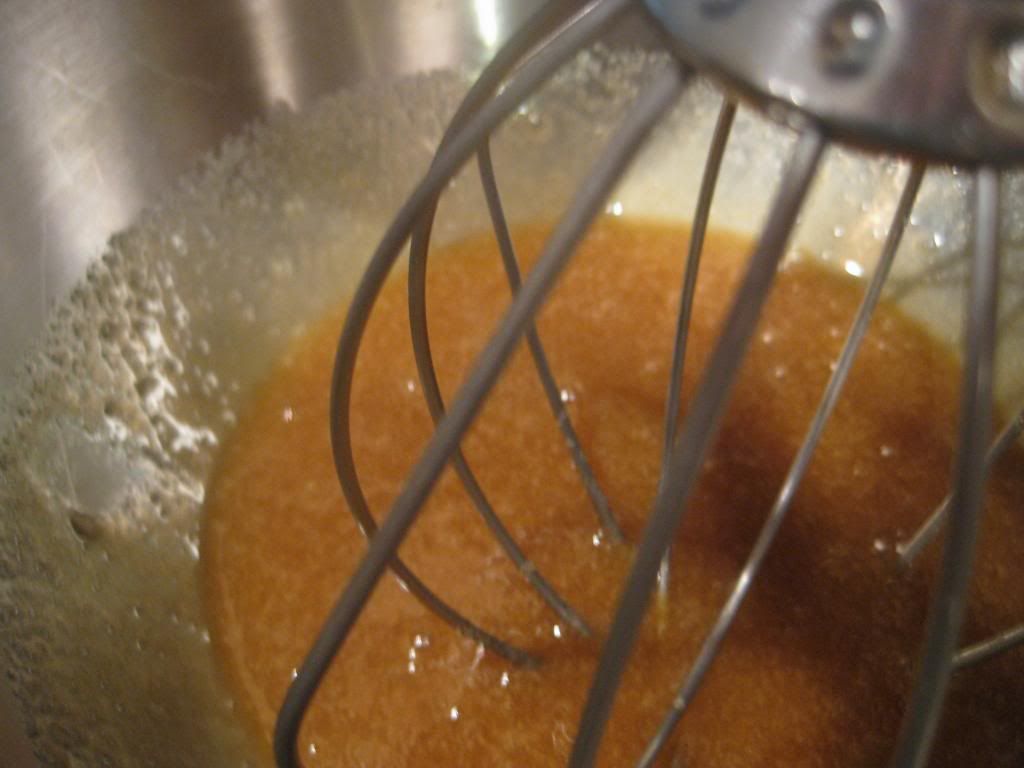 Once the brown sugar is mixed well, add in the granulated sugar and mix on medium until the sugar is completely absorbed. The mixture should have a very thick consistency at this point.
Return the mixer speed to medium and slowly add the canola oil. Adding it in a slow pour, rather than dumping all of the oil in at once will allow the oil to work in with the other ingredients. Take a few extra seconds to slow down, and you'll end up with a much more even mix.
Once the oil is distributed, scoop in the canned pumpkin. Set the mixer on medium and allow it to fold the puree into the sugar mixture. Use a rubber spatula to work down any of the mix that works its way up the bowl. Allow the mixer to stir for 3 minutes, or until the mixture is completely smooth (as pictured below):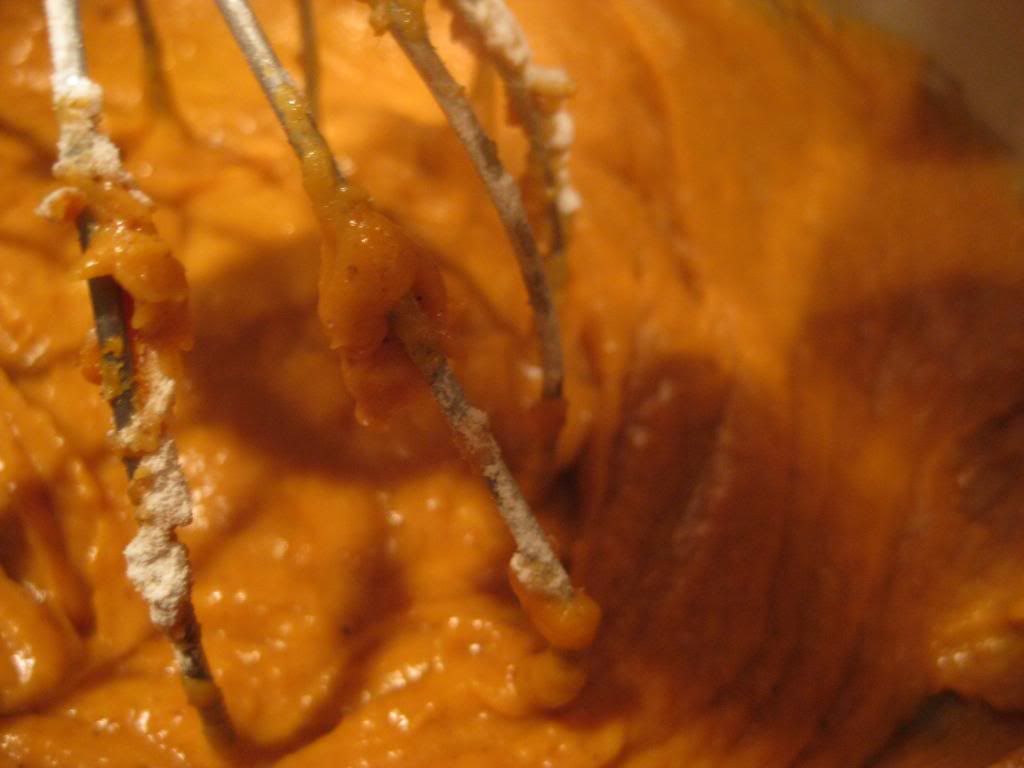 Next, slowly add the dry ingredients to the bowl while leaving the mixer on medium. Allow 30 seconds between additions of the dry ingredients so the mixer can evenly work in the flour to the pumpkin sugar concoction in the bowl. Use the rubber spatula to scrape down any batter that climbs beyond the reach of the mixer.
Once your batter is mixed and smooth, prepare a large loaf pan with a light coating of butter (or a quick spray of cooking spray) before pouring the batter into the pan. Set the pan on the center rack of the oven and allow it to cook for 70 minutes before removing the loaf and checking the center with a toothpick. If the toothpick comes out clean, remove the pan from the oven and allow it to cool for one hour before serving. I found that my loaf needed an additional 15 minutes (85 minutes total cook time) so your time may vary here.
While you're waiting for your bread to cool, you can begin making the buttercream frosting. This recipe doesn't deviate from the standard buttercream frosting recipe (butter + powdered sugar + milk or cream) but it does have a unique twist that's completely customizable to your own personal tastes.
I chose to add 1 teaspoon of cinnamon to my frosting, however, you can create pumpkin flavored frosting by adding a teaspoon or two of pumpkin puree. Cream cheese frosting is created by adding a tablespoon of softened cream cheese. Up the vanilla to create a vanilla frosting – the possibilities are endless and easily adaptable, experiment and find your sweet spot (pun not intended).
To prepare the frosting, simply add all of the ingredients to a blender and pulse until the mixture is thick and creamy. This made a bit runnier frosting, add more powdered sugar if you'd like a thicker frosting. Once the frosting is creamy, simple pour it over your cool pumpkin bread. Sprinkle the pecan pieces on top of the entire loaf and then chill the loaf in the refrigerator for one hour to allow the frosting to set. Once set, simply slice up a few pieces and enjoy!
The Results: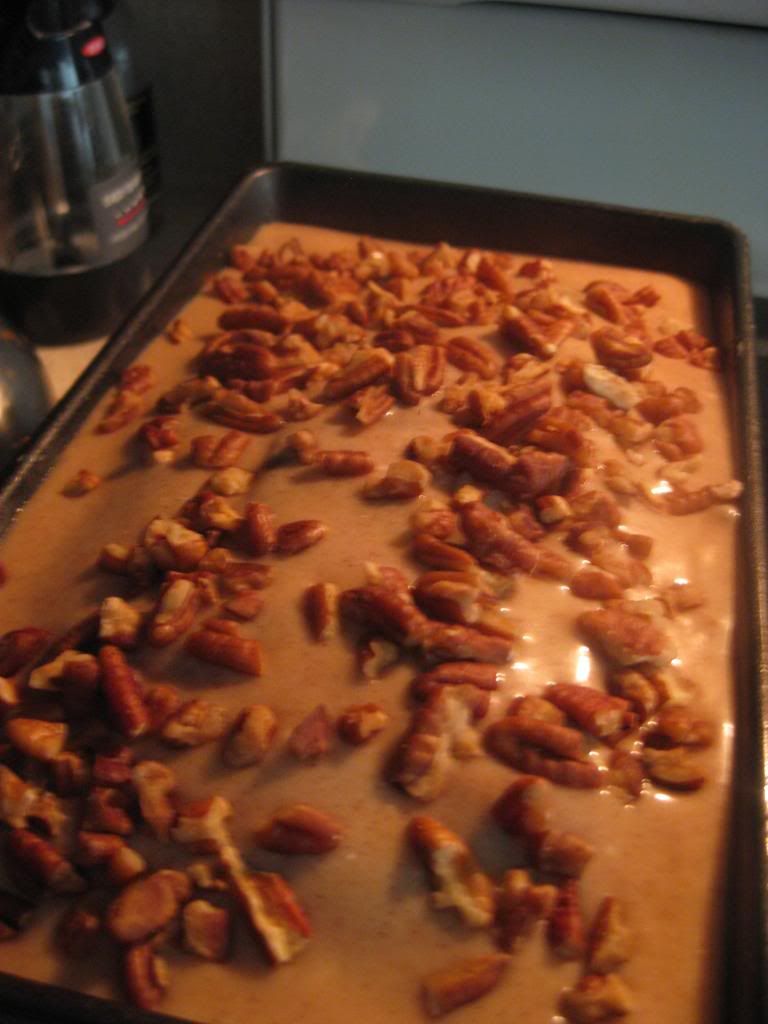 This recipe produces one of the most moist and flavorful pumpkin breads I've ever had the pleasure of eating. The frosting is a nice bonus, especially with the added cinnamon, which really draws out the natural rich flavors of the pumpkin within the bread. This recipe is easily one of my all time favorites, and absolutely a must try for fans of pumpkin bread.
That's all we have for you this week, we're back next week with more new recipes and other culinary adventures. Until then,

~cheers